Julia Pfeiffer Burns
State Park
Julia Pfeiffer State Park is best known for McWay Falls, which can be viewed from an accessible observation point at the end of a quarter mile long trail from the parking lot. Stunning McWay Falls plunges 80 feet from the hillside into the ocean.
Less well known at the park are miles of trails climbing nearly 3,000 feet above the rugged shoreline and rewarding hikers with breathtaking vistas of the area. The entire park contains about 4 square miles of forest and coastland.
The park has two walk-in environmental campsites near the falls which are in high demand. Both McWay Fall and the beach at McWay Cove are off limits. Scuba diving is allowed at Partington Cove with a permit.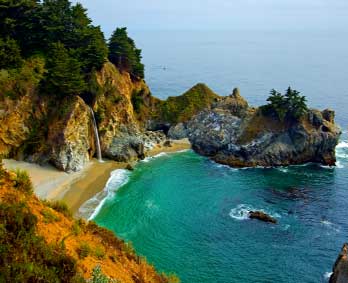 Park Entry Fees
There is no ranger on duty at the park. Big Sur Station, several miles north on Highway 1, serves as a resource for visitors to Julia Pfeiffer Burns State Park. The $10 entrance fee is paid at a self-pay station located alongside the road soon after you enter the park. State Park entrance fees are good that same day for any other state park with the same or less entrance fee, e.g. Pfeiffer Big Sur State Park or Molera State Park.
Early Residents
Julia Pfeiffer Burns was only a baby when her family arrived in Big Sur in 1869. She worked on her parents' farm until 1915 when she married John Burns and moved to Burns Creek. Up the coast Christopher McWay homesteaded the land that today is the heart of the park. The land was later purchased by the Brown family. In 1961 Helen Hooper Brown donated the property to the state for a park, indicating that it should be named in honor of pioneer Julia Pfeiffer Burns.
Nearby Beaches
Books of Local Interest
Ocean Safety
California State Parks and Recreation cautions that "large surf, cold water temperatures, backwash, sudden drop-offs, pounding shorebreak, and dangerous rip currents can turn what seem like safe activities such as playing near the surf line, wading, or climbing on rock outcroppings, deadly." Learn more about ocean safety at
CA State Parks: Ocean Safety
◊ Chicago Park Web Design, © 2017 ◊

Every effort is made to provide accurate and up to date information, but we cannot be responsible for errors or for changes that may have occurred since publication. Always confirm information with the service provider and check for any recent changes that may have been made. Also, check with lifeguards that conditions at the beach are safe for your planned activities.
The map displayed above is for illustrative purposes only. California's Best Beaches website makes no warranties regarding the accuracy, completeness, reliability or suitability of any of its maps. The information provided on this website is done so without warranty of any kind, either expressed or implied, including but not limited to, the implied warranties of merchantability and fitness for a particular purpose.