Davenport Beaches
A string of great beaches are clustered around the little seaside town of Davenport. 10 miles north of Santa Cruz. Davenport Beach and Shark Fin Cove are close to the town while Davenport Landing Beach and Scott Creek Beach are 1 mile and 3 miles up the coast respectively.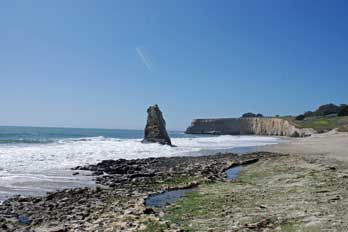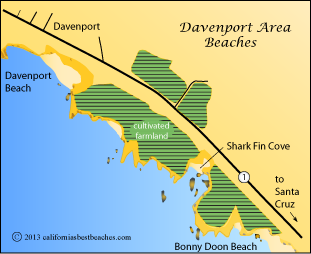 Davenport Beach
Davenport Beach is across the highway from the town of Davenport. Parking is in a large lot on the ocean side of Highway 1. Several trails wind across the railroad tracks and down to the beach. In places the path is steep.
Tide pools can be found along the southern side of the beach. Sea stacks rise out of the surf zone. The cliffs along the beach have interesting rock formations and water weeping from the cracks. Shallow caves are found along the base of the cliffs.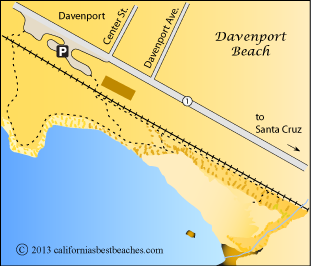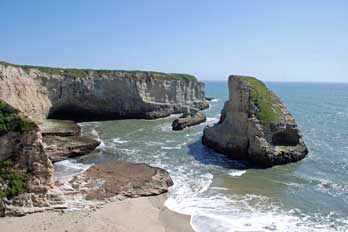 Shark Fin Cove
A short distance (0.7 miles) south of Davenport Beach is a small pocket beach with spectacular sea stacks. It can be called Shark Fin Cove or Shark Tooth Cove, although the former seems to be the most accepted name. Photographers often visit the cove to catch images of the rocks in varying light. Parking is in a long turnout along the highway. A short, steep trail leads to the beach.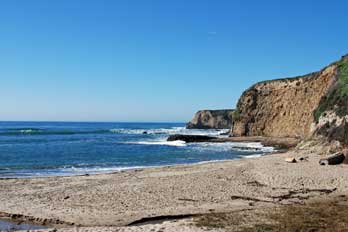 Davenport Landing Beach
Davenport Landing Beach is a favorite with surfers. Located 1.6 miles north of Davenport on Davenport Landing Road, the beach has limited parking in a small lot and along the shoulder. A wheelchair ramp runs down to the restroom near the road and then on down to the beach.
The best surfing is usually along the north end of the beach out near the rocky point. A good, consistent break there is a favorite with local surfers and with wind surfers.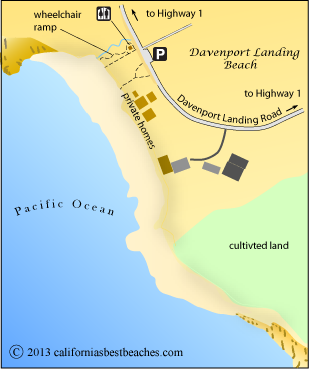 Scott Creek Beach
Located 3 miles north of Davenport, Scott Creek Beach is easily accessible from Highway 1. A viewing platform with several benches alongside the highway makes a convenient place to look out over the beach, watch for passing whales, and enjoy a morning coffee.
Surfers and kite surfers like Scott Creek. Surfers tend to come in early morning and late in the day to avoid the wind, while kite surfers are out all day. Dangerous surf makes it hazardous for wading and swimming.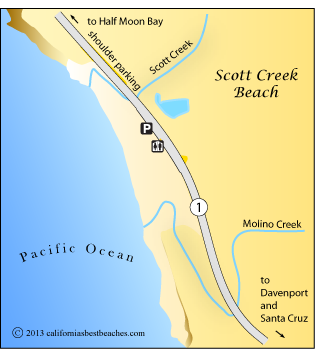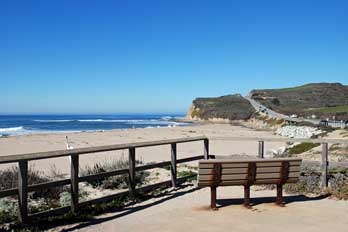 Ocean Safety
California State Parks and Recreation cautions that "large surf, cold water temperatures, backwash, sudden drop-offs, pounding shorebreak, and dangerous rip currents can turn what seem like safe activities such as playing near the surf line, wading, or climbing on rock outcroppings, deadly." Learn more about ocean safety at
CA State Parks: Ocean Safety