Dillon Beach
Dillon Beach is the only privately owned beach in Northern California. The Dillon Beach Resort maintains the beach and provides facilities for visitors. A milder undertow, or rip current, at Dillon Beach than at other nearby beaches makes Dillon a popular spot for swimming, despite the cold water. Those who spend any time in the water usually opt for a wetsuit.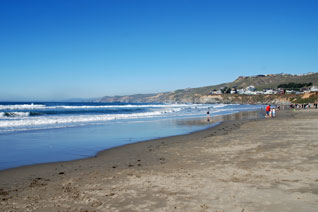 Surfers find respectable waves, beach walkers enjoy long strolls down to the Lawson's Landing and the mouth of Tomales Bay, and many just spread out on the sand and relax. With a cafe and store nearby at the Dillon Bay Resort, food and beach supplies are close at hand. They also have a surf shop.
General Store
The General Store carries camping gear, bait, groceries and beverages, fresh-baked bread, clothing, propane, tide books, souvenirs, and a variety of other things. The store is open daily from 8:00 AM to 7:00 PM.
Cafe
Open Thursday through Sunday from 8:00 AM to 8:00 PM, the Dillon Beach Cafe serves breakfast, lunch, and dinner. They are best known for their fried calamari and their clam chowder. They use locally grown produce and fresh-baked bread. Dining is indoors or on their enclosed patio.
Surf Shop
The Surf Shop, located within the General Store, offers surfboards for rent or sale along with other items such as boogie boards, wetsuits, and booties.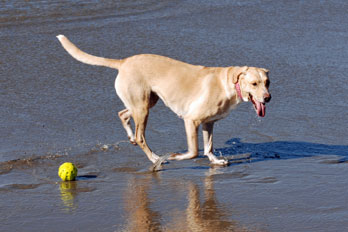 Lawson's Landing
One and a quarter miles to the south of Dillon Beach is another private enterprise along the coast, Lawson's Landing. This fishing and boating resort and their popular campground have been family-owned and operated since 1957. Their marina includes boat launching facilities, boat rentals, mooring, and a fully-equipped boathouse and outboard shop.
Visitors to Lawson's Landing enjoy clamming in nearby clamming beds and fishing for crabs off the pier. Anglers often use Lawson's Landing as a place from which to set out for a day of fishing on Tomales Bay. Others launch kayaks or hike along the shore. All pets must be kept on leash.
Day-use Fees: Per car $8, per RV $11
Day-use Hours: 6:00 AM to 8:00 PM
(707) 878-2443 Lawson's Landing
Find more about Lawson's Landing at ACTIVITIES.
Camping information: CAMPING.
End of an Era for Permanent Trailers at
Lawson's Landing
For many years more than 200 permanent trailers have lined the roads at Lawson's Landing. As the result of a 2011 decision by the California Coastal Commission, most of those trailers must be removed by July 13, 2016. With proper permitting, Lawson's Landing may still operate as a short-stay campground for RVs and trailers.