La Jolla Beaches
The beaches in La Jolla range from the wide sands of La Jolla Shores Beach to the small pocket beaches such as La Jolla Cove and La Jolla Children's Pool to the big surf along Windansea Beach.
To the north is the Scripps Pier and more beach and tide pool areas. The pier is a research facility, but the beach and tide pools are open to the public. They are part of the Scripps Shoreline-Underwater Reserve. On either side of the Scripps Reserve are two other ecological reserves. All of the natural features and the marine life in these Reserves are protected and should not be touched or disturbed.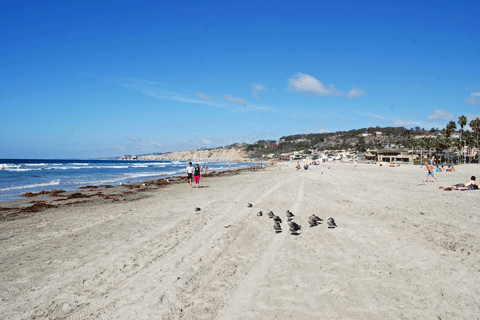 La Jolla Shores Beach
La Jolla Shores and Kellogg Park
La Jolla Shores Beach is popular with families because of the ease of access and the nearby facilities at Kellogg Park. Lifeguards are on duty. Separate areas are designated for surfing and swimming. Restrooms and outdoor showers are conveniently located. In Kellogg Park are picnic areas, fire pits, and expanses of grass. A few fire pits are located on the beach.
Parking at La Jolla Shores
A large paid parking lot is located along Camino del Oro, but on summer days it is usually full by mid to late morning. Free street parking is nearby.
La Jolla Cove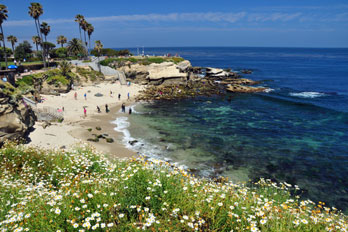 La Jolla Cove is a small beach north of Children's Pool. Sandstone cliffs stand on either side of the photogenic arc of sand. Steps lead down from Scripps Park on the bluff above. Since the beach faces north, it is protected from large waves, making it a popular spot for wading and swimming.
Divers launch from the cove to explore the reefs just offshore. The cove is part of the Sand Diego La Jolla Underwater Park Ecological Reserve which gives protection to all the wildlife and natural features.
Facilities at the cove and adjacent Scripps Park include restrooms, outdoor showers, and a picnic area. Lifeguards are on duty. No surfing, boogie boarding, or similar activities are permitted at the cove.
Marine Street Beach
Marine Street Beach is more secluded than many of the other beaches in La Jolla, making it a favorite among the locals. The little beach is known for its glistening white sand. It is frequented by surfers who enjoy challenging themselves in the heavy shorebreak or at one of the nearby reef breaks.
La Jolla Children's Pool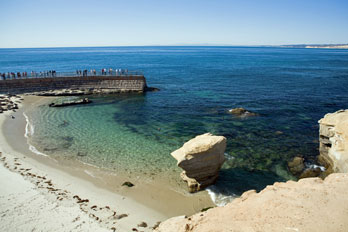 A seawall offers partial protection to La Jolla's Children's Pool, a small pocket beach near Seal Rock. This picturesque beach is popular with families with children and others. Most come to observe the wildlife rather than to wade or sunbathe.
Nearby Seal Rock is usually crowded with harbor seals and sea lions. These marine mammals have taken up residence on the beach, too. Visitors should stay well back from the seals and sea lions. Some people have advocated turning the beach into a marine mammal sanctuary.
Divers like Children's Pool for its easy access to the water and close proximity to interesting underwater reefs.
Lifeguards are on duty. Facilities include restrooms and outdoor showers. Parking can be found along Coast Boulevard and other nearby streets.
Windansea Beach
South of Children's Pool, Windansea Beach stretches along the coast at the foot of Nautilus Street. Known best for its great reef surf breaks, the beach is also popular with sunbathers who like finding secluded spots between the sandstone outcroppings along the shore.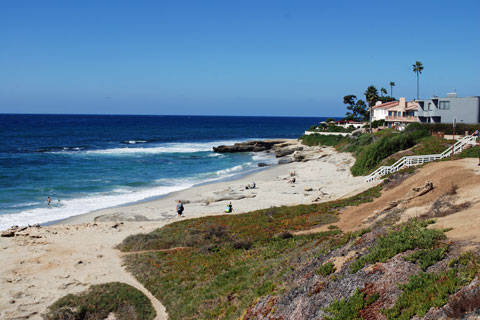 Northern End of Windansea Beach
Because of a strong undertow and hard breaking waves, Windansea Beach can be hazardous for swimming. Lifeguards are on duty during the summer months. A palm covered surf shack on the beach is now a historical landmark. There are no facilities at the beach.
La Jolla Restaurants
La Jolla Shores Beach Vicinity
Jeff's Burgers 2152 Avenida De La Playa
House of Pizza 8107 Camino Del Sol
The Shore Cafe 8080 La Jolla Shores Drive
La Jolla Cove Vicinity
George's at the Cove 1250 Prospect Street
Brockton Villa Restaurant 1235 Coast Boulevard
Goldfish Point Cafe 1255 Coast Boulevard
Beach Supplies
Sunglass Hut 1049 Prospect Street
La Jolla Surf Systems 2132 Avenida De La Playa
Surf Diva Surf School 2160 Avenida De La Playa
Rusty Boardhouse 2170 Avenida De La Playa
Hike Bike Kayak Inc 2222 Avenida De La Playa
Neighbor-Saver Market 2144 Avenida De La Playa
La Jolla Country Market 1030 Torrey Pines Road
7-Eleven 6953 La Jolla Boulevard