Leadbetter Beach
Leadbetter Beach is probably Santa Barbara's most popular beach. A long stretch of sand extending from Shoreline Park around to the harbor is a favorite spot for walkers, sun bathers, and families. Lifeguards are on duty during peak times.
While the waves at Leadbetter Beach are usually too tame for experienced surfers, beginners find it a great place to get comfortable with the sport out toward Leadbetter Point. Steady winds attract a lot of kiteboarders and windsurfers.
Leadbetter Beach is within easy walking distance of the Santa Barbara City College, making it a popular destination for students looking for a break from their studies.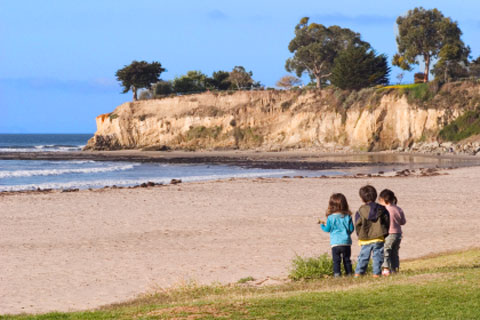 Nearby Beaches
Arroyo Burro Beach Park,
aka, Hendry's Beach
Arroyo Burro Beach Park is located 5 miles west of the center of Santa Barbara on Cliff Drive near Hope Ranch. The sandy beach is popular for swimming, surf fishing, surfing, picnicking, and sun bathing. The park is open from 8:00 AM to sunset. Other facilities include a restaurant, snack bar, parking, and restrooms.
Off-Leash Dog Area
The section of beach to the south of Arroyo Burro Slough is designated as an off-leash area for dogs. There is also a coin operated dog washing station near the parking lot. Developed by Wripples Pet Spa the dog washing station has a large basin for washing, shampoo, and blow dryers. While small dogs can usually be spruced up for about $3, larger pooches may run as high as $12. Better than a wet, sandy dog in your car.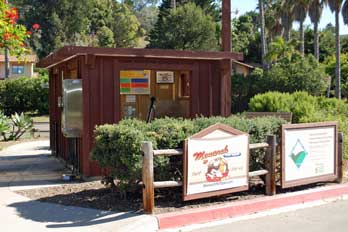 Adjacent Parks
Adjacent to Arroyo Burro Park are the Douglas Family Preserve, a 70-acre open space parcel, and privately funded, 230-acre Elings Park. The Douglas Family Preserve has walking trails, but no facilities. Within Elings Park are sports fields, hiking trails, a BMX track, hang gliding and paragliding training hills, playgrounds, and picnic areas.
Mesa Lane Beach
About a mile southeast of Arroyo burro Beach a stairway leads down from Mesa Lane to a small beach popular with locals and surfers.
One Thousand Steps Beach
At the end of Santa Cruz Boulevard just northwest of Shoreline Park a stairway leads down to a sand and rock beach. Despite its name, the old stairway (originally built in 1923) falls short of 1,000 steps. When the tide is out, tide pools are worth exploring here.
Shoreline Park
Shoreline Park rests on a bluff overlooking the Pacific Ocean, just northwest of Leadbetter Beach. Shoreline Drive and a bike and walking trail connect Leadbetter Beach to Shoreline Park. The park includes a playground, restrooms, wide grassy areas, walking paths, a Japanese garden, picnic tables, and BBQs. One unique feature at the park are the benches shaped like a whale's tail.
From vantage points along Shoreline Park visitors have wonderful views of the Channel Islands, the Santa Barbara Channel, and the Santa Barbara Harbor. Whale watching is a popular pastime here during the winter Gray Whale migration months. Dolphins, seals, and other marine mammals are often spotted from the park.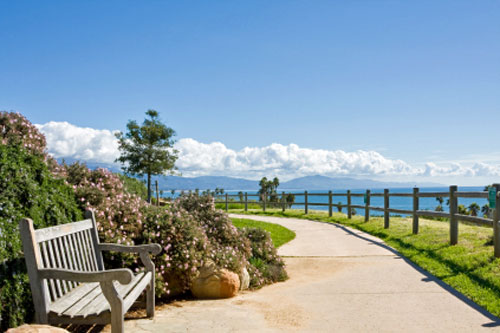 A stairway from Shoreline Park leads down to the beach. When the tide is low you can walk all the way north to Arroyo Burro Beach (Hendry's Beach) or around the point to the south onto Leadbetter Beach. There are two free parking lots, one at either end of the park, and also parking along the streets. the park is open from sunrise to 10:00 PM.