Long Beach
Long Beach stretches 4 miles from Long Beach Harbor on the west to the tip of the peninsula at the mouth of Alamitos Bay. Since the southern facing beach is protected by harbor breakwaters, it sees little or no surf. Lifeguards are on duty seasonally during daylight hours. Although officially Long Beach encompasses the full expanse of sand, local names are used to delineate various portions of the beach.
Alamitos Beach
At the western end is Alamitos Beach, accessed by a short road off Shoreline Drive. A small, metered parking lot is next to the sand, making it convenient to unload beach gear and move out onto the beach. Restrooms are available there, along with showers, and volleyball courts. The paved bike trail passes through the beach. Alfredo's Beach Club has food and beverages, along with rentals of bikes, skates, kayaks, stand-up paddleboards, skates, and other beach gear.

Junipero Beach
Junipero Beach (also called Cherry Beach) begins at the foot of Junipero Avenue and extends eastward to the pier. Bluff Park overlooks this section of beach. Visitors can stroll along the park's pathways and relax on one of their benches while enjoying vistas of the beach and harbor. Access to the beach is via stairs spaced every few blocks.
Parking is free along Ocean Boulevard. A metered parking lot is available at beach level at Junipero Avenue. Restrooms are found there, along with showers. Another installment of Alfredo's Beach Club is located there offering food and beverages and bike rentals. Above the beach and across Ocean Boulevard, Bixby Park has a playground, picnic facilities, a mobile skate park, volleyball courts, and restrooms.
Belmont Shore Beach
Belmont Shore Beach begins at the pier and extends east. Some consider the full stretch of land to the tip of the peninsula part of Belmont Shore Beach while others think of it mainly as the area around the pier. Several metered parking lots are located nearby, and free parking can be found along Ocean Boulevard.
Alfredo's Beach Club has its Kayak Kafe here along with Buoy's on the Pier. Nearby is Belmont Pool, a public pool and adjoining weight room. Learn more about these facilities on our BEACH ACTIVITIES page.
Granada Beach
Granada Beach, actually part of Belmont Shore Beach, lies between the foot of Roycroft Avenue to the foot of Laverne Avenue. Metered parking lots are located adjacent to the sand. Restrooms are available here, along with showers, and the bike path. This section of beach is popular for events such as sand castle contests and movies. See our BEACH ACTIVITIES for all the details.
Rosie's Dog Beach
Rosie's Dog Beach is located on Granada Beach between Roycroft and Argonne avenues. It is open from 6:00 AM to 8:00 PM. Dogs are limited to a designated, 3-acre Dog Zone. There is no fence.
Peninsula Beach
Peninsula Beach is found at the far eastern end of Long Beach. A wooden boardwalk runs along park of the beach. Soft waves and steady winds make the beach very popular for kiteboarding, windsurfing, and stand-up paddleboarding. Parking is found in metered lots and along the streets. Portable restrooms are located near Claremont Place and down at 72nd Place.
Volleyball courts are found in several places. Nearby Bayshore Park and Alamitos Park have picnic areas. Bayshore also has a handball court, paddle tennis court, playground equipment, and a roller hockey rink.
Shoreline Pedestrian Bikepath
Long Beach's Shoreline Pedestrian Bikepath snakes 3.1 miles across the sand from Shoreline Village to Alamitos Bay. Two 6-foot wide paths are dedicated to bike traffic while an adjacent 5-foot wide path is for pedestrians.
The bike path connects with the 29-mile Los Angeles River Bikeway at Shoreline Village and with the 28-mile San Gabriel River Bike Trail near Alamitos Bay Marina.
Belmont Veterans Memorial Pier
The Belmont Veterans Memorial Pier extends 1,800 feet into the bay. It is most popular with anglers and sight-seers. A snack bar is located at the end of the pier. One section has been designated as a non-fishing area and is popular with spectators watching sailboat races.
The AquaLink water taxi, a 68-foot enclosed catamaran, stops at the pier and makes connections to Alamitos Bay Landing, Rainbow Harbor, the Queen Mary and the Aquarium of the Pacific. Fare is $5. The boat is wheelchair accessible from most landings, including the pier.
Long Beach Waterfront Parks
Alamitos Park
Location: E. Ocean Boulevard and 72 Place, east end of the peninsula
Facilities: Playground, benches, picnic tables, and walkway. This one-third acre park looks out on the entrance to Alamitos Bay.
Bayshore Park
Location: 14 54th Place, along the shore of Alamitos Bay
Facilities: Handball court, paddle tennis court, playground equipment, racquetball court, roller hockey rink, sandy picnic area. The roller hockey rink offers youth clinics, pick up play, and leagues for men and women in novice, intermediate and advance divisions. Information: 570-1736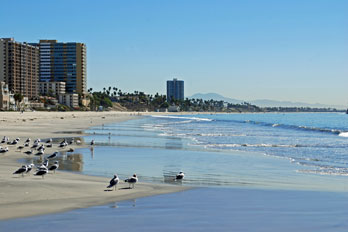 Bixby Park
Location: 130 Cherry Avenue
Hours: Weekdays 10:00 AM to 4:00 PM, Saturday 12:00 PM to 4:00 PM
Facilities: Bandshell / stage, community center, playground, mobile skate park, picnic area / barbeque pits, restrooms, volleyball court, play equipment, sports field.
Bluff Park
Location: E. Ocean Boulevard and Redondo Avenue
Facilities: Footpath with ocean view, telescopes, benches, green space, Lone Sailor Memorial. The 11-acre park stretches along the bluff above the beach. It is popular with walkers and joggers. The Lone Sailor Memorial is a plaza around the 7-foot tall sailor who is gazing out to sea with his duffle. The memorial includes bricks with donor names, mostly honoring naval veterans.
Marine Park
Location: Appian Way below 2nd Street, Alamitos Bay
Facilities: Beach, picnic area, play equipment, volleyball court. Also known as Mother's Beach. Shallow swimming area with lifeguards during peak times.