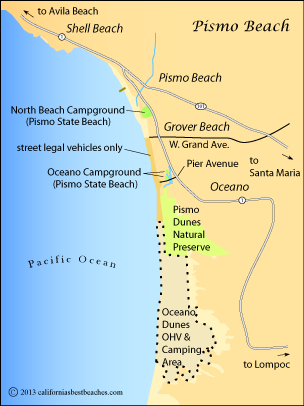 Pismo Beach
Pismo Beach is one of the leading destinations for beach-goers along California's central coast. The 6-mile long beach is popular for swimming, surfing, sea kayaking, kite boarding, fishing, and clamming.
Just to the south of Pismo Beach, Oceano Dunes State Vehicular Recreation Area contains 5½ miles of beach open for vehicle use and acres of sand dunes allowing 4-wheel vehicles.
Highlights of the Pismo Beach Coastal Region
A 1370-foot pier for anglers and sightseers in Pismo Beach
Beach amenities such as restrooms, showers, volleyball courts, & picnic areas
Shell Beach with tide pools and coves
A series of parks along the bluffs over looking the ocean
Camping at Pismo State Beach or Oceano Dunes
Coastal trails
4-wheeling fun at Oceano Dunes
Festivals and events
Monarch Butterfly Grove
Guided nature tours
Horseback riding on the dunes
Kayaking through the Dinosaur Caves
Stand-up Paddleboarding around Shell Beach and Pismo Beach
The Pismo Beach Community
The town of Pismo Beach and its surrounding communities have everything visitors to the area could want - ample lodging and restaurants of all price ranges, strong community resources such as parks and public transportation, and a variety of services and shops that support beach and ocean adventures.
City Parks
A string of city parks are found along the bluffs overlooking the ocean around Shell Beach. These provide wonderful bases where locals and visitors can park, enjoy spectacular ocean vistas, picnic, and often access the beach or connecting trails. Some have restrooms, picnic areas, playground equipment, and drinking fountains. North to south:
Palisades Bluff Parkway, Beachcomber Dr. - 1-mile trail along bluff, picnic tables, grass, stairway to beach
Ebb Tide Park, Ebb Tide Ct. - secluded park, grass, short path, ocean views
Spyglass Park, Seacliff Dr. - 4½ acre park, ocean views, access to 1½ mile sandy beach
Seacliff Park, Seacliff Dr. - grassy picnic area overlooking cove beach, tide pools
Eldwayen Ocean Park, Vista Del Mar St. - 1½-mile ocean front, stairs to sandy beach and tide pools
Margo Dodd Park, Cliff Ave. to Ocean Blvd. - Ocean views, beach access to tide pools
Dinosaur Caves Park, Price St. - 11-acre ocean front bluff, ocean vista, unique play area, restrooms
Shelter Cove, Price St., 3½-acres of open space, bluff-top walkway, stairs access Elmer Ross Beach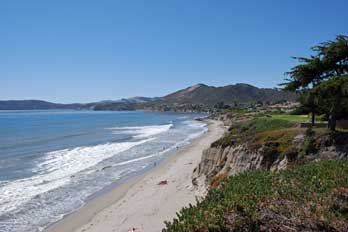 Beach Supplies
With the towns of Pismo Beach, Grover Beach, and Oceano next to the beach, finding beach supplies and snacks usually only requires a short drive.
Pismo Yogurt, 187 Pomeroy Avenue
Price Street Market, 1100 Price Street
Pismo Food Store, 501 Price Street
Pismo Market, 700 Dolliver Street (Highway 1)
Paucho's Surf Shop, 181 Pomeroy Avenue
Grand Liquors, 816 West Grand Avenue
Starbucks, 1758 Grand Avenue
Vons 1758 Grand Ave.
Rite Aid Pharmacy 1690 Grand Ave.
Red Dirt Coffee House, 1452 East Grand Avenue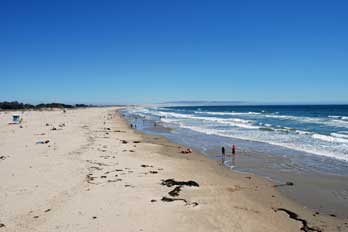 Access to Pismo Beach
Pismo State Beach extends from the foot of Wilmar Street to the Santa Maria River. The section north of Pismo Creek is administered by the city.
A number of good access points to Pismo Beach are found along the frontage area from the town of Pismo Beach south through Grover Beach and Oceano. Not all of them have more than streetside parking.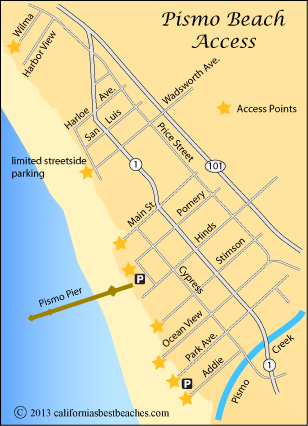 Public Transportation
The Regional Transit Authority (RTA) provides public transportation around the Pismo Beach area. Their service extends south to Santa Maria and north to Hearst Castle.
Regional Transit Authority