Hearst San Simeon State Park Beaches
Location
500 San Simeon Creek Road, Cambria
San Luis Obispo County
Admission
Beaches: Free
Hours: dawn to sunset
805-927-2020
Main Attractions
Swimming, surfing
Sun bathing
Walking
Facilities
Facilities vary by location.
Restrooms
Picnic area
Washburn Loop Trail
Moonstone Bluff Trail
Vista Points
Campgrounds
Special Regulations
No collecting or disturbing park features
Dogs on leash
Accessibility
Campgrounds
Parking, restrooms
Nearby Elephant Seal Trail
Washburn Loop Trail
Moonstone Bluff Trail
Hazards Include
Rip currents always possible
Rogue waves
Poison oak
Caution: Check with rangers or lifeguards that conditions are safe for your planned activities.
Nearby Beaches
Cayucos State Beach, 20 miles south
Morro Rock, 25 miles south
Mill Creek Beach, 35 miles north
Webcams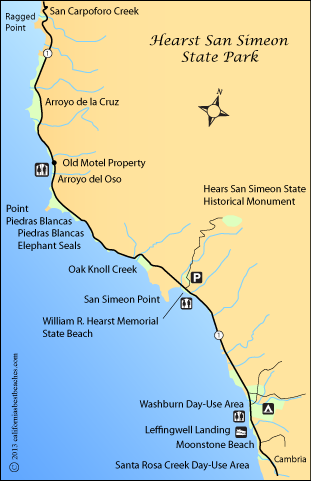 Hearst San Simeon State Park Beaches
The beaches within the boundaries of Hearst San Simeon State Park are spread along 22 miles of coastline from Cambria to Ragged Point.
Santa Rosa Day-Use Area - Located in Cambria at the southern end of Moonstone Beach. Picnic area, restrooms
Moonstone Beach - Located in Cambria. 1.4 miles of beach with polished stones, boardwalk
Leffingwell Landing - Located in Cambria at the north end of Moonstone Beach. Boat launch, picnic area on bluff
Washburn Day-Use Area - Located at the mouth of San Simeon Creek at the center of the state park. Picnic area, campgrounds nearby
William R. Hearst Memorial State Beach - see our separate pages for Wm. R. Hearst State Beach
Piedras Blancas Elephant Seal Beaches - see our section for Piedras Blancas Elephant Seals
Oak Knoll Creek - Located 2 miles north of turnoff to Hearst Castle. Nearly a mile of beach.
Orroyo del Oso - Located south of the Old Motel Property along Highway 1, 1.5 miles north of Point Piedras Blancas - vista point, picnic area, restrooms, beach access.
Orroyo de la Cruz - Located 3.5 miles north of Point Piedras Blancas. Beach at stream outlet.
San Carpoforo Creek - Located at Ragged Point, 7.5 miles north Point Piedras Blancas.
Moonstone Beach
Moonstone Beach stretches from the mouth of Santa Rosa Creek 1½ miles to the north. Moonstone Beach Drive parallels the beach and leads to several access points.
Visitors are attracted by the variety of polished, colored stones on the beach. The rocks were washed down from the nearby hills and smoothed as they tumbled downstream. Once on the beach they are polished even further by the rolling waves. The rocks are chalcedony, a type of microcrystalline quartz.
Parking at Moonstone Beach
From the north the best way to access Moonstone Beach to take Moonstone Beach Drive off Highway 1 and go one third mile south to a beach parking area. From the south take the Windsor Blvd. exit and turn north onto Moonstone Drive. After one third mile turn onto York Street and find a beach parking area.
Washburn Day-use Area and Beach
Washburn Day-use area is next to the campgrounds at Hearst San Simeon State Park. Visitors to the day-use area will find two parking areas. One is inland from Highway 1 and has restrooms, piped water, BBQ grills and picnic tables. It is a more sheltered place to enjoy a picnic. Beach access is easy via a trail under the highway bridge. The ocean-side parking area has several picnic tables.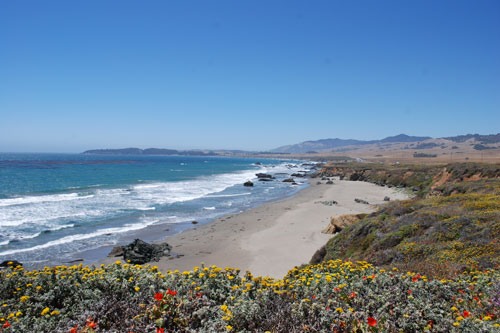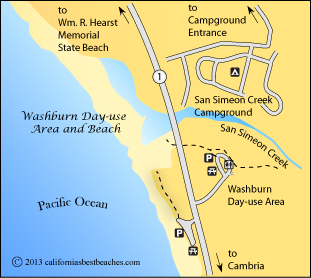 A raised wooden boardwalk and trails connect the Washburn Day-use Area to the Washburn primitive camping campground a short distance up San Simeon Creek. Traditional campsites are found across the creek in the San Simeon Creek Campground.
No dogs are allowed on the beach here.
The Hearst San Simeon State Park also includes Hearst Castle, the Santa Rosa Creek Natural Preserve, the San Simeon Natural Preserve and the Pa-nu Cultural Preserve.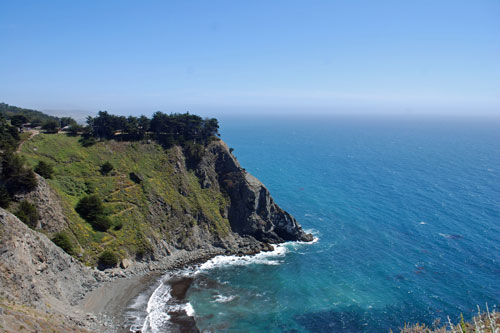 Ocean Safety
California State Parks and Recreation cautions that "large surf, cold water temperatures, backwash, sudden drop-offs, pounding shorebreak, and dangerous rip currents can turn what seem like safe activities such as playing near the surf line, wading, or climbing on rock outcroppings, deadly." Learn more about ocean safety at
CA State Parks: Ocean Safety