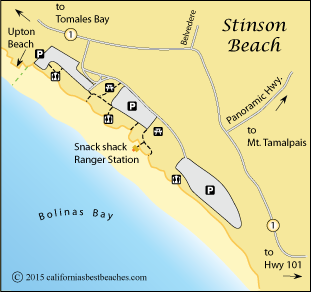 Stinson Beach
Stinson Beach is a popular destination for Marin County and San Francisco beach visitors. A 3½-mile swath of white sand curves around Bolinas Bay. Stinson Beach takes up the southern portion, while to the north is a county-owned Upton Beach and then Seadrift Beach.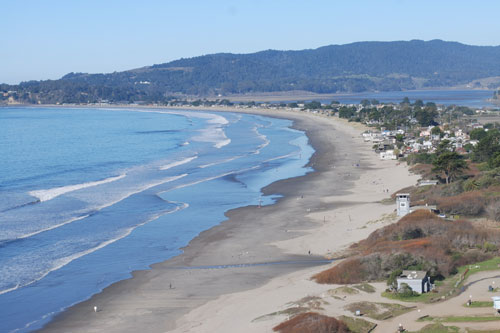 Stinson Beach is within the Golden Gate National Recreation Area. Parking and use of the beach are free. During peak times crowds gather on the sand, and the roads to the beach can be backed up. Some days can be bright and sunny, others chilly and foggy.
Upton Beach
Situated between Stinson Beach and Seadrift Beach, Upton Beach consists of 4 acres of coast popular for fishing, sun bathing, picnicking, and surfing. Hang Gliders launched from nearby Mt. Tamalpais often land on the beach. Unlike Stinson Beach, dogs are allowed on Upton Beach as long as they are on leash. The beach is operated by Marin County Parks. Parking is along Calle Del Arroyo or at Stinson Beach. The beach is open during daylight hours.
Seadrift Beach Controversy
The beach in front of the Seadrift community to the north of Stinson Beach has been a contested area. California law designates all beach areas below the average high tide mark public property, but with shifting sands that line can move so that it is difficult to know exactly where it is. As it stands now, visitors are permitted to pass through Seadrift Beach, but are not supposed to stop there.
Sharks
The waters off Stinson Beach are part of the Red Triangle, an area extending from Bodega Bay to Big Sur and including the Farallon Islands. Shark attacks, especially from Great Whites, are more common within the triangle; but still, quite rare. A surfer at Stinson Beach was attacked by a Great White in 1998 and another surfer was attacked in 2002. Sightings of sharks in the area occur from time to time. On rare occasions when lifeguards determine there is a danger to beach-goers, lifeguards close the beach to swimming.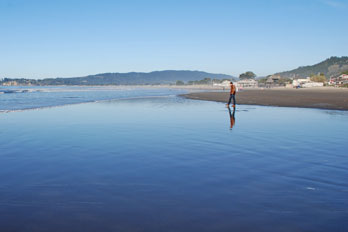 Driving to Stinson Beach
The recommended route to Stinson Beach for most visitors is via Highway 1 which departs from Highway 101 at Mill Valley. The steep, winding road is not recommended for vehicles longer than 35 feet. Along the way after 7 miles Highway 1 passes Muir Beach before continuing up the coast another 6 miles to Stinson Beach.
Public Transportation to Stinson Beach
Marin Transit's West Marin Stagecoach South Route 61 connects Stinson Beach with the Manzanita Park & Ride Lot (intersection of Highway 101 and Highway 1) on weekdays, weekends, and holidays (except New Year's, Thanksgiving, and Christmas). The bus also stops in Marin City, at Tamalpais High School and points in between. On weekends and holidays the bus extends to Sausalito.
Nearby Restaurants
Beach Supplies