Caution: Check with rangers or lifeguards that conditions are safe for your planned activities.
Sunset State Beach
Location
Santa Cruz County
4.5 miles west of Watsonville
Admission
Day Use $10
Hours vary:
Call (831) 763-7062
Main Attractions
Picnic areas with BBQ grills
Remote-control glider port
Camping
Fishing
3-mile long beach connecting to neighboring beaches
Hazards Include
Rip currents
Deep off-shore dropoffs
High surf, for expert surfers only
Special Regulations
No pets on beach
No alcohol on beach or in picnic areas
No collecting
Fires only in provided fire rings, until 10 PM
Accessibility
Beach wheelchairs available at kiosk, limited supply.
Accessible picnic tables, restrooms, and campsites.
Nearby Beaches
Manresa State Beach, 1 mile north
La Selva Beach, 4.3 miles north
Palm Beach, 1 mile south
Zmudowski State Beach, 3.4 miles south, across Pajaro River
Moss Landing State Beach, 5.5 miles south, across Pajaro River
Sunset State Beach
Sunset Beach is known for its long sparkling beach stretching north and south along Monterey Bay. A 200-foot tall sand dune bluff overlooks the beach, offering great vistas of the beach and ocean. Popular visitor activities include walking or jogging, playing in the waves, relaxing in the sand, picnicking, and playing sports.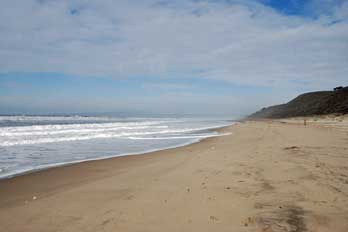 Into the Surf
Many visitors take right to the water, enjoying boogie boarding, skim boarding, and swimming. Dangerous rip currents at Sunset warrant caution. It is not the best swimming beach for young children. Lifeguards are on duty during the busiest season. Experienced surfers venture out to ride the waves.
Wildlife
Sunset Beach is a great place to watch for bottled nosed dolphins through summer and fall from one of the overlooks on the bluff. A pair of binoculars is a good item to add to your beach bag. Gray whales are most often sighted from mid-December through mid-April. Humpback whales, blue whales and killer whales are sometimes seen during this same migration period. Also keep an eye out for sea otters. For bird watchers expect various shore birds, white tailed kites, western snowy plovers, and red-tailed hawks.

Food and Supplies
Other than nearby firewood vendors, there are no stores or restaurants close to Sunset Beach. For those things you will need to drive about 5 miles back to Watsonville.
Ocean Safety
California State Parks and Recreation cautions that "large surf, cold water temperatures, backwash, sudden drop-offs, pounding shorebreak, and dangerous rip currents can turn what seem like safe activities such as playing near the surf line, wading, or climbing on rock outcroppings, deadly." Learn more about ocean safety at
CA State Parks: Ocean Safety
California's Best Beaches
Every effort is made to provide accurate and up to date information, but we cannot be responsible for errors or for changes that may have occurred since publication. Always confirm information with the service provider and check for any recent changes that may have been made. Also, check with lifeguards that conditions at the beach are safe for your planned activities.
The map displayed above is for illustrative purposes only. California's Best Beaches website makes no warranties regarding the accuracy, completeness, reliability or suitability of any of its maps. The information provided on this website is done so without warranty of any kind, either expressed or implied, including but not limited to, the implied warranties of merchantability and fitness for a particular purpose.