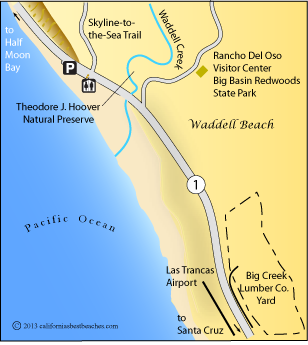 Locals Know it as Waddell Creek
Although officially it is Waddell Beach, almost everyone refers to it as Waddell Creek Beach, or more often, simply Waddell Creek.
Waddell Beach
Waddell Beach spreads 1.5 miles along the coast at the mouth of Waddell Creek. The main section of the beach is part of Big Basin Redwoods State Park. The steady winds at Waddell Beach have made it a favorite for experienced windsurfers and kite surfers.
Surfing is also popular at Waddell Beach. It has been the site of several surfing competitions when the conditions there have been right. Boogie boarders enjoy working the waves here too.
Some beach visitors enjoy exploring south along the beach toward Greyhound Rock, a county beach. While it is possible to walk the entire way to the rock at low tides, it is not recommended because of the danger of rising tides. During the winter months passing gray whales can be sighted from the beach.
During the winter Waddell Creek cuts across the beach. The nearest supplies are in Davenport, 7.5 miles to the south.
Nearby Features
Las Trancas Airport, on the bluff adjacent to the southern part of Waddell Beach, is a private landing strip owned by the Big Creek Lumber Company. The lumber company's facility near Waddell Creek includes their sawmill, forestry department, wholesale division and administrative offices.
Sharks
Although sharks are probably no greater threat at Waddell Beach than any other area beach, two reported shark incidents are worthy of note. In May 2012 warning signs were posted when a great white was seen snatching an elephant seal about 150 yards out from the mouth of Waddell Creek, and in 1999 a surfer was injured by a shark here.
Big Basin Redwoods State Park
Directly across the highway from Waddell Beach are entranceways to Big Basin Redwoods State Park. At the Rancho Del Oso Visitor Center are exhibits and the gateway to nearby nature trails. Along the shore of Waddell Creek is Andrew J. Hoover Natural Preserve. Across from the Waddell Beach parking lot is the western terminus of the Skyline-to-the-Sea Trail.
For maps of these areas and more information about these facilities and trails, see our Ranch Del Oso page.
Ocean Safety
California State Parks and Recreation cautions that "large surf, cold water temperatures, backwash, sudden drop-offs, pounding shorebreak, and dangerous rip currents can turn what seem like safe activities such as playing near the surf line, wading, or climbing on rock outcroppings, deadly." Learn more about ocean safety at
CA State Parks: Ocean Safety