Zuma Beach
Zuma Beach is one of the most popular beaches in Los Angeles County. The 4-mile expanse of sand draws families and surfers, sun bathers and anglers. While it can be crowded on weekends, there always seems to be enough space for everyone.
Ample facilities make the beach especially attractive. Restrooms are spaced along the beach front. Cold showers and changing rooms are available. Lifeguard stations are set at regular intervals along the beach and staffed during daylight hours. Lifeguards are part of the Los Angeles County Lifeguard Service which maintains a 24-hour sectional headquarters at Zuma Beach.
Waves at Zuma can be dangerous, breaking close to shore, and rip currents are prevalent. Swimmers should use caution.
Zuma Beach Parking
Parking lots at Zuma Beach are managed by Los Angeles County Department of Beaches and Harbors. More than 2000 parking spaces are available in a chain of 12 parking lots along the beach front. Access to all the parking lots is via the entrance gates off Pacific Coast Highway at the south end of the beach.
Parking Fees:
winter $3 - $8
summer $3 - $10
Find details at LA County Dept. Beaches & Harbords Parking Rates
No overnight parking is available at Zuma Beach. Free parking is available for vehicles displaying a legal disabled placard or license plate on non-holiday weekends at lots that are staffed or un-gated such as Zuma.
There are a limited number of highway shoulder parking spaces along the Pacific Coast Highway.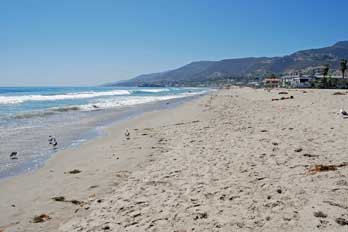 Westward Beach
Westward Beach is south of Zuma Beach. Access is via Westward Beach Road which runs along the edge of the sand and has parking along its shoulders. There is also a free parking lot. Waves here break more quickly than at Zuma Beach, making it hazardous for inexperienced swimmers.
Public Transportation to Zuma Beach
Local Metro Bus 534 runs along the Pacific Coast Highway, connecting points in Malibu with the Washington/Fairfax Transit Hub in Santa Monica. Travel time averages about 1 hour 10 minutes.
Food Supplies at Zuma Beach
Two snack bars are located at Zuma Beach. The menu is reported by some visitors to be best suited to children.
Nearby Supplies
Starbucks: Point Dume Plaza, 29211 Heather Cliff Road, off Pacific Coast Highway at Trancas Canyon Road
Lily's Cafe & Pastries: near Starbucks
Coral Beach Cantina: 29350 Pacific Coast Highway
Malibu Ranch Market: 29575 Pacific Coast Highway