Nearby
Activities and Events
Greyhound Rock
County Park
1.4 miles south of Waddell Beach
Open sunrise to sunset, (831) 454-7956
Paved pedestrian access to beach and picnic tables
Parking, restrooms, viewing platform
Fishing, tide pools, nature trails
At low tide it is possible to explore Greyhound Rock. Always be cautious of waves.
Wildflower Weekend
April 22, 2017
Rancho Del Oso Nature and History Center, inland from Waddell Beach
(831) 427.2288
Free nature hikes to view the wildflowers at 12:00 - 4:00 PM.
Friends of Santa Cruz State Parks
Davenport Gallery
450 Highway 1, Davenport, CA
(831) 426-1199
Quality local art on display, including fine crafts and jewelry.
Davenport Gallery
Books
of Interest
Ano Nuevo Activities
Although the elephant seals are by far the main attraction at Ano Nuevo, there are many other things in the park worth seeing and doing.
Marine Education Center
The Visitor Center- or Marine Education Center is located in the historic Dickerman Barn and other buildings from the Steele Dairy Ranch, dating as far back as 1861. The facility is located a short distance south of the parking lot. The goal of the new facility is to bring Ano Nuevo's rich cultural and natural history alive, and encourage visitors to learn both in the center and while exploring the reserve.
The Marine Education Center offers exhibits about natural history, focusing on elephant seals, but also including information on intertidal zone, birds, geology, and prehistoric cultural traditions. Classrooms allow for science-based, hands-on lessons. The bookstore, located in the dairy barn, sells educational items such as books, postcards, and posters. Food and drinks are not sold in the park.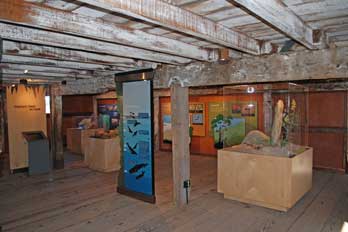 Ano Nuevo Trails
Cove Beach Trail, 0.1 miles one way
Actually two separate trails lead to Cove Beach. Watch out for poison oak.
Caution: Check with rangers or lifeguards that conditions are safe for your planned activities.
Upper Pond Trail, 0.4 mile one way
Simply an alternate trail to the AnoNuevo Point Trail, circling north of the pond.
Franklin Point, 0.6 miles one way
Take the Franklin Point Trail west from the trailhead on Highway 1 to beach access and historic Franklin Point. A boardwalk guides hikers on the tip of Franklin Point. Be cautious of unstable coastline north of Franklin Point. Parking for 8 vehicles at trailhead.
Whitehouse Creek South Trail, 0.19 miles one way
Find parking for 4 vehicles at trailhead along Highway 1. Hike west to the coast. There you can access a small beach. The trail connects with the Whitehouse Creek North Trail and the Atkinson Bluff Trail.
Whitehouse Creek North Trail, 1.2 mile loop
Find parking for 5 vehicles at trailhead along Highway 1. Make a loop out to the coast to a small point. Connect with the Atkinson Bluff Trail leading north and the southern Whitehouse Creek Trail.
Cascade Creek Trail, 0.5 miles one way
Find parking for 5 vehicles at trailhead on Highway 1. Follow the trail south to long, narrow stretch of beach just north of the restricted access area of the park. The trail connects with the Atkinson Bluff Trail.
Atkinson Bluff Trail, 1.8 miles one way
This trail is accessed by most of the other trails in the northwest part of the park. The Atkinson Bluff Trail winds its way along the top of the bluff overlooking the Pacific, offering wonderful views along its course.
Whitehouse Creek Road, 3.5 miles one way
Follow Whitehorse Creek Road north from the trailhead on Highway 1. Parking for 5 vehicles at trailhead. Climb about 300 feet over the first two miles until you reach Whitehorse Creek. Follow the creek for a little over half a mile. Then turn south onto Whitehorse Ridge Trail, climbing steeply 1,000 feet to two wonderful observation points. The trail continues on into Big Basin Redwoods State Park.
Reserving a Place on a Guided Tour
Between December 15 and March 31 you must be part of a guided tour in order to visit the elephant seals at Bight Beach. The tours are very popular and fill quickly. The best way to insure you will have a place in a tour is to make a reservation.
Reservation Information
Reservations for Public Seal Walks (not school groups) can be made beginning October 20, up to 56 days in advance, or as late as one day prior to the reservation date. With this system, every day a new day's worth of tour reservations becomes available.
There are no refunds or transfers for bad weather, late arrivals, cancellations, etc.
Recorded Information: (650) 879-0227
Two Ways to Make a Reservation
No phone reservations taken on Thanksgiving, Christmas, or New Year's Day.
Call: (800) 444-4445

October 1 to February 28
8:00 AM to 5:00 PM

Online: Ano Nuevo - Reserve California
For information about reservations for school groups, see the park website: Ano Nuevo State Park.
No Reservation?
Even if you don't have a reservation you can simply show up at the park on the chance that a reservation on a tour is available. If all tickers are sold out, "...the park does release 60-100 guided walk tickets on a first come first served basis. It is recommended that you arrive at the park before 12:00pm on weekends and holidays and 2:00pm on weekdays for a chance to purchase these tickets"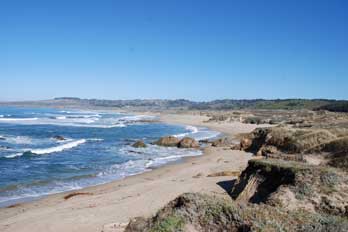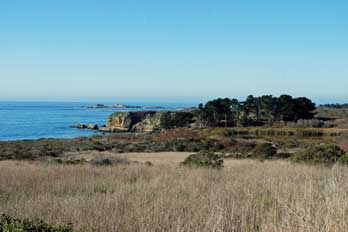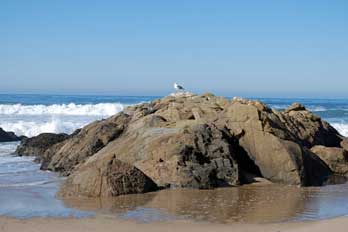 Ocean Safety
California State Parks and Recreation cautions that "large surf, cold water temperatures, backwash, sudden drop-offs, pounding shorebreak, and dangerous rip currents can turn what seem like safe activities such as playing near the surf line, wading, or climbing on rock outcroppings, deadly." Learn more about ocean safety at CA State Parks: Ocean Safety