Asilomar State Beach
Location
Pacific Grove, Monterey County
Sunset Drive off Highway 68
Admission
Free
Hours:
(831) 646-6440
Main Attractions
Nature walks
Surfing
Tide pools
Scuba diving
Facilities
Conference grounds
No restrooms at beach
Boardwalks and trails
Hazards
Severe rip currents
Danger of rogue waves
Cliffs
Special Regulations
Dogs on leash on beach
Stay on paved areas, boardwalks, and trails
No collecting
No fires on the beach
Accessibility
Parking
Dune Boardwalks and Coast Trail
Beach wheelchair available by reservation only" (831) 646-6440
Temporary parking permits available
Nearby Beaches
Monterey State Beach, 4 miles east
Carmel Beach, 1 mile south
Webcams
Insights into Gray Whales
Marine Life at Asilomar Beach
Amidst the tide pools, the craggy rocks, and the sand live a variety of marine creatures, all protected by the Asilomar Marine Reserve. Look for hermit crabs, sea stars, and sea anemone in the tide pools. Hidden in the sand are worms, crabs, shrimp and other animals.
Larger marine animals are seen basking on the rocks or out in the ocean. Harbor seals haul out onto rocky outcroppings at low tide. Watch for their head bobbing out of the water just beyond the surf line. Sea otters are often seen floating on their backs near kelp bed. Farther out look for migrating whales. Humpbacks and blue whales appear beginning in August. Later the gray whales arrive, usually beginning in November with January being the best time to watch for them.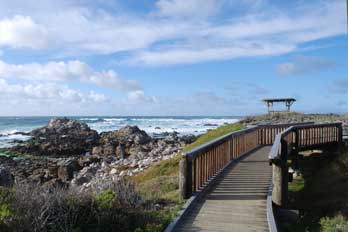 Asilomar State Beach
Asilomar State Beach is a rugged, mile-long section of shore on the west side of the Monterey Peninsula. Exposed to the force of the Pacific Ocean, the beach is battered by heavy surf that changes its character over the seasons, scouring away sand and then redepositing it. Asilomar connects with the broad, sandy beach along Spanish Bay.
Several small sandy beaches are tucked between the rocks. While experienced surfers enjoy the waves, the rip currents and rocks make the area much too dangerous for swimming. Most visitors enjoy walking the coastal trail, exploring the tide pools, or stopping for a picnic at scenic point. Rouge waves could sweep unwary visitors from the rocks into the surf. Never turn your back on the ocean.
Parking
Parking is limited along the shoulder of Sunset Drive.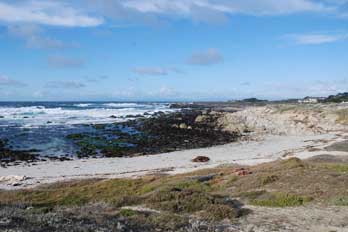 Asilomar Conference Grounds
Originally opened in 1913 as a women's YWCA summer camp and conference facility, the conference grounds were acquired by the State of California in 1956. Today the facilities can be rented by groups for conferences. Individual rooms or cottages may also be rented by what Asilomar calls leisure guests. See more about staying at Asilomar on our Asilomar Conference Grounds page.
More than a dozen of the historic buildings in the conference center were designed by renowned architect Julia Morgan.
Dune Stile
The dune stile along Sunset Drive at Asilomar Beach was originally built in the 1800s when the area was used for grazing livestock. The steps of the style provided a way of crossing the fence-line without a gate. When the YWCA took over the land in 1913 the stile marked the gateway to the beach. Today only the stout redwood posts remain from the original stile. A replica stile, without the steps, was constructed in 1988.
Asilomar Natural Dune Preserve
Across Sunset Drive from Asilomar State Beach spreads the Asilomar Natural Dune Preserve. A quarter mile boardwalk meanders through the 25 acres of restored sand dune ecosystem.
Ocean Safety
California State Parks and Recreation cautions that "large surf, cold water temperatures, backwash, sudden drop-offs, pounding shorebreak, and dangerous rip currents can turn what seem like safe activities such as playing near the surf line, wading, or climbing on rock outcroppings, deadly." Learn more about ocean safety at CA State Parks: Ocean Safety