Avila Beach
Area Beaches
Location
6 miles north of Pismo Beach
San Luis Obispo County
Admission
Free
Avila Beaches
Avila Beach - on either side of the Avila Pier
Olde Port Beach - first beach west near Port San Luis
Fisherman's Beach - west of Avila Beach, near Harford Pier
Pirate's Cove - south of Avila Beach
Main Attractions
Avila Beach Pier
Picnicking
Body boarding
Avila Beach Facilities and Features
Restrooms
Picnic area with table and BBQ pits
Volleyball & basketball courts
Outdoor showers
Swings
Hazards
Accessibility
Concrete ramps leading to beach
Promenade along Avila Beach
Piers, parking, restrooms
Avila Trolley
Special Regulations
Vehicles allowed on Fisherman's Beach only for launching and retrieving small water craft
Fires permitted on Olde Port Beach in provided fire rings
Dogs allowed off-leash on Olde Port Beach and Fisherman's Beach
Dogs are not allowed on Avila Beach from 10:00 AM to 5:00 PM
No glass or alcohol on beaches
Nearby Beaches
Pismo Beach, 6 miles south
Morro Bay, 21 miles north
Webcams
Avila Beach Webcam
South Pismo Beach Webcam
Tides
Avila Beach
Protected from heavy surf and winds by Point San Luis, Avila Beach is usually warmer than other beaches along the central coast. Half-mile long Avila Beach spreads along the shore of San Luis Obispo Bay, 6 miles north of Pismo Beach. Avila Beach is known as a family friendly stretch of sand.
Three piers extend into San Luis Obispo Bay near Avila Beach. The 1,685-foot Avila Beach Pier is a favorite for fishing and general sight-seeing. The nearby Harford Pier is a national historic structure. Today it is used by commercial fishing boats for off-loading their catches. California Polytechnic State University maintains a third pier for use in the marine research. It is not open to the public.
Other Beaches around the Bay
Fisherman's Beach
Fisherman's Beach is in Port San Luis, the smaller of their two beaches. At Fisherman's dogs are allowed to romp off-leash as long as they are under their owners' control. Public restrooms are found at Port San Luis harbor at the Coastal Getaway building.
Olde Port Beach
Olde Port Beach is west of Avila Beach, along Avila Beach Drive. The beach is most popular with families and college students from Cal Poly who want to spend a few hours away from their studies relaxing in the sun. Nearby are some free parking spaces as well as metered parking. Portable restrooms are available while repairs are being made on the permanent restrooms.
Pirate's Cove
South of Avila Beach at the end of a short trail is beautiful Pirate's Cove. In days past the beach was used by smugglers bringing in liquor. Today the beach is popular as a clothing-optional destination. The trail is easy to follow and has wooden steps in places, but it does require a degree of agility to negotiate. There are no restrooms or other facilities there.
Avila Beach Lifeguards
During the summer lifeguards are on duty at Avila Beach. To learn more about Avila Beach's Junior Lifeguard Program, see our ACTIVITIES page.
Avila Beach Community
Tourism is the heart of the town of Avila Beach's economy. Upscale resorts, hot springs spa treatments, tours, golf, tennis and other activities abound. The Avila Beach Promenade is a closed off section of Front Street that runs along the edge of the beach.
To the west is the tiny community of Port San Luis with several restaurants, the Harford Pier, a public boat launch ramp, Olde Port Beach, and Fisherman's Beach.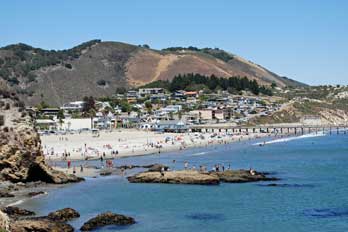 Buying Beach Supplies
From sandy Avila Beach, a quick stroll into town will take you to a number of shops that cater to beach-goers.
Hula Hut (380 Front St.) sells everything from ice cream to beach souvenirs.
The Sea Barn (444 Front St.) carries towels, t-shirts, swim suits, sunglasses and more.
This Little Fishy (468 Front St.) is a children's boutique with swim suits, footwear, beach gear, and more.
Woodstone Market (6675 Bay Laurel Pl.) is stocked with groceries, deli, beer & wine, and beach supplies.
Beach Comber Bills (360 Front St.) has souvenirs, hats, sun glasses, sandals, etc.
Public Transportation
On weekends during the summer the free Avila Beach Trolley connects Port San Luis, Avila Beach, Shell Beach, and Pismo Beach, with various other stops along the way.
Avila Beach Trolley
Parking
During peak times in the summer Avila Beach can become crowded and parking difficult to find. The limited number of free parking spaces along the streets near the beach fill quickly with early arrivals. A paid parking lot is available in Avila Beach one block from the shore. It is open from 6:00 AM to 10:00 PM. Parking fees are $5 for the day or $3 after 4:00 PM.
Ocean Safety
California State Parks and Recreation cautions that "large surf, cold water temperatures, backwash, sudden drop-offs, pounding shorebreak, and dangerous rip currents can turn what seem like safe activities such as playing near the surf line, wading, or climbing on rock outcroppings, deadly." Learn more about ocean safety at CA State Parks: Ocean Safety
Search This Site