Nearby Beaches
Bolsa Chica State Beach
Location
Pacific Coast Hwy. from Seapoint Ave. to Warner Ave.
Huntington Beach, CA
(714) 846-3460.
Admission
$15 per vehicle
Hours: 6 AM to 10 PM (entrance gate closes at 9 PM)
Main Attractions
Camping
Surfing, swimming
Bike/Walk Trail
Fishing
Facilities and Features
Restrooms, showers
Food concessions
Picnic areas, fire pits
RV campground
Lifeguard towers staffed during summer
Accessibility
Parking, restrooms
RV campsites, picnic areas
Bike Trail
Paved paths down beach to high tide mark
Beach wheelchairs available (714) 377-5691
Hazards
Regulations (partial list)
No pets allowed on the beach, including horses
Dogs allowed on leash in parking lot and on multi-use trail
No alcohol or glass containers allowed on beach
Fires on beach in fire rings only
Huntington Beach webcam:
Huntington Beach Webcams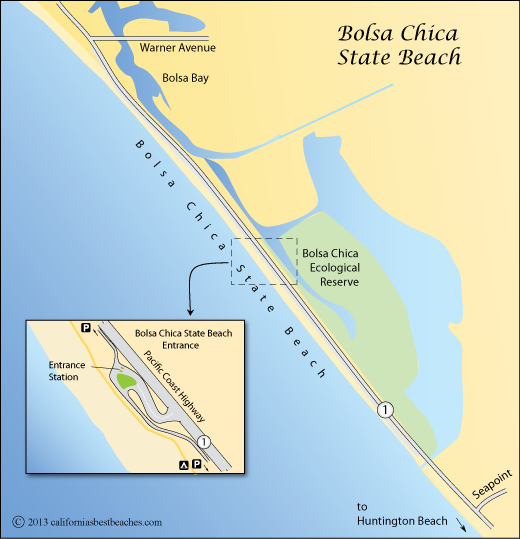 Bolsa Chica State Beach
Bolsa Chica State Beach stretches 3 miles along the coast at the north end of the City of Huntington Beach. Easy access off the Pacific Coast Highway and miles of wide, sandy beach make it a popular stop for beach-goers. Surfers, body surfers and skim boarders enjoy the waves. Families find plenty of room to spread out while still having facilities close at hand. Parking lots are immediately adjacent to the beach.
During the summer the beach entrance station gets crowded quickly with cars lining up at the gate as early as an hour before opening time. Many are planning to claim one of the first-come, first-served fire pits out on the sand. Even so, the beach rarely feels crowded. Bolsa Chica can get windy in the afternoons.
The multi-use Huntington Beach Bike Trail runs along the edge of the sand and connects to the south with Huntington Beach (7 miles).
Bolsa Chica Beach Parking
The entrance to Bolsa Chica Beach is directly off the Pacific Coast Highway at an intersection with traffic lights and a left turn lane for those northbound on the highway. Traffic spreads over 4 lanes as it approaches the entrance stations.
Parking Fees:
$15 per vehicle with up to 9 passengers
$14 for seniors
$7.50 for disabled with a
CA State Park Disabled Discount Pass
A series of large parking lots extend both north and south from the entrance station. All are equally close to the beach. You can exit the state beach from the northern lots at Warner Avenue or at the entrance station. Those parked in the southern lots must return to the entrance station to exit.
Babes Beach Cafe
Babes Beach Cafe provides food and beach rentals at four locations along the string of parking lots within Bolsa Chica State Beach. Babes' menu includes pizza, hot dogs, nachos, and churros, along with a variety of drink options.
Beach rentals include a variety of bicycles, umbrellas and chairs, surfboards, boogie boards, and various toys and games.
Babes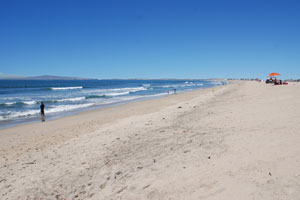 Sunset Beach
Walking north from Bolsa Chica State Beach you cross onto Sunset County Beach, fronted by the community of Sunset Beach. Only limited street parking is available. There are some small (free) parking lots between North and South Pacific. The beach is popular for sun bathing, surfing, volleyball, and fishing. Sting rays have been a problem here. The beach hours are the same as Bolsa Chica, 6 AM to 10 PM. There are restrooms with rinse off stations in the parking lots along Pacific, only a block from the beach. Lifeguards on duty during the summer.
Seal Beach
Seal Beach is tucked in between Anaheim Bay and Alamitos Bay. Access is via Main Street off the Pacific Coast Highway. The Seal Beach pier is the second longest wooden pier in California. It is used mostly for sight-seeing and fishing. Surfers like the waves around the pier and at the mouth of the San Gabriel River. Sting rays are a problem in the area.
Lifeguards are on duty in the summer. There are restrooms, showers, and food concessions. Parking lots are located near the foot of the pier ($3 for 2 hours or $6 per day). A children's playground is situated next to the pier. Beach hours are 4:30 AM to 10 PM.
Ocean Safety
California State Parks and Recreation cautions that "large surf, cold water temperatures, backwash, sudden drop-offs, pounding shorebreak, and dangerous rip currents can turn what seem like safe activities such as playing near the surf line, wading, or climbing on rock outcroppings, deadly." Learn more about ocean safety at CA State Parks: Ocean Safety
Search This Site