Nearby Activities and Events
Ventura Marathon
Ventura Pier, Ventura, CA
October 22, 2017
Marathon, half marathon, 5K and beach party
Marathon starts and finishes at Ventura Pier
Ventura Marathon
Ventura Beach Party
Ventura Promenade
Ventura, CA
October 21 - 22, 2017
Part of the Ventura Marathon celebration
Music, kids' activities, arts and crafts, beach games, beer and food
Adult tournaments in volleyball, sand soccer, frisbee, horseshoes
Saturday 10 AM - 5 PM
Sunday 10 AM - 4 PM
Ventura Beach Party
Ventura County Fair
August 2-13, 2017
Ventura County Fairgrounds
- Parade
Ventura Events Calendar
Adventure Sailing Charters
1575 Spinnaker Rd.
Ventura, CA
Sail aboard the 72-foot schooner Morning Star
Cruise the Channel Islands. Full or half day charters. Overnight trips available.
Surf voyages allow you to surf island spots such as Moore Meadows, Yellow Banks, and Hope Ranch
(805) 794-8703 Adventure Sailing Charters
Ventura to Ojai Bike Trail
Parallels Highway 33
A 15-mile paved walking, biking, jogging trail
1000 feet vertical climb to Ojai
Ventura to Ojai Bike Trail
Mission San Buenaventura
211 E. Main St.
Ventura, CA
Self-guided tours, open every day except major holidays.
Small admission fee
Mission San Buenaventura
Lake Casitas
Highway 150, 17 miles east of Carpinteria
Boating, fishing, camping
Lake Casitas
Books of
Local Interest
Surfing around
San Buenaventura Beach
Surfer's Point
Most of the action is around Surfer's Point, or C Street as it is known locally (nearby California Street leads to the beach; also known as Ventura Point). The point break produces steady waves. At the tip of the point is Stables, named for the nearby fairground stables. It usually has great waves. Fairgrounds are found at the outer point. Even farther out is a reef known as Outsides, famous for its monster waves when its up. But it's the outer point, known as Pipes, where most experienced surfers gather. Strong onshore winds in the afternoon make surfing difficult.
Caution: Check with rangers or lifeguards that conditions are safe for your planned activities.
California Street Classic Surf Contest
September 30, 2017
The Ventura Surf Club sponsors the annual California Street Classic Surf Contest. The event has both longboard and shortboard divisions for a wide range of age groups, including separate women's longboard divisions.
California Street Classic
Ventura Makos Surf Camp
Surf camps, private lessons, after school program.
(805) 312-0713 Ventura Makos Surf Camp
Mary Osborne Surf Camp
Kids summer surf camps for all ages
Mary Osborne Surf Camp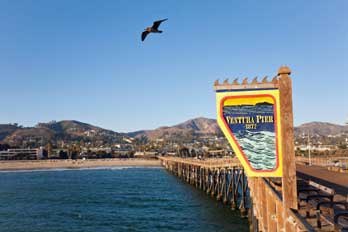 Out on the Ventura Pier
The Ventura Pier is an enjoyable place to pass the day with sea breezes blowing, the Ventura coast before you, and the sound of the waves lapping at the pilings. Originally the pier was nearly two thousand feet long, built in 1872 as a working cargo wharf. Today it stretches 1,700 into Pierpont Bay. It is open 24 hours a day.
Displays along the pier feature historic photographs, wildlife, and Chumash Indian life. Anglers have good success fishing for sea bass, perch, halibut, yellowtail, and mackerel, along with the occasional shark or ray. There are benches and fish cleaning stations available. Restrooms are located near the foot of the pier.
Fishing on the Pier
Anglers on the pier fish the sandy bottom around the pilings for kelp bass, salema, white croaker, halibut, and sanddabs. Out at the end of the pier is an expanded area with a large hole which allows fishermen to drop their lines and fish among the pilings. Powerful lights at night help to attract fish there. Electric sockets in the light poles are a great convenience.
Restaurants
A pair of restaurants on the pier are popular with locals and visitors alike. Beach Houe Fish serves fresh seafood and other menu items. Attached are a bar and a souvenir shop. They open for breakfast on the weekends, otherwise at 11:00 AM.
Beach House Tacos opens for breakfast at 8:30 AM. Besides tacos they serve salads, breakfast burritos, huevos rancheros, a variety of side dishes, and all kinds of beverages from beer and wine to soda and coffee.
Pier Under the Stars - October 1, 2017
Every year along the beachfront promenade near the pier, Ventura holds Pier Under the Stars, a food and wine tasting benefit for the Ventura Pier. The celebration includes live music and dancing under the stars. The event usually runs from 5:00 PM to 8:00 PM.
Pier Under the Stars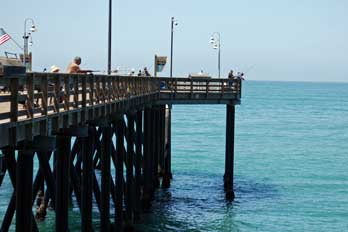 Pier into the Future
Pier into the Future is a non-profit organization devoted to enhancing the historic Ventura Pier. They help sponsor numerous events during the year and raise funds to help maintain the pier. They also hold a Ventura Pier photo contest.
Pier into the Future
San Buenaventura State Beach Activities
Volleyball
Volleyball courts, known as the San Pedro Street courts are found on San Buenaventura Beach near the picnic area. They are popular for pick-up matches as well as for youth camps, league, and tournament play.
Beach Volleyball Academy Camp - Ages 9 - 15
The Beach Volleyball Academy Camp has steadily gained popularity. The youth sports camp is held at the San Pedro Street courts in San Buenaventura State Beach in 6 sessions through the summer. The half day camps run from 9:00 AM to noon, Monday through Friday. Instruction covers passing, setting, hitting, digging, blocking and serving. Sessions run from mid-June to early August.
City of Ventura Parks and Recreation
Beginner Beach Volleyball Classes
The city of Ventura offers Beginner Beach Volleyball classes for adults from mid-May through early June. Classes meet at 5:30 PM to 6:30 PM on Wednesdays.
City of Ventura Parks and Recreation
City of Ventura Recreation: Beach Yoga
Beach Yoga classes are offered through the summer on the beach west of Pierpont School on Martha's Vineyard Court. The 1-hour classes include Yoga postures and breathing. They meet on Tuesdays from 9:00 AM to 10:00 AM.
City of Ventura: Beach Yoga
Ventura Junior Lifeguards
The Ventura Junior Lifeguards program is open to children and youth ages 9 through 15. Participants learn water safety, physical conditioning, and understanding and respect for the environment, and respect for themselves and others
Activities include open water swimming, paddle boarding, body surfing, surfboarding, skin diving, CPR, and self rescue. Also part of the program is a trip to the Channel Islands on Island Packers' vessel.
Prospective participants must pass a swimming tryout in order to qualify for the program. The tryout tests swimming skills along with each child's competence and confidence in the water.
2017 Program Dates
In 2017, three sessions are offered, June 19 - July 7, July 10 - July 28, and July 31 - August 18. Each session is 3 weeks long and runs from 9:00 AM to 2:00 PM, unless there is a field trip. Program participants meet at San Buenaventura State Beach.
Ventura Junior Lifeguards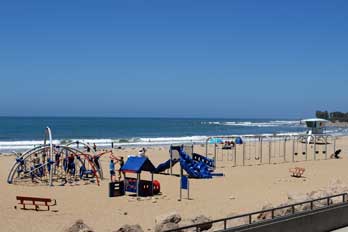 Wheel Fun Rentals
Wheel Fun Rentals has a wide range of pedal cycles at two locations on San Buenaventura Beach. Among their rental inventory are 2 and 4 seater surreys (more like light-weight golf carts with sun shades), sporty choppers and quad sports, cruiser bikes, mountain bikes, tandem bikes, and children's bikes.
They also rent a variety of beach gear such as boogie boards, sand toys, umbrellas, and chairs.
Locations:
Ventura Pier, (805) 765-5795 or (805) 650-7770
Open 7 days a week in summer, 9:00 AM to sunset
San Buenaventura State Beach picnic area, (805) 650-7770
Open weekends and holidays in summer, 9:00 AM to sunset
Wheel Fun Rentals
Local Surf Shops
Ventura Surf Shop
88 East Thompson Blvd., Ventura, CA
Sales and rentals
(805) 643-1062 Ventura Surf Shop

Seaward Surf & Sport
1082 South Seaward Avenue, Ventura, CA
Rentals, sales, lessons
(805) 648-4742 Seaward Surf & Sport
Local Fishing Tackle Shops
Hyun's Tackle Shop
3639 East Harbor Blvd., Ventura, CA
(805) 639-4131 Fisherman-Hyun
Eric's Tackle Shop
2127 East Thompson Blvd., Ventura, CA
(805) 648-5665 Eric's Tackle Shop