Nearby Beaches
Cabrillo Beach
Location
3720 Stephen M. White Dr.
San Pedro, CA
Inner beach: City of Los Angeles
Outer beach: Los Angeles Department of Beaches and Harbors
L.A. City Lifeguard Station at Cabrillo Beach: (310) 548-2909
Admission
Parking: $1 per hour
$9 maximum per day
(free for first 20 minutes)
Overnight parking for vehicles attached to boat trailer: $15
Hours: 5:00 AM - 10:00 PM
Main Attractions
Surfing, wind surfing
Diving, swimming
Volleyball
Fishing (including grunion fishing)
Other Facilities and Features
Fishing pier
Parking, restrooms, showers
Picnic tables, BBQ pits
Roped off swim area
Playground, snack bar
Paved boat launch ramp, dock
Lifeguards during daylight hours
Cabrillo Coastal Park Trail
Nearby Attractions
Cabrillo Beach Bath House
Cabrillo Marine Aquarium
Accessibility
Parking, restrooms
Cabrillo Coastal Park Trail
Fishing pier
Beach wheelchairs: (310) 372-2162
Cabrillo Marine Aquarium
Hazards
Regulations
No dogs permitted on the sand.
No fires on the beach.
No camping, fireworks, or glass containers.
Surf Report
Surfline's
Cabrillo Beach Surf Report
Water Quality
Find both inner and outer beach water quality information near the bottom of the list on County of Los Angeles Public Health Department's
Beach Advisories
Books of
Local Interest
Getting to Cabrillo Beach
Driving Instructions
Take the Harbor Freeway (I-110) south and exit at Harbor Boulevard in San Pedro. Turn right onto Harbor Boulevard and right again onto 22nd Street. Then make a left onto Pacific Avenue and follow it south to Stephen M. White Drive. Follow it around to the parking lot.
Parking at Cabrillo Beach
There are two parking lots at the beach. The main lot is adjacent to the aquarium while a smaller lot is located out toward the fishing pier. Parking for cars is $1 per hour up to a maximum of $9 per day. For those making just a quick stop, the first 20 minutes are free. Boats and oversized vehicles pay $2 and $15 respectively. Cars with boat trailers attached can park overnight for that $15 fee. Limited free street parking can be found nearby.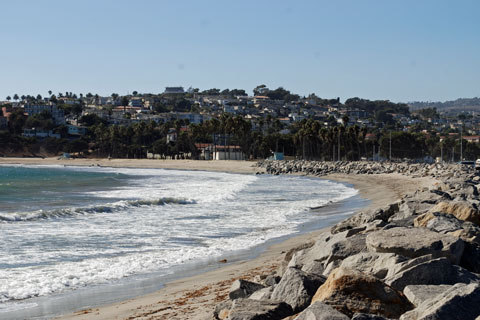 Public Transportation
Metro bus 246 stops at Pacific Avenue and Stephen White Drive, close to Cabrillo Beach. The bus has nearby stops at Point Fermin. Its route leads north up Pacific Avenue to Figuero, then east on Anaheim Street before going north again on Avalon Boulevard to the Harbor Gateway Transit Center and on to Gardena. It runs every day at intervals from 20 to 60 minutes.
Metro Bus 246
Los Angeles City Lifeguard Service
The Los Angeles City Lifeguard Service uses Cabrillo Beach as one of its main open water training facilities for its Lifeguard Academy. Classroom sessions are held in the Cabrillo Beach Bathhouse.
Los Angeles City Lifeguard Association
Nearby Restaurants
Lighthouse Deli & Cafe
508 W. 39th Street
(310) 548-3354
Pacific Diner 3821 South Pacific Ave. - popular for breakfast - (310) 831-5334
Beach City Market & Deli 2801 South Pacific Avenue
Starbucks 438 S. Gaffey Street
Nearby Grocery Stores
Point Fermin Market 3833 South Pacific Avenue
Beach City Market & Deli 2801 South Pacific Avenue
Center Market 1605 South Centre Street - (310) 832-5873
Cabrillo Beach
Situated in San Pedro at the entrance Los Angeles Harbor, Cabrillo Beach is really two beaches, one inside the harbor breakwater and the other, only yard away, on the outside of the breakwater facing the ocean.
The sheltered inner beach is most popular for swimming, wading, and sunbathing, while the exposed outer beach attracts more surfers.
Attractions such as the Cabrillo Marine Aquarium, the Carbrillo Coastal Trail, the fishing pier, and the small boat launch ramp help make Cabrillo Beach a very popular destination.
Facilities at Cabrillo Beach
Cabrillo Beach has a picnic area between the main parking lot and the inner beach. Picnic tables and BBQ pits are available there. Fire fits are found adjacent to the outer beach. Within eyesight of the picnic area is a children's playground with swings and slides. Restrooms are found at convenient locations all around the beach areas. They have outside showers for washing off sand. An array of tall metal poles interconnected at the tops with a grid of wires was installed to keep away seagulls.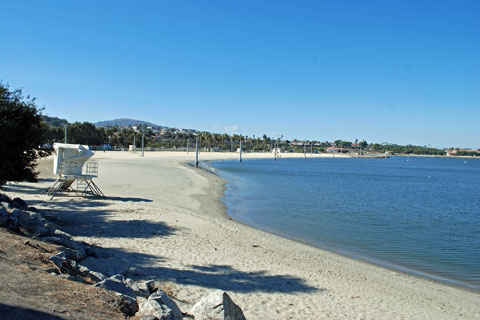 Cabrillo Beach Fishing Pier
The Cabrillo Beach Fishing Pier stretches 1,200 feet in the harbor, just inside the breakwater. Anglers here are careful to limit eating their catches to a single meal every couple of weeks. White croakers should not be eaten at all. The concern is over concentrations of DDT and PCBs.
Pier hours are the same as for the beach, from 5:00 AM to 10:00 PM. Portable restrooms are nearby. Although there are no lights, fishermen will find cleaning stations and a number of benches. Visitors will enjoy a large covered seating area. More on the ACTIVITIES page. . .
Boat Launch Ramp
The boat launch ramp is located at the north end of the main parking lot. It is best accessed off Shoshonean Road. The ramp hours are the same for the parking lot and beach, 5:00 AM to 10:00 PM. Parking is $2 per hour, up to a maximum of $15 per day. There are no additional fees for using the ramp. Boaters wishing to head out overnight can leave their trailer attached to their vehicle overnight in the parking lot for up to several days ($15 per day, cash).
Statues at Cabrillo Beach
A statue of Senator Stephen M. White, who helped lead the campaign to create Los Angeles Harbor, was moved to the entrance of Cabrillo Beach in 1989. The sculpture was created by Douglas Tilden in 1908 and first stood in front of the old County Courthouse before being moved to the beach.
A concrete statue of Juan Rodriguez Cabrillo, famous Portuguese explorer, was created by sculptor Henry Lion and dedicated in 1936. Cabrillo explored the California coast in 1542.
Ocean Safety
California State Parks and Recreation cautions that "large surf, cold water temperatures, backwash, sudden drop-offs, pounding shorebreak, and dangerous rip currents can turn what seem like safe activities such as playing near the surf line, wading, or climbing on rock outcroppings, deadly." Learn more about ocean safety at CA State Parks: Ocean Safety