Corona Del Mar Beaches
Corona Del Mar State Beach, operated by the City of Newport Beach, is located immediately southeast of the Newport Harbor jetty. A Short distance down the coast is a small inlet and beach known as Little Corona Del Mar Beach. Around the bend inside the mouth of Newport Harbor are several little beaches, most notably Rocky Point, also known as Pirate's Cove, and China Cove Beach, two small areas of sand accessed from Shell or Cove streets.
While the jetty at the mouth of the harbor changed the wave action at Corona Del Beach considerably, surfers still find waves to ride here. Sunbathers and swimmers enjoy the small beach. Tide pool enthusiasts find plenty of sea creatures at Little Corona Del Mar Beach.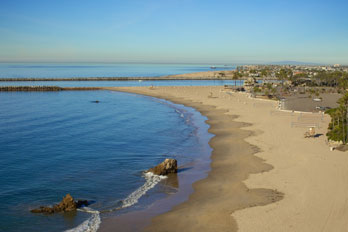 Corona Del Mar State Beach
Coronoa Del Mar State Beach
Ample parking next to the beach makes Corona Del Mar State Beach popular with visitors. Those who want to avoid the $15 parking fee leave their cars up on the bluff and hike down one of the several trails that lead to the sand. Facilities include restrooms, changing rooms, outdoor showers, picnic tables, volleyball nets, and beach fire pits. Lifeguards are on duty during daylight hours.
Little Corona Del Mar Beach
Only a short distance down the coast Little Corona Del Mar Beach has a small sandy area and tide pools worth investigating. Access to the beach is by a footpath from the end of Poppy Avenue. Parking is free, but sometimes hard to find, along residential streets. Visitors to the tide pools often spot sea urchins, sea anemones, starfish, crabs, and other marine life. Rocky cliffs on either side of the beach give it a feeling of seclusion. Explorers like venturing into the small sea cave.
Restrooms and outdoor showers are located half-way down the trail to the beach.
The tide pools, tidal zones, and offshore areas extending 200 feet out are part of the Robert E. Badham Marine Life Refuge, formerly known as the Newport Beach Marine Life Refuge. All the wildlife in the tide pools is protected and may not be disturbed. Collecting of anything such as shells, rocks, and marine life is not allowed.