Doheny Beach Surfing
Made famous by surfing legends and songs, Doheny Beach is one of those iconic spots along the California coast that most dedicated surfers want to experience. While the epic waves of the past may have been altered by the harbor and breakwaters, there are still plenty of great rides to be had at places like Boneyard and the Indicator. Doheny has the reputation of being best for longboards.
Unlike many beaches along California's coast, localism isn't really a problem at Doheny. Surfers of all abilities mingle and manage to get along with one another. Boneyard is closest to the breakwater. It's best with a swell from the south. A rocky reef close to the surface exposes itself at low tides. Out from the center of the main beach, Second Spot waves are usually tame enough that beginning and intermediate surfers like to gather there. Usually Creekmouth is good when the creek is flowing, which means water quality becomes an issue. Farther out Indicator needs the right conditions to produce a great wave, but at times it can make for a long ride.
Caution: Check with rangers or lifeguards that conditions are safe for your planned activities.
Doheny Surf & Art Festival
June 23-24, 2018
Every June the Doheny Surf Festival draws large crowds to Doheny State Beach. The free event is highlighted by a 60s Longboard Contest. The festival includes a full schedule of local bands, surf demonstrations, tandem exhibitions, and all kinds of activities and exhibits for people of all ages. The festival is a chance to meet some of surfing legends. In 2018 Ocean Art was added to the festival.
Doheny Surf & Art Festival
Although the festival is free, parking in the state beach is still $15 per vehicle.
Doheny Longboard Surfing Association is dedicated to board surfing in a clean and natural environment. They sponsor a number of surfing events at Doheny Beach throughout the year.
Surfing Lessons and Camps
Girl in the Curl
Surfing lessons for ages 5 to adult at Doheny Beach, surfboard and wetsuit provided.
Surf Camps at spring break and during the summer at Doheny Beach. For girls they offer their Curl in the Curl camp, for boys they have their Boy in the Barrel Surf Camp. They have both half day and full day options.
Girl in the Curl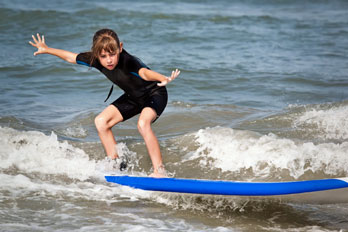 Stand-up Paddleboarding and Kayaking
Stand-up paddleboards and kayaks may be launched from the beach at Thor's Hammer (the jetty near the mouth of the creek). From there paddlers can ride waves along the coast to the south or wander as they please. Paddlers who venture north must keep at least 1,000 feet off shore. The idea is to avoid collisions by separating the surfers from the paddleboards and kayaks.
Pure Watersports
Rentals of jet skis, surfboards, wetsuits, stand-up paddleboards, and kayaks.
34671 Puerto Place, Dana Point, CA
An easy walk to their harbor location from Doheny Beach
Pure Watersports
Doheny Beach Tide Pools
Doheny Beach's tide pools are north of the mouth of San Juan Creek. At low tides areas of uneven rock are exposed. Hidden among the crevices and pockets are a variety of marine creatures, including snails, limpets, mollusks, sea stars, anemones, and crabs. All marine life is protected and should not be disturbed. Tread carefully.