Elkhorn Slough Activities
Tours
Free docent-led tours are offered on the weekends at 10:00 AM and 1:00 PM. Meet at the Visitor Center. For groups of six or more reservations should be made. (831) 728-2822
Trails
5 miles of trails explore various parts of Elkhorn Slough's wetlands. Along the way you are apt to see barn owls, great blue herons, double crested cormorants, and great egrets. The South Marsh Loop trail leads you to Hummingbird Island on the edge of the slough's main channel.
Visitor Center
Numerous exhibits related to Elkhorn Slough can be viewed at the Visitor Center. Among them is a model of life in the mud, showing various creatures that live there. The bookstore is crowded with treasures from T-shirts and hats to guidebooks and calendars. The book store is operated by the Elkhorn Slough Foundation, which works to conserve and restore Elkhorn Slough and its watershed.
Elkhorn Slough Wildlife
Mammals: Sea otters, harbor seals, sea lions, mountain lions, bobcats
Reptiles and Amphibians: Pacific tree frog, Santa Cruz long-toed salamander, American bullfrog, California red-legged frog
Birds: Snowy plovers, great egrets, hawks, woodpeckers, pelicans terns white-tailed kites, and many more
Kayaking Elkhorn Slough
Kayaking in the Elkhorn Slough has become very popular as a way of touring the slough and observing the variety of wildlife. Kayakers must stay in their boats once they are inside the Reserve.
Where to Launch
Kirby Park on Elkhorn Road
Moss Landing Harbor District Launch Ramp off Highway 1, north of Moss Landing.
Hazards to Kayakers
While waters within the slough are calm, the harbor area around the Highway 1 bridge can be dangerous. Among the hazards are strong tidal currents, wind and boat traffic. Kayakers should plan their trips to avoid these hazards, taking advantage of the tides and being careful not to end up stranded on a mudflat as tides recede.
Resources for Kayakers
The Elkhorn Slough Foundation offers a Kayaker's Map of the Slough and a Guide to low impact paddling on their website. Anyone planning to kayak in the Elkhorn Slough should take advantage of their information.
Elkhorn Slough Foundation

Kayak and Stand-up Paddleboard
Rentals and Tours
Kayak Connection
2370 Highway 1, Moss Landing, CA
(831) 724-5692 Kayak Connection
Sea kayaking and stand-up paddleboard rentals, instruction
Tours: Elkhorn Slough Kayak and stand-up paddleboard tours for all levels of ability.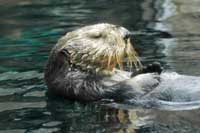 Monterey Bay Kayaks
2390 Highway 1, Moss Landing, CA
(800) 649-5357 or (831) 373-5357 Monterey Bay Kayaks
Kayak rentals, classes
Tours: Elkhorn Slough Kayak tours for all levels of ability,
from 2 to 3½ hours.