Stearns Wharf
Location
Off State St. at Cabrillo Blvd.,
Santa Barbara, CA
Hours
Closed 2 AM to 6 AM
Admission Free
Contacts
Harbor Patrol Office
132-A Harbor Way.
(805) 64-5530.
Stearns Wharf Merchants
Parking
Single vehicle 20-feet and under: $2.50 per hour,
$20 maximum per day
First 90-minutes Free with a merchant validation stamped on the back of the parking ticket on exit.
Facilities
2 accessible restrooms
Shops, restaurants, services
Water taxi
benches, lights
Regulations
Dogs on 6' leash are allowed on wharf.
No diving or jumping from Stearns Wharf.
Hazards
Fishing sections without railings
Uneven wharf surface
Books of
Local Interest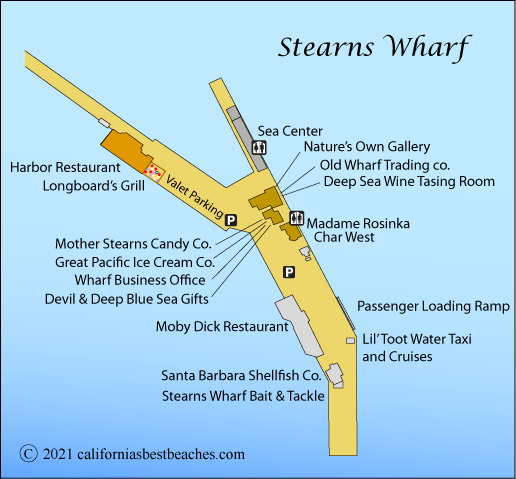 Stearns Wharf
Stearns Wharf is the focal point of the Santa Barbara waterfront. Visitors can stroll out the wharf and enjoy views of the harbor on one side, East Beach on the other, and the Channel Islands in the distance.
A variety of shops and restaurants are situated on the wharf, along with the Ty Warner Sea Center, fishing areas, and a water taxi. Parking is allowed on the wharf.
Built in 1872 by lumberman John P. Stearns, the wharf served for many years as a cargo and passenger dock. During World War II it was taken over as a Naval installation. The first restaurant opened on the wharf in 1941.
The wharf has survived earthquakes, pounding winter storms, and several fires. Today it is one of Santa Barbara's leading attractions.
Stearns Wharf Restaurants, Shops, and Services
Restaurants
The Harbor Restaurant - Open from brunch, lunch and dinner. Serving fresh seafood, steaks, prime rib, and much more. Ocean view dining.
Longboard's Grill - Opens at 11:30 AM. Casual dining with fish 'n' chips, clam chowder, burgers and more. Outdoor patio.
Moby Dick Restaurant - Open for breakfast, lunch and dinner. Serving soups, salads, fresh seafood, burgers, sandwiches, pasta, steak and chicken. Cocktail patio, ocean views from dining room
Santa Barbara Shellfish Co. - Open for weekend breakfast and every day for lunch and dinner. Serving soups, salads, fresh seafood, pasta
Char West - Open 9:00 AM to 5:00 or 7:00 PM. Serving hearty fast food, including fish 'n' chips, burgers, hot dogs, salads, seafood.
Specialty Foods and Drinks
Deep Sea Wine Tasting Room - serving Deep Sea and Rancho Arroyo Grande wines 7 days a week.
Great Pacific Ice Cream Company - 32 flavors of ice cream and sherbets
Mother Stearns Candy Company - Truffles, fudge, cotton candy, popcorn, cold drinks
Shops
Coastal Treasures - located upstairs, jewelry, hats, leather wallets, bags and belts
Devil & Deep Blue Sea - toys and gifts from talking parrots to windsocks
Nature's Own Gallery - Shells, jewelry, candles, interior design items
Old Wharf Trading Company - General merchandise, gifts, decorator items, clothing, toys, books, and more
Topside Resort Wear - sweatshirts and tops, tee-shirts, unique gifts
Stearns Wharf Bait & Tackle - Fishing pole rentals, bait, tackle, snacks and drinks, trolley tour tickets
Madame Roskina - Palm reader, spiritual advice
Services
Santa Barbara Water Taxi - Runs every half hour between the wharf and Santa Barbara Harbor. Check for current hours.
Santa Barbara Water Taxi Cruises - Daytime scenic cruises, sunset cruises, kids' parties on Lil' Toot, private charters
Ty Warner Sea Center
The Ty Warner Sea Center is owned and operated by the Santa Barbara Museum of Natural History. Visitors to the Sea Center enjoy interactive exhibits, a theater highlighting the amazing Santa Barbara Channel, and hands on experiences with sea creatures. There is even a live shark touch pool.
For a different view of the underwater world, children have the opportunity to crawl through a 1,500-gallon tide pool tank. There children will see limpets, sea stars, urchins, and more wonders of the tidal zone. Also on exhibit is a 39-foot life-size model of a California Gray whale and her calf. An exhibit of Jellies displays them pulsing gracefully through the water.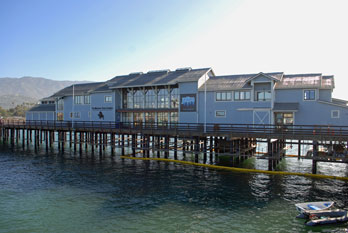 Visiting the Sea Center
Hours: 10:00 AM - 5:00 PM every day except major holidays
Fees: Adults $8.50, seniors 65+ and Teens (13-17) $7.50
Children (2-12) $6, age 2 and under free
Ty Warner Sea Center
Friday Night Movies on Stearns Wharf
The Stearns Wharf Merchants Association and the Santa Barbara Waterfront Department sponsor Friday Night Movies on the Wharf during the summer.
Admission is free. Families can enjoy such G, PG, and PG-13 films as Oz the Great and Powerful and Jack the Giant Slayer. Movies begin at dusk on the seaward end of Stearns Wharf near the Santa Barbara Shellfish Co. Dress warmly, bring blankets and beach chairs. Popcorn and snacks available for purchase. Parking is free on the wharf after 7:00 PM.
Friday Night Movies 2017 Schedule TBA
Search This Site