Surfing Encinitas' Beaches
The beaches along the Encinitas coast rank as among the most inviting and exhilarating in San Diego County. Consistently good waves coupled with a long history of surfing, make Encinitas a surf haven. Among the most popular spots in Encinitas are Swami's and D Street, along with nearby Cardiff Reef and Seaside.
Swami's
The point break at Swami's is known by surfers around the world. The best swells roll in during the winter months, but Swami's can be crowded year-round. The point break, a beach break, and reef break all can produce great rides that attract both shortboarders and longboarders. The best waves are well off-shore, requiring a strenuous paddle to reach them.
Caution: Check with rangers or lifeguards that conditions are safe for your planned activities.
D Street
Just south of Moonlight Beach, D Street is usually crowded in the summer. Known for powerful waves, D Street is usually home to more experienced shortboarders. A sandbar break produces both lefts and rights.
Stone Steps
For uncrowded waves, many locals like to head to Stone Steps. Left and right breaks make for good rides. Nearby spots such as Roseta Street and Secrets are known to produce good waves under the right conditions, usually in the summer.
Surf Lessons and Camps
Moonlight Beach Surf Camps
Summer Surf Camps at Moonlight Beach, in partnership with the City of Encinitas Parks and Recreation. A safe, fun, and high energy environment for students to learn to surf and to improve on their surfing skills. Teacher - student ration 1:3. Morning sessions from 9 AM to noon, afternoon from 1 PM to 4 PM. 760-753-6870
Moonlight Beach Surf Camps
Encinitas Surf Lessons
Private and group lessons available for beginning to advanced surfers, provided by instructors with a deep passion for surfing. Boards and wetsuits are provided. Summer lessons are usually held at Ponto Beach.
Encinitas Surf Lessons
Maui Surf Academy
Private and group lessons at Swami's Beach for everyone from beginners to advanced. Half and full-day surf camps. Boards and wetsuits included.
Maui Surf Academy
Leucadia Surf School
Two-hour surfing lessons at Moonlight Beach - softboards and wetsuits provided. Private, semi-private, or small groups lessons available. Summer Surf Camp for all ages.
Leucadia Surf School
Wave Huggers Surf Lessons
Two-hour private lessons or share with a friend. Offered at major Southern California beaches, including Encinitas.
Wave Huggers Surf Lessons
Surfboard and Paddleboard Rentals
Concept Surf Shop
Surfboards, wetsuits, boogie boards, bikes, and beach chair rentals.
215 West D Street, Encinitas, CA
Concept Surf Shop
Progression Surf
Rentals of surfboards (hard and soft), stand-up paddleboards, bodyboards, wetsuits, fins
828 North Coast Highway 101, Leucadia, ca
Progression Surf
Hansen's Surfboards
Demo surfboards, soft surfboards, bodyboards, and wetsuits
1105 S. Coast Hwy. 101. Encinitas, CA
Hansen's Rentals
Paddle Planet
Stand-up paddleboard, kayak, surfboard, and bodyboard rentals.
996 N. Coast Highway 101, Encinitas, CA
Paddle Planet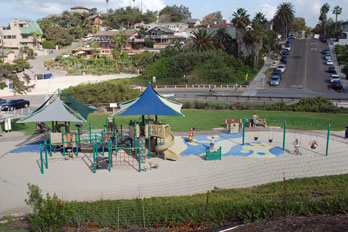 Moonlight Beach Playground
Nearby Bicycle Rentals
Ride Cyclery
449 South Coast Highway 101, Encinitas, CA
Road bikes, women's road bikes, mountain bikes, comfort bikes, and accessories.