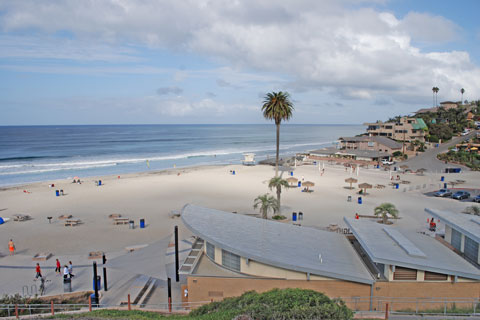 Moonlight Beach
Moonlight Beach
Moonlight Beach is the gem of Encinitas' beaches. With easy access, free parking, great facilities, lifeguards, and wonderful sand and surf, the beach attracts visitors from around the area. Recent upgrades to the restrooms and snack shop have helped Moonlight Beach stand out as the best family destination along this section of the coast.
Restrooms with showers, picnic areas, a playground, lifeguard headquarters, and fire rings are some of the features that visitors enjoy here.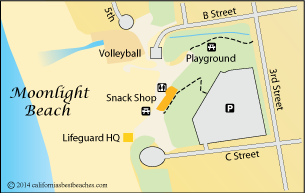 Swami's Beach
Considered by many the premier surfing destination along the Encinitas coast, Swami's Beach is located at the south end of the city at a crook in the shoreline that helps to generate the popular waves. Access the beach off South Coast Highway 101 at Swami's Seaside Park. A parking lot (with spaces for about 30 cars), picnic area, and restrooms are located there. More parking can be found along the highway shoulder. A ramp and stairs lead down to the beach.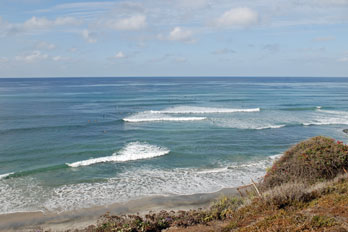 Swami's Beach
Lifeguards are on duty during the summer months. Many people enjoy Swami's as a place to start their walk along the beach, heading north or south. Joggers are often seen here, too. Some tide pools can be explored during low tides.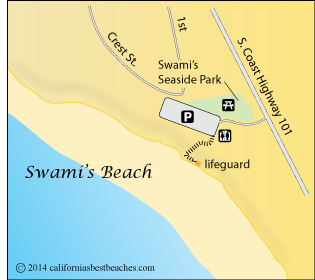 Other Encinitas Beaches
Boneyard Beach
Boneyard Beach is accessible by walking north from Swami's Beach. The stretch of sand between J and E streets has no facilities, but it is popular for those seeking a more secluded patch of sand and with surfers. Rising tides can cover the sand, so visitors should be wary.
D Street Beach
Reach the beach via steps leading down from a viewpoint at the foot of D Street. Parking is along surface streets. While there are no facilities here, it is close enough to Moonlight Beach to trot up there for restrooms and food. Lifeguards are on duty here during the summer months.
Stone Steps Beach
North of Moonlight Beach, Stone Steps Beach is found at the foot of N. El Portal Street where it crosses Neptune Avenue. Parking is found along neighborhood streets. Nearly 100 stepping stones lead down to the beach. Lifeguards are on duty during the summer.
Encinitas Beach
You can reach Encinitas Beach by walking north from Stone Steps Beach. Surfers, swimmers, and sunbathers like the area, away from the busier stretches of beach in Encinitas. Lifeguards are on duty during the summer, but there are no other facilities.
Beacon's Beach
Visitors to Beacon's Beach will find a small parking lot along Neptune Avenue near Leucadia Boulevard. A trail zig-zags down to the beach. Once again, lifeguards are on duty during the summer, but there are no other facilities here. It is a favorite destination for surfers and can often be crowded out on the water.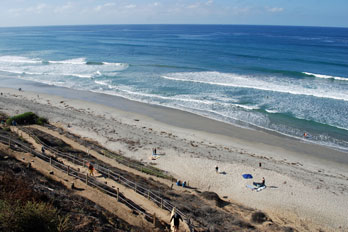 Beacon's Beach
Grandview Beach
A small parking lot off Neptune Avenue marks the entrance to Grandview Beach. Stairs lead down to the beach. It is a popular spot for surfing, swimming, scuba diving, and sun bathing.
Ride the Coaster to the Beach
The Coaster commuter train runs along the Pacific coast in San Diego County, with stops at 8 stations between San Diego and Oceanside. Every weekday more than 20 trains make the scenic journey, with more trains on weekends. The entire Coaster route only takes about an hour.
Station Stops
Santa Fe Depot - San Diego
Old Town - San Diego
Sorrento Valley - San Diego
Solana Beach
Encinitas - 25 E. D Street
Carlsbad Poinsettia
Carlsbad Village
Oceanside Transit Station
Nearby Restaurants and Shops
Restaurants
Fish 101 - 1468 N. Coast Highway 101
Haggo's Organic Taco - 1114 N. Coast Highway 101
Robbie's Roadhouse - 530 N. Coast Highway 101)
Vigilucci's Pizzeria - 534 N. Coast Highway 101
Beachside Bar & Grill - 806 S. Coast Highway 101
Swami's Cafe - 1163 S. Coast Highway 101
Beach Supplies
Falcon's Bodyboard Shop - 1026 N. Coast Highway 101
Swell Stuff Wetsuit Repair - 948 N. Coast Highway 101
Whole Foods Market - 687 S. Coast Highway 101
Hansen Surfboards & Surf Shop - 1105 S. Coast Highway 101
Blue Water Tackle - 124 Lomas Santa Fe Dr. Solana Beach