Gaviota State Park and Beach
Gaviota State Park is a popular location for camping, swimming, surfing, picnicking and fishing. The park has 5 miles of beach and bluff coastline. A power boat hoist on a pier allows boaters, surfers, and divers to launch craft safely.
Park visitors enjoy hiking the trails into the 2000 acres of back country where they will find Gaviota Hot Springs (a sulfur hot springs), oak woodlands, and grasslands. Along the coast are both freshwater and saltwater marshes which provide habitat for a wide variety of wildlife.
An 811-foot railroad trestle crosses Gaviota Creek near the campground. The trestle was constructed by Southern Pacific in 1900, finally connecting Los Angeles with San Francisco by rail.
Strong winds funnel through Gaviota Pass and can be a challenge to campers with tents. Some visitors have reported tent poles snapping in the heavy wind.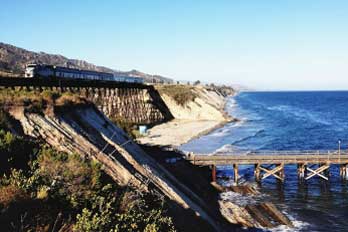 Jalama Beach County Park
Only a little more than an hour's drive north of Santa Barbara, Jalama Beach County Park has wonderful facilities for both day visitors and campers. Beach-goers may find it somewhat windy and the surf can be rough, but experienced surfers and wind surfers enjoy the water while those on land find plenty of activities from whale-watching to photography, birding to fishing. Lifeguards are on duty during the summer.
Facilities at the beach park include a store with everything from groceries and beer and wine to bait and tackle and firewood. Attached to the store is the popular Jalama Beach Grill, featuring its World Famous Jalama Burger along with clam chowder, childre cerde, apple cake, and more.
Jalama Beach Store and Grill
The picnic area is equipped with tables and raised fire boxes. Camping areas are set up for both tent and RVs. There are also cabins available to rent. For more information, see CAMPING.
Directions to Jalama Beach County Park
On Highway 1 about 4.5 miles south of Lompoc, watch for a sign indicating the turnoff to Jalama Beach County Park. Follow Jalama Beach Road 14.5 miles to the coast and the park.
Recorded Information: (805) 736-6316
Jalama Beach County Park
Fees:
Day-use Vehicle Entry: $10
Annual Vehicle Entry Pass - county residents: $75
Annual Vehicle Entry Pass - non-residents: $100
Senior Annual Passes: residents - $50, non-residents - $60
Ocean Safety
California State Parks and Recreation cautions that "large surf, cold water temperatures, backwash, sudden drop-offs, pounding shorebreak, and dangerous rip currents can turn what seem like safe activities such as playing near the surf line, wading, or climbing on rock outcroppings, deadly." Learn more about ocean safety at CA State Parks: Ocean Safety