Goleta Beach
Location
Off Highway 217 in Goleta, CA
Take Sandspit Road exit
Santa Barbara County Parks
(805) 681-5650
Admission
Free
Park Hours: 8:00 AM to sunset
Main Attractions
Beach activities
Picnicking
Fishing Pier & Boat Launch
Facilities and Features
Parking, restrooms
Pier with boat launch
Picnic area with BBQs
Beach shower
Bike trails
Playground, horseshoes, volleyball
Restaurant, snack stand
Accessibility
Parking, restrooms
Beach wheelchair available
Hazards
Caution: Check with rangers or lifeguards that conditions are safe for your planned activities.
Special Regulations
Dogs must be on leash.
No fires allowed on beach.
No bicycles, motor vehicles, or jet skis allowed on the Goleta Beach Pier.
No launching of vessel in excess of 8,000 lbs or longer than 22' from the pier.
No diving, swimming, surfing, or operating a jet ski within 100 feet of the pier.
No overhead casting on pier.
Flying kites, balloons, model planes or gliders in Goleta Beach County park is not allowed in any area west of the pier.
Nearby Beaches
El Capitan State Beach, 17 miles northwest
Refugio State Beach, 20 miles northwest
Goleta Beach
Santa Barbara County's Goleta Beach Park encompasses 29 acres around Goleta Beach. A wide sandy beach attracts sun bathers, sand castle architects, beach combers, boogie boarders, and swimmers.
The 1,450-foot Goleta Pier is a favorite spot for local anglers. Boat launching from the pier is available during park hours.
Within walking distance of the University of California Santa Barbara, Goleta Beach attracts many students looking for a tranquil place to relax between studies.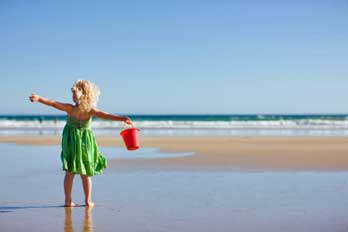 Windamajig
Next to the playground at Goleta Beach Park is a 15-foot tall sculpture known as Windamajig. The structure was created in 1990 by artist George Rhoads. Rhoads has spent more than 30 years designing rolling ball machines and wind sculptures for public and private places.
Windamajig is composed of about 20 cone-shaped pieces attached in small clusters to poles that rotate independently of one another. Propelled by the wind, the cones spin at various speeds, creating a dazzling array of whirling parts.
Read more about George Rhoads' sculptures in Wizard at Work.
Nearby Beaches
Isla Vista Beach
Isla Vista Beach is west of Goleta Beach, around the tip of Goleta Point. Adjacent to the beach is 1.4-acre Isla Vista County Park resting on a grassy bluff overlooking the ocean. The park has picnic tables, benches along the edge of the bluff, sandlot volleyball courts, and stairs leading down to the beach.
Sands Beach
Farther west along the coast, beyond Coal Oil Point, is Sands Beach, a popular surfing spot for local college students. Find parking near Camino Majorca and Del Playa, then follow a path to Coal Oil Point.
Changes at Goleta Beach
A controversy has arisen in recent years over the Santa Barbara County supervisors' plan to remove some of the long established barriers against erosion at the park, eliminate some parking areas, and relocate some facilities to higher ground.
The supervisors' decision is in alignment with the California Coastal Commissions' policy of Managed Retreat. Proponents of the plan point out that the old rock barriers actually cause sand to be eroded from the beach. The new plan, known as Goleta Beach 2.0, would move sewer lines that are currently in danger of leaking. It would also add improved bicycle access.
In 2013 Santa Barbara County asked for proposals to operate a recreational concession providing standup paddleboard, kayak, surf, boat rental and launch services, bait and tackle and marine education center at Goleta Beach.
In 2017 winter storms prompted the county parks department to add rocks to protect Goleta Beach Park. Questions about the management of the park and beach continue. See Friends of Goleta Beach Park
Ocean Safety
California State Parks and Recreation cautions that "large surf, cold water temperatures, backwash, sudden drop-offs, pounding shorebreak, and dangerous rip currents can turn what seem like safe activities such as playing near the surf line, wading, or climbing on rock outcroppings, deadly." Learn more about ocean safety at CA State Parks: Ocean Safety
Search This Site