Nearby Activities and Events
Mavericks Invitational Surfing Contest
Mavericks, ½ mile off shore of Pillar Point at Princeton-by-the-Sea, just north of Half Moon Bay
Contest held in the winter, when the waves are right
Mavericks Invitational
Half Moon Bay Art & Pumpkin Festival
October 13-14, 2018
Main Street between Miramontes and Spruce streets, Half Moon Bay
Pumpkin sculptures, pumpkin weigh-off contest, music, food, wine
9:00 AM - 5:00 PM
Half Moon Bay Pumpkin Festival
Whale Watching Tours
Oceanic Society
Depart from Pillar Point Yacht Harbor, Half Moon Bay, CA
Daily 3 - 3½ hour tours aboard the 56-foot Salty Lady. Open observation deck, indoor salon.
Oceanic Society Whale Watching Tours
Mavericks
Posters and Books
Half Moon Bay State Beach
Visitor Center
The Visitor Center is located at Francis Beach, near the parking lot. It is open on weekends from 10:00 AM to 4:00 PM and admission is free. During the summer the number of days the center is open may extend to include Thursday and Friday. The visitor center features cultural and natural history exhibits about the area.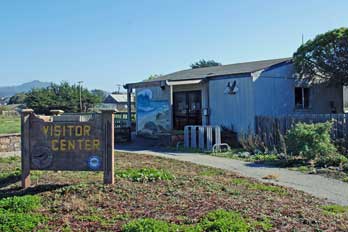 Half Moon Bay Junior Lifeguards - 2017
Every summer the State of California Department of Parks and Recreation offers its Junior Lifeguards program at Dunes Beach, part of Half Moon Bay State Beach. Junior Lifeguards teaches children about ocean safety and recreation.
The program consists of 4-week long sessions of day camps that provide instruction in skills such as first aid, ocean safety, rescue techniques, body surfing and bodyboarding. Games and activities are also part of the curriculum. Each session includes field trips to local beaches such as Montara and A?o Nuevo State Park. Competitions are held with Junior Lifeguards in the Santa Cruz area.
The Half Moon Bay Junior Guards is offered in two four-week sessions, Monday through Friday from 10:00 AM to 3:00 PM for children ages 9-15. Those who did not participate in the previous year's program must attend a non-competitive tryout in May or July to ensure a minimum ability in the water before registering for the program.
Half Moon Bay Junior Lifeguards
Half Moon Bay Junior Lifeguards 2017 Schedule
Session I - June 19 - July 14, 2017 (no JG on July 4)
Session II - July 17 - Aug 11, 2017
Cost: $400 per session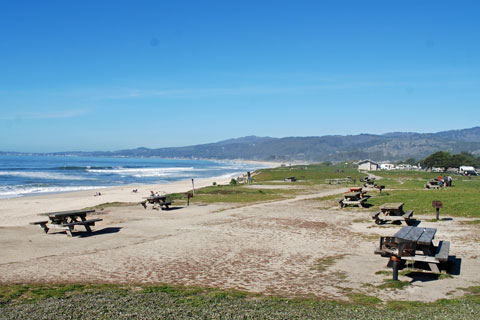 Wildlife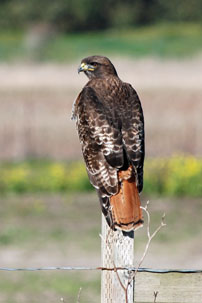 Birders will find western snow plovers, a variety of gulls, brown pelicans, and sanderlings. Along the trail to Wilder Ranch Beach look for red tail hawks (shown right). During the winter months gray whales migrate off the coast. Closer to shore look for harbors seals and sea lions. During March and April visit the overlook at Harbor Seal Preserve by Cowell Ranch Beach to see harbor seals and their pups.
Snowy Plovers nest in the sand in the spring and summer. Part of Francis Beach is fenced off to protect the Snowy Plovers nesting area. Other areas may be marked as nests are spotted by Plover Watch Volunteers.
Half Moon Bay Beach Activities
Horseback Riding
Horseback riders at Half Moon Bay State Beach are limited to the Coastal Equestrian Trail that runs between Roosevelt and Francis beaches. The trail parallels the coastside bike/walk trail. Horses are not allowed on state beaches but may be ridden on nearby Poplar Beach to the south.
Sea Horse Ranch offers a variety of guided trail rides that include the Coastal Equestrian Trail and other riding trails along the Half Moon Bay coast. Minimum age is 7; weight limit is around 240 pounds (see their website for details).
1 hour Trail Ride along the Coastal Equestrian Trail
1½ hour trail and beach ride. Includes Poplar Beach
2 hour trail and beach ride. Includes Poplar Beach
1828 Carbrillo Highway North (Highway 1), Half Moon Bay
(650) 726-9903
Kite Flying
The winds at Half Moon Bay State Beach are great for kite flying. You will want to stay clear of the Snowy Plover nesting area with kites since they can be stressful to the birds. They can mistake kites for winged predators.
Stop at Fog Town Toys in Half Moon Bay and pick up a unique kite before heading to the beach. They carry a complete line of single line kites like box kites, dragon kites, and flying wonders (animals). For more advanced kite flyers, try out sport kites like the Prism Nexus Stunt Kite.
(650) 726-9212 Fog Town Toys
330 Main Street, Suite 104, Half Moon Bay, CA
Fishing
Fishermen look forward to the late spring and summer runs of surf smelt. Anglers wade into the water with throw nets, often times bringing in bountiful catches. The fishermen know that striped bass are often following the smelt. Surf fishing with a rod is also popular along the beaches.
Caution: Check with rangers or lifeguards that conditions are safe for your planned activities.
Surfing
Surfing can be good at all of the beaches along the Half Moon Bay Coast. Many surfers in the area tend to migrate to Surfer's Beach, north of the state beach and immediately south of the harbor. The waves are inconsistent, and some days the break isn't enough to draw anyone's attention, but at times the surf can be great. Beginning surfers like the area. More advanced surfers often are found close to the jetty.
Parking is on the opposite side of Highway 1, making it a challenge (and illegal) to jaywalk to the beach during heavy traffic. By making a short walk to the traffic light at Coronado Street, you also get the advantage of an easy path down to the sand.
Surfing Lessons
Several surf schools are located at Half Moon Bay.
Mavericks
The waves at Mavericks break ½ mile off shore near Pillar Point. Bring binoculars if you want to watch surfers. For safety reasons, during the annual competition spectators are no longer allowed on the shore.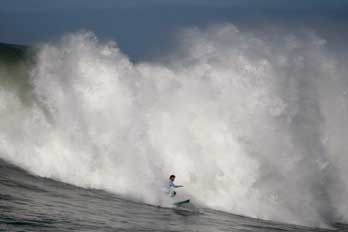 Ocean Safety
California State Parks and Recreation cautions that "large surf, cold water temperatures, backwash, sudden drop-offs, pounding shorebreak, and dangerous rip currents can turn what seem like safe activities such as playing near the surf line, wading, or climbing on rock outcroppings, deadly." Learn more about ocean safety at CA State Parks: Ocean Safety