Surfing La Jolla Beaches
Surfers find great waves along the La Jolla coast from the Scripps Pier all the way south to Windansea Beach. Waves peak on either side of Scripps Pier, attracting a good number of skilled surfers. A short distance south at La Jolla Shores waves are more moderate, making it an attractive spot for beginning and intermediate surfers. The beach break goes right and left. The best waves trend to be found in the winter. During summer weekends it can be very crowded.
Caution: Check with rangers or lifeguards that conditions are safe for your planned activities.
Boomer Beach
Find Boomer Beach to the west of La Jolla Cove. It has been designated for body surfers. Big waves can toss you around here.
Horseshoe Beach
Horseshoe Beach is near the foot of Pearl Street, north of Marine Street Beach. Its reef-break barrels are known up and down the coast. With not a lot of room here, it can get crowded quickly.
Hospitals Beach
Next south, Hospitals is a favorite spot for divers, but surfers have a great break at the south end. Waves can build up to 8 feet. Rocks and seaweed can be a challenge.
Marine Street Beach
Rugged surf at Marine Street Beach attracts a fair number of surfers and body boarders. Powerful surf here deserves respect.
Windansea Beach
Windansea Beach is one of the legendary surf spots along the California coast. Big surf rolls in during the summer, sometimes topping 7 or 8 feet. Some of the surf spots in the area include Big Rock, Turtles, Middles (to the north), and Simmons Point (named after famous surfer Bob Simmmons who died there in 1954). Conditions vary greatly with the wind and tides.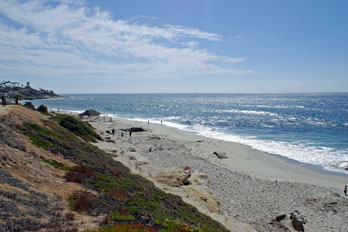 Windansea Beach
Surf Lessons and Camps
La Jolla Surf Camp
Surf camp for boys and girls ages 5 to 10. The camp includes surf lessons along with fun activities and ocean and beach awareness. CPR and First Aid trained instructors work with small groups of no more than four per instructor. Camp is held at La Jolla Shores Beach. Half-day and full day options are available for week-long camps with sessions that begin in late May and continue into early September
La Jolla Surf Camp
Boogie Bees is a beginning boogie boarding camp run by Surf Diva for ages 5 - 10 at La Jolla Shores. They also have teen camps, girls overnight camps, and overnight surf and film camps. Check out all the opportunities for adults and children at Surf Diva.
Menehune Surf
Lesson for everyone from beginners to advanced surfers at La Jolla. Menehune Surf Camps at La Jolla Shores Beach for ages 5 to 17. Groups limited to 8-10 participants with two First Aid and CPR certified instructors who are experienced working with children. Half-day camps and full-day camps available. Week-long camps begin in early June and continue through August.
Menehune Surf Camp
American Surf Academy
Surf Camp for boys and girls ages 11 - 17. Private and group lessons available for all ages. Instructors are CPR and First Aid certified. Surf Camp at La Jolla Shores Beach runs from 9 AM to 4:30 PM in week-long sessions. Participants learn surfing, safety, ocean awareness, and surf etiquette. Sessions begin in late May and continue through early September.
American Surf Academy
Surfboard and Paddleboard Rentals
Bird Rock Surf
Rentals of surfboards and stand-up paddleboards. Also sales and repairs.
5509 La Jolla Boulevard
Bird Rock Surf
Surf Diva
Rentals of surfboards, stand-up paddleboards, and bodyboards. Surf camps and more.
2160 Avenida de la Playa
Surf Diva
Mitch's Surf Shop
Rentals of surfboards, stand-up paddleboards, snorkels gear, swim fins, wetsuits, boogie boards.
631 Pearl Street
Mitch's Surf Shop
Diving in La Jolla Waters
The Marine Preserves along the La Jolla coast attract avid divers from around the area. An abundance of easily accessible rocky reefs and kelp forests provide habitat for a wealth of marine life. Experienced divers seek out the deep drops into La Jolla Canyon. Calico Bass, Guitar Fish, California Garibladi, Sheephead, rays and sharks and common in La Jolla waters.
Guided Dive Tours and Equipment Rentals
La Jolla Dive offers scuba classes, tours, rentals, and air fills.
2144 Avenida De La Playa
SD Expeditions lead scuba tours to the rich kelp forests and the walls of the canyon. Dive from kayaks or launch from La Jolla Shores. Scuba classes are available.
Kayaking the La Jolla Coast
The La Jolla coast makes for spectacular kayaking adventures. Numerous sea caves, soaring cliffs, and a variety of sea life are among the highlights. Kayakers often report spotting sea lions, dolphins, harbor seals, and various fish. Combining a kayak trip with snorkeling provides the opportunity to explore La Jolla's Underwater Park.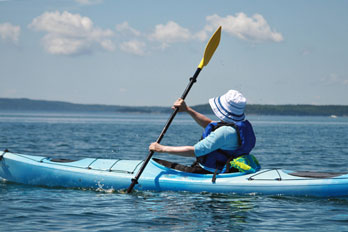 Kayak Tours and Rentals
La Jolla Kayak, located at La Jolla Shores Beach, offers kayak tours of the 7 caves area, kayak and snorkel tours, and kayak rentals. Besides kayaks, they also rent snorkel gear, stand-up paddleboards, boogie boards, and surfboards.
La Jolla Sea Cave Kayaks offers guided 1½-hour tours. Participants often see pelicans, nesting cormorants, colorful garibaldi fish, leopard sharks, and rays. The highlight of the tour is the numerous sea caves. However, conditions often make it unsafe to enter the caves. The company also has kayak rentals and snorkel tours.
2164 Avenida de la Playa, La Jolla, CA
Bike and Kayak Tours provides kayak tours of the famous 7 caves area of La Jolla. Guided 1½-hour tours pass through the La Jolla Ecological Reserve where participants often observe leopard sharks, shovelnose guitarfish, and sea lions. The company also offers kayak and snorkel tours, sunset kayak tours, and more. Rental kayaks, snokeling gear, and bikes are available.
La Jolla Tide Pools
Tide pool explorers will find plenty of great places to explore along the La Jolla coast. All the areas are protected as marine sanctuaries. Among the best places for tide pools are Hospitals Beach, Shell Beach, and Scripps Beach's Dike Rock Tide Pools. The Dike Rock Tide Pools are located just north of the Scripps Pier. A strip of volcanic rock there pushed up through an opening in the sedimentary rocks forming a wonderful habitat for marine life.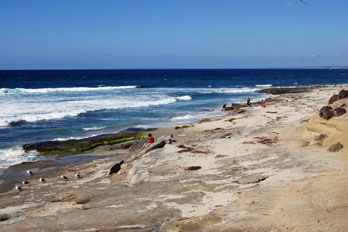 Hiking around La Jolla Beaches
The most popular beach hike in La Jolla is the trail connecting La Jolla Shores Beach with La Jolla Cove. Another popular walk is to strike out north along the beach from La Jolla Shores. Open sand leads for 5 miles all the way to Torrey Pines State Reserve. The trip is best done when the tide is out.
Another hiking choice is the Scripps Coastal Reserve Biodiversity Trail. The short loop trail has wonderful views of the coast from the top of the bluff. Reach the trailhead from La Jolla Shores Drive, turning onto La Jolla Farms Road. The trail begins near Whitecliff Drive.
Birch Aquarium
Birch Aquarium is operated by the Scripps Institute of Oceanography. Within its 64,000 square feet the aquarium has more than 60 exhibits which display marine life from the Pacific. Among the highlights are the exhibits on seahorses, a shark reef, and the monstrous Hall of fishes tank.
The Birch Aquarium is open every day from 9 AM to 5 PM, except on major holidays.
2300 Expedition Way, La Jolla, CA
Birch Aquarium
Scripps Pier
The 1090-foot long Scripps Pier is used as a research facility for the Scripps Institute of Oceanography. It is not open to the public.