Aliso Beach Park
Location
31131 S. Pacific Coast Hwy.
Laguna Beach, CA
(949)923-2280 or
(949)923-2283
Admission
Free
Parking: $1 per hour
Hours:
6 AM to 10 PM
Popular Activities
Swimming, surfing
Sun bathing, sand castle building
Tide pools
Aliso Beach Park Facilities
Parking lots
Food concession, weekends 11 AM to 5 PM
Tot Lot playground
Restrooms, showers
Fire rings on sand
Aliso Beach Park Regulations
No fishing.
No alcohol.
Wood fires in designated fire rings only, no personal barbeques in the park.
Wood or charcoal fires are not permitted anywhere in the park.
Dogs are not permitted on the beach between 9 AM and 6 PM
Dogs must always be on leash.
Caution: Check with rangers or lifeguards that conditions are safe for your planned activities.
South Laguna Beaches
Beaches in South Laguna are popular for surfing, sun-bathing, tide pool explorations, sand castle building, volleyball, beach strolling, and all the other usual beach activities. As with all along the coast in Laguna Beach, fishing is not allowed. Tide pools, of course, are protected. Visitors should use caution to avoid stepping on marine life and remember not to disturb or collect anything in the tide pools.
South Laguna's Beaches rival those north of Laguna Beach with several graceful crescent-shaped beaches and a number of intimate pocket beaches tucked between rocky points. Among the most prominent beaches are Victoria Beach, Treasure Island Park, Aliso Beach Park, West Street Beach, Table Rock Beach and Thousand Steps Beach. For complete coverage of Salt Creek Beach, see our separate section: Salt Creek Beach.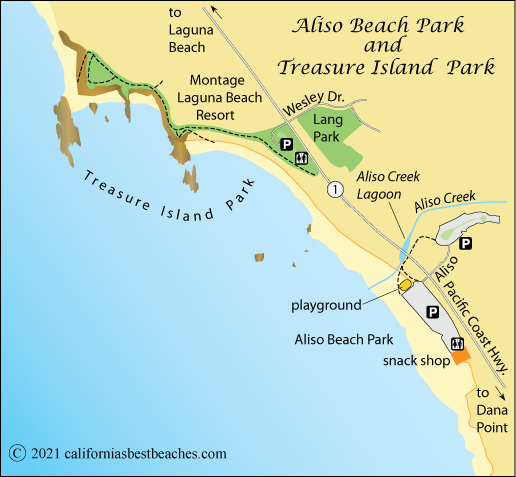 Aliso Beach Park
The convenience of parking next to the beach, along with restrooms and a snack shop, make Aliso Beach Park a popular destination for many beach-goers. Out in the water visitors enjoy surfing, swimming, skim boarding, paddle boarding, and diving. On the sand sun-bathers spread towels and young sand-castlers build monuments. Use caution on the steeply sloped beach.
The concession stand's hours vary depending on the season. Parking is with the Pay and Display system at $1 per hour, credit cards accepted. An annual county beach parking decal is available for $55. A tunnel under the Pacific Coast Highway connects the inland parking lot with the beach.
The fire pits on the beach are first come, first served and may not be reserved. Grates may be placed over the pit if you want to BBQ.
Treasure Island Park
Once a trailer park and now a luxurious resort and now a spectacular bluff-top park and beach, Treasure Island Park is one of the gems along the Laguna Beach coast. Parking is located in an underground parking area at the foot of Wesley Drive. Restrooms are located there also.
Paths wind along the bluff-top park in front of the Montage Laguna Beach resort. Several wonderful view points are found along the way. From near the resort ramps lead down to various parts of the beach, including some nice tide pool areas. Outdoor showers are located in several places.
With Aliso Beach Park immediately to the south, visitors can park there and then walk up the coast to Treasure Island.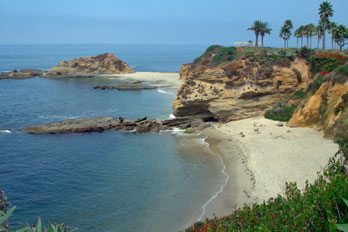 Treasure Island Park
Table Rock Beach
Table Rock Beach, the next cove south from West Street Beach, is hemmed in by rocky points on either side. Access is down a staircase of about 150 steps off Eagle Rock Way. Tide pools are one of the beach's attractions. Some people prefer to visit when the tide is high and watch thundering waves crash onto the shore. At the southern end of the beach a flat, rectangular rock juts out into the surf, giving the beach its name. As tempting as it is, climbing on the rock is not permitted. There are no facilities at the beach.
Thousand Steps Beach
Similar to Table Rock Beach to the north, Thousand Steps Beach is guarded by cliffs and rocky points. Visitors descend about 230 steps from a spot on Pacific Coast Highway at the foot of 9th Street. The long stretch of sand is a nice place to visit for sun bathing, but often ferocious waves crash against the beach. Tide pools become exposed during low tides. Facilities include restrooms, shower, and sink.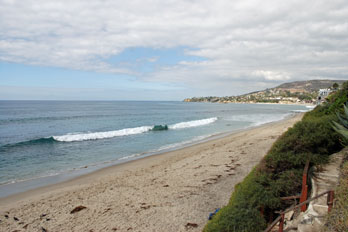 Looking North from Thalia Street Beach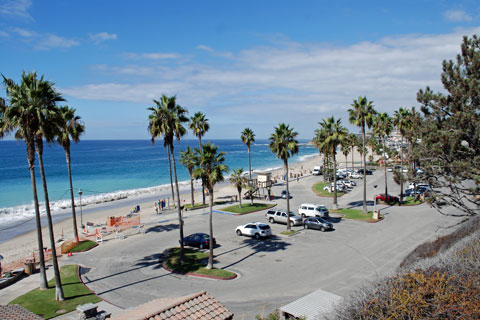 Aliso Beach
West Street Beach
West Street Beach is located immediately south of Aliso Beach Park where West Street intersects the Pacific Coast Highway. Access is via a walkway near West Street and another next to the large condominium complex. The only parking is at metered spaces along the streets. The beach is most popular for surfing and volleyball.
Body boarders and skim boarders join surfers in the water. The beach is usually less crowded than many others in the area, partly because of a lack of restrooms and other facilities. The beach is open from 6:00 AM to 10:00 PM.
Victoria Beach
Victoria Beach is found a short distance up the coast from Treasure Island Park. Victoria's beautiful stretch of sand attracts many who want a quieter place to spend their summer days. Access is from stairways down from Sunset Terrace or Dumond Drive. Parking is limited along residential streets.
Skimboarders enjoy the surf at the south end of the beach. Volleyball courts can be found at either end of the beach. Lifeguards are on duty during summer months, but there are no restrooms or other facilities here.
A curiosity on the beach is a cylindrical tower, resembling part of a medieval castle, standing against the cliff at the north end of the beach. It was erected as a spiral staircase in 1926 by the resident of a home overlooking the beach as convenient access to the beach. Today it closed off.
Ocean Safety
California State Parks and Recreation cautions that "large surf, cold water temperatures, backwash, sudden drop-offs, pounding shorebreak, and dangerous rip currents can turn what seem like safe activities such as playing near the surf line, wading, or climbing on rock outcroppings, deadly." Learn more about ocean safety at CA State Parks: Ocean Safety
Search This Site