Nearby Activities and Events
GRAND PRIX OF
LONG BEACH
April 13-15, 2018
The Grand Prix of Long Beach affects access to some waterfront locations. Some venues in the area, such as the Aquarium of the Pacific, are closed during the Grand Prix.
Race course is located around the area of Rainbow Lagoon and Shoreline Drive.
Grand Prix of Long Beach
Lobster Festival
September 7-9, 2018
Rainbow Lagoon, Long Beach
Plenty of lobster dishes, food court, beverages.
Children's area, two stages, music, dance floor.
Lobster Festival
Catalina Ski Race
July 21, 2018
Open-ocean 62-mile waterski race from Long Beach to Avalon and back.
Spectators gather at Queen Mary's docks.
Catalina Ski Race
Copa Cabana Beach Soccer Tournament
February 17-18, 2018
Belmont Shore
Youth, adult, and pro-am tournament
Copa Cabana Beach Soccer
Rainbow Lagoon
North side of Shoreline Dr. at Linden Ave.
Designed in a traditional Japanese style with 2 connected islands and surrounding park.
High arched rainbow bridges. .
Rainbow Lagoon
Queen Mary
1126 Queens Highway, Long Beach, CA
Once the grandest luxury ocean liner to cruise the high seas.
Guided tours
Information: (877) 342-0738
Queen Mary
Aquarium of the Pacific
100 Aquarium Way, Long Beach, CA
The aquarium features 19 major habitats and 32 focus exhibits.
Home to more than 11,000 marine animals
Penguin habitat, ocean science center, shark lagoon
Open daily from 9:00 AM to 6:00 PM
(Except Christmas and during the Grand Prix of Long Beach)
Aquarium of the Pacific
Windsurfing and Kiteboarding at Belmont Shore
Windsurfers and kiteboarders migrate to Belmont Shore where conditions are among the best in the greater Los Angeles area. Sheltered from large waves by breakwaters and blessed with steady winds, the Belmont Shore is a popular place to learn kiteboarding.
Caution: Check with rangers or lifeguards that conditions are safe for your planned activities.
Belmont Kite Zone
Separate swim and kitesurfing zones have been designated on Belmont Shore. The Kiteboarding zone is in effect in the summer between May 15 and September 15. The zone is located between lifeguard towers 8 and 10 near the Claremont Boat Launch Pad. Beginners are encouraged to stay downwind. Kiteboarding rules are posted on the beach.
Windsurfing
Windsurfers launch at the Granada Boat Launch Ramp or inside Alamitos Bay where calmer waters make it a good spot for beginners. Another launch site is near the Belmont Pool. Windsurfers must move offshore out of the buoy marked swimming areas before beginning their jibes and jumps.
Kiteboarding and Windsurfing Lessons, Rentals, and Sales
Captain Kirk's
525 North Harbor Boulevard, San Pedro, CA
3-hour kiteboarding lessons at Belmont Shore, beginners to advanced. Rentals and sales.
Xstreamline
1861 N. Gaffey Street, San Pedro, CA
Xstreamline
Sales for Windsurfing, kayaking, stand-up paddling
Summer rentals at Cabrillo Beach or by arrangement from their store.
SUP and kayak lessons at Cabrillo Beach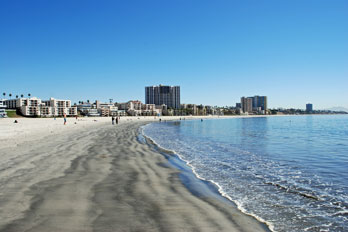 Stingray Caution
Stingrays are found cruising the sandy bottom at Belmont Shore, especially when the water is warm. Many people entering the water use a shuffling step rather than picking up and planting their feet. Rays will most often swim away if bumped, but a strike from a stingray can be serious.
The pain from a sting is severe and will likely persist for 30 to 90 minutes. Allergic reactions such as vomiting, cramping or chills should be treated at an emergency room. If stung, get out of the water and contact a lifeguard. Long Beach lifeguards now have a new stingray cart to aid victims.
Belmont Plaza Pool
Belmont Pool is a public facility operated by the City of Long Beach. It is located near the Belmont Veterans Memorial Pier. The facility includes a pool and a weight room. You must be 18 or older to use the weight rooms. Hours for the facility vary by season. There is an entry fee which is valid for both the pool and weight room.
(562) 570-1806 Belmont Pool
Boat Launch Ramps
The City of Long Beach has two boat launch ramps for small vessels on Belmont Shore - Claremont Launch Ramp and Granada Launch Ramp. They are open daily from 8:00 AM to dusk. These are small boat, sand-launch sites. The Claremont Launch Ramp is intended for small sailing vessels while the Granada site is for small vessels, including catamarans and personal watercraft.
A personal watercraft area is designated off shore. Launch fees are $12 per day, either cash or debit cards.
Information: (562) 570-8636
Kayaking and Paddleboarding
Kayakers and stand-up paddleboarders find plenty of calm water to explore around Long Beach and in Alamitos Bay. The calmest water is usually found in the morning before about 10:30 AM when the winds begin to pick up. One of the favorite places to explore are the canals at Naples Island.
Kayak and Paddleboard Rentals
KayakRentals.net
5411 East Ocean Boulevard, Long Beach, CA
(562) 434-0999
Kayak and stand-up paddleboard rentals
Belmont Veterans Memorial Pier
The Belmont Veterans Memorial Pier is open daily one hour before sunrise and closes at midnight. The pier is most popular for fishing and sightseeing. It also serves as a terminal for the AquaLink water taxi which connects with locations from Alamitos Bay to the Aquarium of the Pacific.
Facilities on the pier include restrooms, a bait and tackle and snack shop, fish cleaning stations, and lights. Buoy's on the Pier restaurant has patio and upper deck seating. Parking is available at a metered parking lot at the foot of the pier.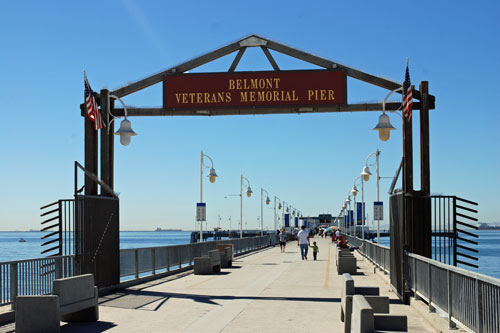 Alfredo's Beach Club
Alfredo's Beach Club provides food and beverage service and beach rentals at 6 locations from nearby Rainbow Lagoon to Long Beach and the Belmont Veterans Memorial Pier. They also coordinate events such as weddings and reunions at many of their locations.
Rainbow Lagoon - Located in front of the Hyatt Hotel, S. Pine Ave. at E. shoreline Dr. Pedal Boat rentals, gondola service and private parties.
Alamitos Beach - Food and beverage service, beach parties, bike and surrey rentals, beach gear rentals.
Cherry Beach - (Junipero Beach) Food and beverage service, beach parties, bike and surrey rentals, beach gear rentals.
Sunsets on the Beach - Located near the Granada launch ramp. Food and beverage service, beach parties.
Kayak Kafe - Located at Bayshore Ave at Ocean Blvd. Food and beverage service, beach parties.
Buoy's on the Pier - Located on Belmont Veterans Memorial Pier. Food and beverage service, beach parties.
Special Events 2017
Alfredo's, along with other local sponsors, presents a number of special events on the beach during the year.
Alfredo's Beach Club Events
Movies on the Beach
Moonlight Movies on the Beach are shown at Granada Beach during the summer. The movies are free, as is the parking. Dinner, snacks and popcorn are available for purchase. Movies begin at dusk (usually about 8:00 PM). Also look for them on Mother's Beach. New seasons starts June 15, 2017.
Pirate Invasion of Belmont Pier
July 1-2, 2017
Gather with pirates for music, song, and dance on the pier. Simulated pirate battles, including sword fights and a pirate ship attacking the pier. Kids' costume contest, treasure hunt, and more.
Party in the Pier
July 4, 2017
Belmont Veterans Memorial Pier, 11 AM to 10 PM, more information to be announced soon.
LOVE Long Beach
July 29-30, 2017
A children and family-friendly 2-day festival with yoga, sports, art, music, vendors and more. 11 AM to 10 PM both days at Shoreline Aquatic Park. $5, ages 16 and under free.
Kids Fishing Rodeo
August 4, 2017
Belmont Veterans Memorial Pier from 8:00 AM to noon. For boys and girls ages 16 and under. Trophies and prizes.
Tiki Beach Festival by the Sea
August 19-20, 2017
16th annual Tiki Beach Festival from sunrise to 9:30 PM on Saturday and sunrise to 5:30 PM on Sunday at Belmont Shore. Hula Dancing, Island Marketplace, Tiki Carving, Aloha Food Court, Arts and Crafts, Island Music and more. Free Admission.