Historic Adamson House and Museum
The Adamson house, built in 1929, is situated right on the beach at the mouth of Malibu Lagoon. It has been designated at National Historic Site and California Historical Landmark. The Spanish Colonial Revival style house is open for visitors, $7 for adults, $2 for children 6 - 16, and children 5 and under are free. Guided tours are held Wednesday through Saturday from 11:00 AM to 3:00 PM. Groups of 10 or more should make reservations: (310) 456-8432.
Adjoining the Adamson House is the Malibu Lagoon Museum, containing artifacts, photographs, and documents from Malibu's history.
Adamson House and Malibu Lagoon Museum
Guided Nature Tours
Guided tours of the wetlands and other natural elements such as grunion, the monarch butterfly, tide pools, and the gray whale are scheduled seasonally. The Malibu Lagoon beach features wetlands, flower gardens and a sandy beach.
Malibu Lagoon Restoration
Restoration has reshaped the appearance of Malibu Lagoon. Some preferred the wild appearance of old, but after work was completed in 2013 the lagoon has taken on a new look. About a dozen feet of sediment were dredged out along with a fair amount of garbage that had accumulated over the years.
The lagoon was widened and reconfigured; Old bridges were dismantled and replaced with new walkways. One new winding boardwalk trail is intended to flood as the tide rises and falls. Many non-native plants were removed and replaced by more than 60,000 new plants native to the region. The jury is still out on whether the changes were an improvement to the lagoon's ecology.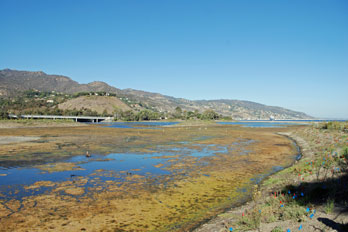 Malibu Lagoon Nature Trail and Beach trail
Trailheads to the nature trail and the beach trail are located at the Cross Creek parking lot. For the beach hike, follow the trail around the lagoon to the ocean. From there turn east along the beach to a place named Zonker Harris Memorial Beach. It was named after a Doonesbury comic strip character who devoted his life to acquiring the perfect tan. By heading west around the point you reach the narrow strip of sand along Malibu Colony. Eventually, after 4 miles, you arrive at Dan Blocker County Beach (formerly Corral State Beach).
Diving and Snorkeling around Malibu Lagoon
Snorkelers, or free divers, have found the area along the coast west of the lagoon a great place to explore. Along the whole 4 miles between the lagoon and Dan Blocker Beach are shallow waters rich with sea stars, crabs, anemones, and many species of fish. Scuba Divers like to explore the reefs and kelp beds offshore.