Russian Gulch State Park Camping
Russian Gulch State Park campsites are among the trees along Russian Gulch Creek. Besides standard sites there is a group site, a hike and bike site, and a horse camp.
The tent-only group site will accommodate from 9 to 40 people. It has 10 parking slots, 3 fire pits, and a large grill. Among visitors' favorite family campsites are numbers 1 through 12 (because they are off the main road) and sites 25 through 30. Sites 18-20 may no longer be in use.
Standard sites can be reserved from March 21 to August 31, otherwise they are first come, first served. The group site is available from March 21 to August 31.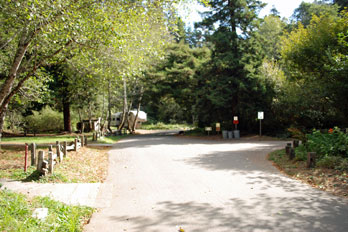 Entrance to Russian Gulch State Park Campground
Mendocino Campground
960 North Highway 1, Mendocino, CA
(707) 469-3035 Mendocino Campground
Mendocino Campground is a private facility open to the public. It is located closed to Mendocino and Big River.
Campground Facilities: Hot showers, modern restroom, ocean views
Campsites: Ocean-view sites available, small RV and trailer sites, maximum 4 people per site, picnic table, fire ring
Rates: $45 - $55 per night
Camping at MacKerricher State Park
Location
24100 McKerricher Park Road,
3 miles north of Fort Bragg
Sunrise to 10:00 PM
(707) 964-9112 or 964-8898
Day-use fees: $8
Campground Facilities
114 campsites in all

75 Standard Sites in 4 Areas: West Pinewood, East Pinewood, Surfwood and Cleone
37 Tent-only Sites
2 Group Sites

Hike and Bike Campsite
Restrooms
Dump station
Amphitheater
Park Features
9 miles of coastland
Day-use Picnic Area
Seal Watching Station
Boardwalk
Boat Launch at Lake Cleone
Coastal multi-use trail
Accessibility
Campsites, picnic area
Parking, restrooms
Laguna Point Boardwalk
Coastal Multi-use Trail
Beach wheelchair (707) 937-5804
Campsite Features
Table and fire ring
Trailers, RVs up to 35'
No hook-ups
Food lockers
Reservations and Fees
$35 for standard sites
$25 for walk-in tent sites
$25 for environmental sites
$200 - $260 for group site
$5 for Hike & Bike sites
Reservations available March 21 to August 31, otherwise first come, first served. Only West Pine remains open after August 31.
Online Reservations at ReserveCalifornia:
MacKearricher State Park Campground Reservations
or call (800) 444-PARK (7275) between 8 AM and 6 PM
Manchester Beach KOA Campground
44300 Kinney Road, Manchester, CA
Adjacent to the Manchester State Park campground
Campground Amenities
Pool, hot tub
Pavilion, game arcade room
Bike Rentals
WiFi (fee)
Disc golf course, Bocce ball courts
Sandy volleyball court
Kabins, kottages and lodges
Campsite Features
135 tent and RV sites
Variety of hook-ups available
50 Max amp
65' maximum length
Cable TV
Rates and Reservations
Rates: $$
Reservations: (800) 562-4188
Manchester Beach KOA
Camping at Van Damme State Park
Location
Highway 1, three miles south of Mendocino, CA
Open 8:00 AM to 9:00 PM (10 PM in summer)
Visitor Center (seasonal) (707) 937-4016,
District Office (707) 937-5804
Day-use fees: $8
Campground Facilities
69 family campsites, 5 tent-only sites
Group campsite for from 9 to 40 people
Hike and Bike site, En-route camping
Restrooms, showers
Dump station
Amphitheater
Park Features
Visitor Center
Day-use area at beach
Hiking trails through Fern Canyon and Pygmy Forest
Kayak tours
Accessibility
Campsites, picnic area
Parking, restrooms
Campsite Features
Table and fire ring
Most sites take RVs 21'-27', some 35'
No hook-ups
Food lockers
Reservations and Fees
$35 for standard sites
$35 for en-route primitive sites
$25 for environmental sites
$160 for group site
$5 for Hike & Bike sites
Reservations available March 21 to August 31, otherwise first come, first served.
Online Reservations at ReserveCalifornia:
Van Damme State Park Campground Reservations
or call (800) 444-PARK (7275) between 8 AM and 6 PM
Nearby RV Parks
Caspar Beach RV Park & Campground
14441 Point Cabrillo Drive, Mendocino, CA
Caspar Beach RV Park & Campground
RV Park Amenities: Store, arcade, ocean views, WiFi
RV Sites: Up to 50' RVs, cable TV, full hook-ups, fire ring
Tent Sites: Fire ring, picnic table, restrooms and showers, laundry, some sites with power, water and WiFi
Rates: $$
Reservations: (707) 964-3306
Pomo RV Park & Campground
17999 Tregoning Lane, Fort Bragg, CA
Pomo RV Park & Campground
RV Park Amenities: Group meeting room with solarium, store, horseshoes, fish cleaning station, dump station, playing field, restrooms, showers and laundry, tent sites
Campsites: Full hook-ups, Cable TV, WiFi, picnic table, fire ring
Rates: $$
Reservations: (707) 964-3373
Fort Bragg Leisure Time RV Park
30801 Highway 20, Fort Bragg, CA
In formation : (707) 964-5994
Reservations: (800) 700-8542
Fort Bragg Leisure Time RV Park
RV Park Amenities: Dump station, restrooms, laundry
Campsites: 57 campsites, 32 with full hook-ups, 13 with water and electric only, 40' maximum length, 30 amp available, satellite TV hook-up, tent sites available, picnic tables, fire rings
Rates: $$
Anchor Bay Campground
Anchor Bay, south of Point Arena
Anchor Bay Campground
RV Park Amenities: Restrooms, hot showers (coin operated), dump station, fish cleaning house, dive gear wash area, recreation area, small store
Campsites: 30 overnight sites, 9 in the woods, 21 at or on the beach, picnic tables, fire pit, most with water hook-ups, WiFi, electric hook-up sites available,
Rates: $$
Reservations: (707) 884-4222 (between 9 AM and 5 PM)