Mission Beach and Pacific Beach Surfing
Beginning and intermediate surfers enjoy the usually easy breaking surf along Mission Beach. It is usually best at higher tides. At the south end of the beach near the jetty some good right and left breaks attract a number of surfers.
Better waves are often found around Crystal Pier at Pacific Beach. Right and left beach breaks can be good at mid-tides. While mostly sandy, some rocks warrant caution. Restrictions keep surfers from getting too close to the pier.
Caution: Check with rangers or lifeguards that conditions are safe for your planned activities.
Tourmaline Surfing Park
Tourmaline Surfing Park draws both beginning and experienced surfers to its waters. With a convenient parking lot, restrooms and showers, and consistent waves, it's no surprise that Tourmaline is a favorite with many. Tourmaline is known as a welcoming surf spot where everyone gets along. Separate areas for surfing and for swimming are clearly marked. Consistent winds make the beach a favorite with windsurfers and kiteboarders.
A stone bench was placed at Tourmaline in the memory of Skeeter Malcolm, a legendary Tourmaline surfer. In recent years a monument, spearheaded by the Tourmaline Tailgaters Surfing Association, was erected to honor all past and present surfers at Tourmaline.
Tourmaline Surfer Memorial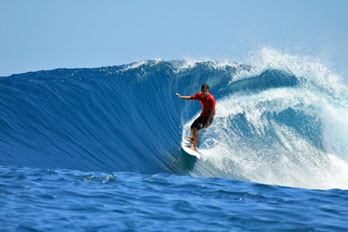 Tourmaline Club Challenge
October TBA, 2017
The Pacific Beach Surf Club and the Cardiff Surf Club sponsors an annual Coalition Surf Classic club competition at Tourmaline Beach.
Pacific Beach Surf Club
Kite Surfing
Kite surfers enjoy the winter and spring winds at Tourmaline. The crowds of surfers and swimmers at Tourmaline make it necessary for kite boarders to be careful during launches and landings. Although it should go without saying that kiters should avoid passing through areas with surfers, there have been incidents at Tourmaline. It is generally considered an experts only site because of the congestion. The best launch area is downwind of the pump station.
Surf Lessons and Camps
Mission Beach Surfing School
Mission Beach Surfing School offers surf lessons, surf camps, stand-up paddleboard lessons, kite surfing and wake surfing lessons. Instructors are certified in CPR, and also trained in ocean rescue and first aid. Group surf lessons are 1½ hours long with a student to instructor ratio of 4:1. Week-long surf camps begin in mid-June and continue through late August. Choose morning, afternoon, or all day.
Mission Beach Surfing School
San Diego Surf Lessons
Accredited instructors at San Diego Surf Lessons provide 1½ hour instruction in group, semi-private, or individual settings. Lessons are available 7 days a week from at 9 AM through 3 PM. Day camps for ages 6-17 are offered with CPR/Red Cross certified instructors. Week-long surf camps begin in mid-June and continue through late August.
San Diego Surf Lessons
Pacific Surf School
Pacific Surf School meets at Pacific Beach where they offer year-round surf lessons, surf camps, day camps, overnight camps, stand-up paddleboard lessons and kite surfing lessons. Private, semi-private, and group lessons are available along with weekend clinics. All instructors are certified in CPR and Red Cross first aid. Classes are limited to 1:4 ratio of instructor to students. Day camps run 5 days in the summer, offering morning, afternoon, or all day sessions.
Pacific Surf School
Surfboard, Paddleboard, and Bike Rentals
Cheap Rentals
Rentals of surfboards, swim fins, snorkeling gear, wetsuits, skimboards, bodyboards, stand-up paddleboards, beach chairs, umbrellas, skates, bikes and more.
3689 Mission Boulevard, Mission Beach, CA
Cheap Rentals
Mission Surf
Surfboard rentals, also stand-up paddleboards and bikes
4320 Mission Boulevard, Pacific Beach
Mission Surf
Rays' Rentals
Rentals of surfboards, bodyboards, stand-up paddleboards, wetsuits, kayaks, skates, beach chairs, umbrellas, snorkeling gear, and much more.
3221 Mission Boulevard, Mission Beach
655 Mission Boulevard, Pacific Beach
Ray's Rentals
RADD Action Sports
Rentals of surfboards, wetsuits, skimboards, bodyboards, stand-up paddleboards, and bikes
3837 Mission Boulevard, Mission Beach
RADD Action Sports
Cruiser King Bike Rentals
Beach cruiser bike rentals - men's, ladies', boys', girls', and electric
3830 Mission Boulevard, Mission Beach
Cruiser King