Nearby Activities and Events
Point Montara
Light Station
Located at 16th St. and Hwy1,
Montara, CA
(650) 728-7177
Built in 1875, current lighthouse rises 30 feet and is still in use.
Hostel next door opened in 1980
Point Montara Light Station
San Pedro Valley
County Park
600 Oddstand Blvd.
Pacifica, CA
(650)355-8289
A large park in the Pacifica foothills with picnic area, nature trail, hiking trails, visitor center and seasonal waterfall.
San Pedro Valley County Park
Whale Watching Tours
Oceanic Society
Depart from Pillar Point Yacht Harbor, Half Moon Bay, CA
Daily 3 - 3½ hour tours aboard the 56-foot Salty Lady. Open observation deck, indoor salon.
Oceanic Society Whale Watching Tours
Gherkin's Sandwich Shop
171 8th Street
Montara, CA
(650) 728-2211
Open 9 AM to 7 PM every day
Sandwiches, burgers, salads, soups, and more
Gherkin's Sandwich Shop
Surf Fishing
The coast of northern San Mateo County offers some of the best surf fishing in the area. Among the fish most often caught are surfperch, kingfish, sole, jacksmelt, surf smelt, striped bass, and California halibut. Most surf anglers report their best success in the early morning or that last hour before dusk. Fishing on the incoming tide when fish are feeding increases odds of success.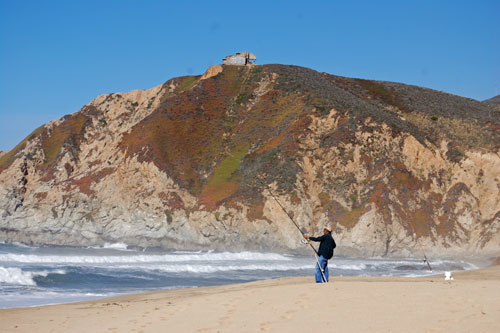 Wildlife
Harbor seals are often spotted poking their heads up beyond the surf line. During the fall, winter, and early spring migrating gray whales can be sighted farther out from shore. Beach visitors are likely to spot gray whales in their annual migration during the winter months. January is considered the peak of the migration, but sightings are common into April. Blue whales and humpbacks are also seen just off the coast. Sea lions occasionally venture into the area.
Brown pelicans are common along the Monterey coast line as well as several types of terns and gulls.
Surfing
Surfers at Montara Beach enjoy a consistent beach break with powerful waves. At times the break has been compared with some of the biggest waves along the coast. With so much beach to work from, the area rarely is crowded. East winds are known to generate some of the best waves. Rip currents are difficult, making it a chore to paddle out.
Surfing Lessons
Several surf schools are located a few miles to the south at Half Moon Bay.
Montara Beach Activities
McNee Ranch
McNee Ranch is spread along the western slope of Montara Mountain, across the highway from the beach. McNee Ranch is part of Montara State Beach. Naturalists enjoy the wild slopes of the ranch land, finding plants and animals that cannot be seen anywhere else.
McNee Ranch is open for hiking, horseback riding, and biking. Dogs on leash are allowed. Some trails are steep, but the rewards are great. From the summit of 1,898-foot North Peak, on a clear day you can gaze west to the Pacific, east to San Francisco Bay and Mount Diablo, and north to Point Reyes.
Another excellent hike (and much shorter and easier than the trek to North Peak) is the hike from Gray Whale Cove to an observation point with a bench. It's a great place to watch for whales during the winter months, so pack your binoculars.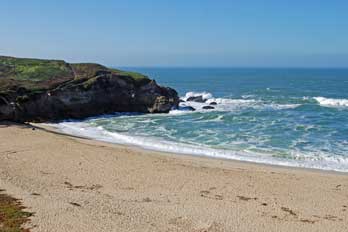 Kite Flying
Strong winds blow in from the Pacific and make Montara Beach a good place to launch kites. Be sure to bring a stout string on windy days.
Consider stopping at Fog Town Toys and Kites in Half Moon Bay and pick up a unique kite before heading to the beach. They carry a complete line of single line kites like box kites, dragon kites, and flying wonders (animals). For more advanced kite flyers, try out sport kites like the Prism Quantum Stunt Kite.
(650) 726-9212 Fog Town Toys
330 Main Street, Suite 104, Half Moon Bay, CA
Ocean Safety
California State Parks and Recreation cautions that "large surf, cold water temperatures, backwash, sudden drop-offs, pounding shorebreak, and dangerous rip currents can turn what seem like safe activities such as playing near the surf line, wading, or climbing on rock outcroppings, deadly." Learn more about ocean safety at CA State Parks: Ocean Safety