Montara
State Beach
Location
Highway 1, across from 2nd Avenue
Montara, CA
San Mateo County
Hours: 8:00 AM - sunset
(650) 726-8819
Entrance fee: None
Main Attractions
Surf fishing
Tide pools
Sunbathing
Facilities
Parking
Restrooms
Stairs to beach
Accessibility
Special Regulations
Dogs on leash allowed on beach.
No collecting, including shells and rocks
No fires on beach
Hazards
Rip currents
Dangerous surf
Rogue waves
Cliffs
Half Moon Bay Tides
Tides.Info: Tide Predictions for Princeton, Half Moon Bay, California
Water Quality
San Mateo County Health System Water Quality Updates
Caution: Check with rangers or lifeguards that conditions are safe for your planned activities.
Nearby Beaches
Half Moon Bay State Beach, 6 miles south
Pacifica State Beach, 5 miles north
Rockaway Beach, 6 miles north
Webcams
Half Moon Bay Web Cam
Montara State Beach
Montara State Beach is a 0.8-mile stretch of clean, coarse sand north of Half Moon Bay. Several access points along Highway 1 lead down to the beach. Two spots along the highway have formal parking lots with portable toilets and steep stairs to the beach. Other turnouts have rugged trails that make their way down to the sand.
Beach visitors marvel at the beauty of Montara. Low hills guard either end of the beach. The outside world seems far away. There are no facilities on the beach itself, other than some volleyball poles; bring your own net.
Surfers are often seen on the waves, but the ocean is considered too dangerous here even for wading.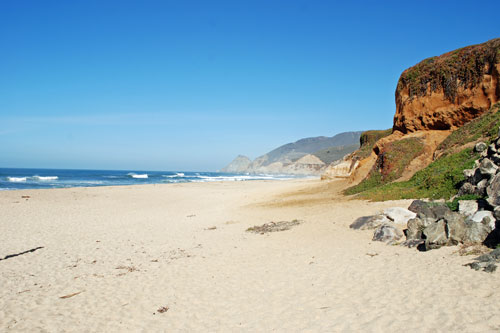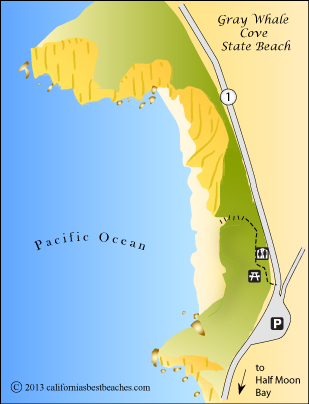 Gray Whale Cove State Beach
Gray Whale Cove State Beach is one mile north of Montara State Beach. The sheltered cove is flanked by high cliffs that drive straight into the ocean, creating a dramatic setting. A parking area is found along the east side of the highway, and a trail leads to a stairway with 145 steps down to the beach.
A picnic area is situated on the bluff overlooking the ocean. Restrooms are nearby, tucked in among the trees. Not surprisingly, the bluffs along Gray Whale Cove are good place to watch for passing gray whales. No climbing on the cliffs is allowed, but there are plenty of good vantage points at the picnic area. Visitors to the beach include fisherman, sunbathers, and photographers.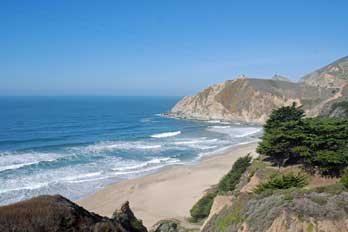 Ocean Safety
California State Parks and Recreation cautions that "large surf, cold water temperatures, backwash, sudden drop-offs, pounding shorebreak, and dangerous rip currents can turn what seem like safe activities such as playing near the surf line, wading, or climbing on rock outcroppings, deadly." Learn more about ocean safety at
CA State Parks: Ocean Safety
California's Best Beaches
◊ Chicago Park Web Design, © 2018 ◊

Every effort is made to provide accurate and up to date information, but we cannot be responsible for errors or for changes that may have occurred since publication. Always confirm information with the service provider and check for any recent changes that may have been made. Also, check with lifeguards that conditions at the beach are safe for your planned activities.
The maps displayed above are for illustrative purposes only. California's Best Beaches website makes no warranties regarding the accuracy, completeness, reliability or suitability of any of its maps. The information provided on this website is done so without warranty of any kind, either expressed or implied, including but not limited to, the implied warranties of merchantability and fitness for a particular purpose.