Monarch Butterfly Natural Preserve
Visitors to the Monarch Butterfly Natural Preserve can follow follow a wheelchair accessible boardwalk into the eucalyptus grove to view the butterflies. At the end of the boardwalks is an observation platform. Interpretive signs along the way tell about the monarchs.
For an extended tour of the preserve, a foot trail leads off the boardwalk, heading north and connecting with the Moore Creek Trail, making a loop back to the beach (less than a mile altogether).
The best times of year to view the monarchs are during November and December when the greatest concentrations are usually there. Butterflies begin to arrive in mid-October and many usually remain through mid-February. Numbers of butterflies and arrivals and departures dates vary each year.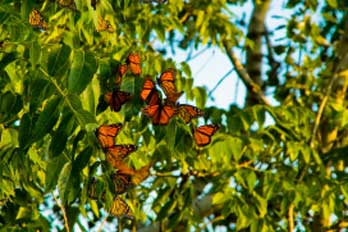 Guided Monarch Butterfly Tours
Hour-long, docent-led tours of the butterfly preserve are offered in late October through January on weekends at 11:00 AM and 2:00 PM. Meet at the Visitor Center. The tours are wheelchair accessible. For tours for groups of 10 or more, reservations should be made in advance with the park. (831) 423-4609
Migration Festival
Saturday, February 10, 2018, 11:00 AM to 4:00 PM.
A full day of activities at the park celebrating migratory animals - whales, butterflies, birds, and other migrating animals. Migratory talks, children's games, crafts, skits, and live music.
Welcome Back Monarchs Day
Sunday, October 14, 2018, 11:00 AM to 4:00 PM.
Celebrate with return of the monarch butterflies. Stories, active learning games, live music, and presentation. You can even dress up and join the butterfly parade.
Friends of Santa Cruz State Parks