Newport Beach Surfing
Surfers know Newport Beach as one of the best surfing areas along the Orange County coast. Perhaps the most famous of them, The Wedge lifts towering waves at the Newport Jetty wall that challenge even the most experienced surfers. Bodyboarders and bodysurfers are more often seen at the Wedge. During the summer and fall lifeguards raise a flat with a black ball, indicating that no boards may be used at the Wedge between 10 AM and 5 PM. Waves have been known to reach 30 feet.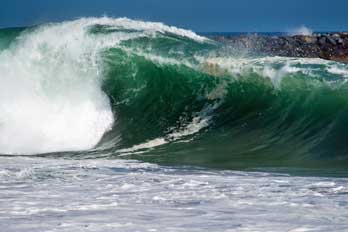 The Wedge
Up the beach at 54th - 56th streets surfers flock to the fast moving surf generated by the string of jetties. Consistently good waves break left and right in a number of peaks. The spot is usually crowded. More good waves can be found anywhere along the beach north of the pier. One popular alternative is farther up the beach at West Newport.
Caution: Check with rangers or lifeguards that conditions are safe for your planned activities.
Surfing Competition at Newport Beach
The Annual Newport Beach Surf Championships attract local surfers of all ages in late September. Categories include elementary aged surfers, middle school ages, high school, open divisions, legends, masters, and hall of fame.
Surf Lessons and Camps
Newport Beach Surfing Lessons
Founded by professional surfer Sean Louden, Newport Beach Surfing Lessons specializes in private and small group lessons for all levels, ages 4 and older. Must be able to swim. Located in the heart of Newport Beach.
Newport Beach Surfing Lessons
Endless Sun Surf School
A staff of CPR-certified professional surfers provide instruction for surfers of all ages. Wetsuits and boards are provided. Endless Sun Surf also has summer camps and dedicated women's surf classes as well as after school surf classes.
Endless Sun Surf School
Newport Surf Camp
Hands-on instruction for children ages 5 - 16 of all skill levels. Develop your skills and learn the latest tricks and maneuvers along with ocean safety. Week-long or 3-day, full and half-day camps offered from early June through August. Private lessons also available. Located at 28th Street on Newport Beach.
Newport Surf Camp
Surfari Surf Lessons
Surfing lessons for all ages. During a 1½-hour lesson build your skills, learn proper paddling, positioning, standing, falling, and ocean awareness. Lessons include surfboard, wetsuit, and rash-guard t-shirt. Located on Newport Beach.
Surfari Surf Lessons.
Beach Rentals and Sales
Seaside Bike Rentals
All kinds of bikes to rent - surreys, men's and women's beach cruiser and mountain bikes, children's bikes, tandem bikes and tagalongs. also electric bikes, child trailers, beach wagons, and bocce ball sets. Helmets and bike locks are included in rental. Located near the Balboa Pier.
105 Main Street, Newport Beach, CA
Seaside Bike Rentals
Surfari Surf Rentals
Rentals of short boards, fishes, long boards, soft boards, body boards, stand-up paddleboards, rash guards, and wetsuits. Open 9:30 AM to 4:30 PM daily.
6000 West Coast Highway, Unit C, Newport Beach, Ca
Surfari Surf Rentals.
15th Street Surf Shop
Rentals of boogie boards, skim boards, surfboards, wetsuits, and fins. Also rent bicycles, beach chairs and umbrellas, volleyballs and nets.
103 15th Street, Newport Beach, CA
15th Street Surf Shop
Jack's Surfboards Newport Beach
sales of surfboards, wetsuits, skateboards, and all kinds of accessories
2727 Newport Boulevard, Newport Beach, CA
Jack's Surfboards