Ocean Beach Municipal Pier
Constructed in 1966, Ocean Beach Municipal Pier is a community landmark, attracting sightseers and anglers. Every year more than a half million visitors walk out the concrete structure. The pier reaches more than a third of a mile out into the Pacific. The T extensions at the end of the pier add 360 feet jutting to the south and 183 to the north.
The pier is open every day from 4:00 AM to 2:00 AM. About half way out the pier are a bait and tackle shop and a cafe. Other features on the pier are benches, lights, and fish cleaning stations. Tide pool adventurers arrive at low tide to observe the marine life in the pools and crevices in the rocks beneath the pier.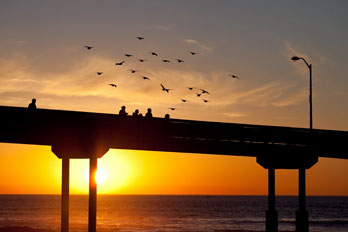 Ocean Beach Municipal Pier
Exploring South of the Pier
Immediately south of the pier the coastline becomes rugged with many scenic overlooks but few opportunities for beach-goers other than scattered pocket beaches and some interesting tide pools. The most popular area is well to the south of the pier around Sunset Cliffs Park.
Stairs at Santa Cruz, Bermuda, Orchard, and Narragansett avenues provide access to a rugged concrete path than wends along the base of the cliffs. A ramp at the intersection of Cable Street and Orchard Avenue descends to a rocky shoreline.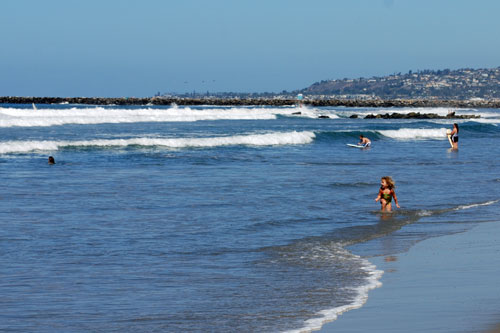 Sunset Cliffs
Sunset Cliffs Drive sweeps along the shore from Point Loma Avenue all the way south to Ladera Street and Sunset Cliffs Natural Park. Along this one and a third mile stretch of road are numerous overlooks where visitors can park and enjoy views of the Pacific Ocean and the jagged coastline.
Sunset Cliffs Natural Park
Sunset Cliffs Natural Park spreads over 68 acres along the Point Loma peninsula, at the southern end of Ocean Beach. Tide pools, rugged cliffs, caves, and inland sage scrub habitat offer interesting, but sometimes precarious, places to explore. Visitors are likely to spot cormorants, pelicans, gulls, hawks, sparrow, and finches. Besides the large area south of Ladera Street, the park includes the coastal region west of Sunset Cliffs Drive.
Sunset Cliffs Natural Park