Nearby Activities and Events
Whale of a Day
First Saturday in March
10:00 AM to 4:00 PM
Main grounds of the Point Vicente Interpretive Center, 31501 Palos Verdes Drive West, Rancho Palos Verdes
Festival celebrating the migration of the Pacific Gray Whale.
Children's activities: face painting, crafts, chalk drawing, storytelling, etc.
Exhibits, food vendors, lighthouse tours.
Co-sponsored by the City and the docents of Los Serenos de Point Vicente.
Whale of a Day
Palos Verdes Peninsula Land Conservancy Events
The Conservancy preserves undeveloped land as open space for historical, educational, ecological, recreational and scenic purposes.
Activities: nature walks, bird walks, night hikes, workshops, volunteer workdays.
George F. Canyon Nature Center
Palos Verdes Peninsula Land Conservancy
Rancho Palos Verdes Recreation Activities
Summer camps, classes, Los Serenos Jr. Docent Program, Jr. Ranger Program
Rancho Palos Verdes Recreation and Parks
South Coast Botanic Garden
26300 Crenshaw Blvd.
Palos Verdes Peninsula
87-acre garden with more than 2,500 different plant species
Open every day except Christmas, 9 AM - 5 PM
Admission fee
South Coast Botanic Garden
Palos Verdes Street Fair & Music Festival
June TBA, 2018
Norris Center Dr. & Deep Valley Drive
Free events, family rides and attractions, petting zoo, live music on two stages.
Craft beer and food
Palos Verdes Street Fair
Palos Verdes Half Marathon and 5K
November TBA, 2018
Start and finish at Pelican Cove, Rancho Palos Verdes.
The course leads around the Palos Verdes Peninsula to Bluff Cove and back.
5K course goes east toward Abalone Cove.
7:00 AM start for half marathon and 10K, 7:05 AM for 5K
Palos Verdes Half Marathon
Surfing the Palos Verdes Peninsula
Although sometimes difficult to access, surfing spots along the Palos Verdes Peninsula are among the best in the Los Angeles area.
Caution: Check with rangers or lifeguards that conditions are safe for your planned activities.
Malaga Cove
Malaga Cove can be reached by walking south from Torrance Beach. Surfers know the area as Haggerty's or Rat (Right after Torrance) Beach. Several reefs and points there provide a variety of waves. On easy days it's a good place for beginner and intermediate surfers, but at times the surf can get huge. Rocks in some places can be dangerous.
Bluff Cove
Surfers at Bluff Cove (also called Palos Verdes Cove) find reef breaks going right and left. The rocky bottom there deserves caution. Longboarders like a place called Middles with a reliable break. Surfers looking for barrels turn to either Little Reef at the north end of the cove or Boneyards at the left side of the cove.
Indicator, outside the cove, is well known as one of the favorite spots for locals. Kelp beds can make it difficult to surf, but when the surf is up, the ride is worth the hassle. It's best for intermediate to advanced surfers who are known in the area.
Lunada Bay
The best surfing at Lunada Bay is off the Palos Verdes Peninsula north of the cove. In 1961 the SS Dominator, a Greek freighter, ran aground there. After salvage efforts and years of pounding waves, large chunks of the ship remain scattered along the shore.
Access to the shore is difficult. Steep trails lead down from the Rocky Point area. Local surfers have a history of being territorial. The big, heavy waves at Dominators can be a challenge, along with rocks and other hazards. Some surfers move down to Truck Drivers where they have a little more room, but also a nasty reef to contend with. Most consider winter the best time to surf here.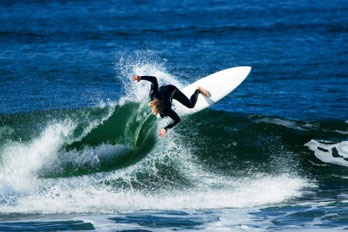 Surfing Lessons and Camps
P. V. Surf
P.V. Surf offers Youth Surf Camps for ages 6 to 15. Instructor to student ratios never exceed 4:1. Instruction is held at Rat Beach. Camp is held Monday through Friday with your choice of morning or afternoon sessions beginning early June through mid-August. Private lessons are also available.
Palos Verdes Peninsula Hiking Trails
Trail to Dominator Shipwreck
A popular was to access the wreck of the SS Dominator on point north of Lunada Bay is via the Drain Pipe Trail. Park near the intersection of Paseo del Mar and Cloyden Road (near Palos Verdes High School. A trail on public land leads down to the beach. Wear good, protective footwear.
Once at the bottom you can hike south along the rocky shoreline. Enjoy great views of the ocean and lots of colorful, polished rocks. From the drain pipe to the shipwreck is about an hour of clambering along the rocks. If you time it at low tide, you will have tide pools along the way. The shipwreck is spread along 100 yards of the rocky beach. Other, shorter trails lead to the spot, but they are very steep and dangerous.
Point Vicente Trails
Several easy trails lead along the bluff at Point Vicente, providing views of the ocean, Catalina Island, and the rugged shoreline. The longest trail, Seascape Trail begins at the Interpretive Center at Point Vicente and leads north. You can also access this trail via Terrace Trial which leads off Pacifica del Mar just north of the lighthouse grounds. Parking is available along the streets.
At its north end Seascape Trail connects with Golden Cove Trail, which leads around (naturally) - Golden Cove. The trail connects with several streets near the intersection of Palos Verdes Drive and Calle Entradero. A parking lot is located along Calle Entradero. Dogs are allowed on leash on the trails, but bicycles are not permitted. The entire trail is less than a mile long. Near the north end is a steep trail down to some tide pools.
For more area hikes, see Outdoor Guide to the Palos Verdes Peninsula
offered from Amazon.com
Point Vicente Lighthouse
The Point Vicente Lighthouse was erected in 1926, long overdue as a guiding beacon for mariners. Standing 67 feet tall on the tip of Point Vicente, the lighthouse serves to guide ships away from the rocky shores. Today the lighthouse and fog horn run on automation. Nearby radio buildings are closed, but residences there are used by the Coast Guard Auxiliary.
The lighthouse and a small museum are open to the public (ages 7 and older) on the second Saturday of each month from 10:00 AM to 3:00 PM, except in March. During March the lighthouse and museum are open on the first Saturday from 10:00 AM to 4:00 PM. This is the same day as Rancho Palos Verdes' Whale of a Day celebration.
31550 Palos Verdes Drive West, Rancho Palos Verdes
Information: (310) 541-0334
Point Vicente Lighthouse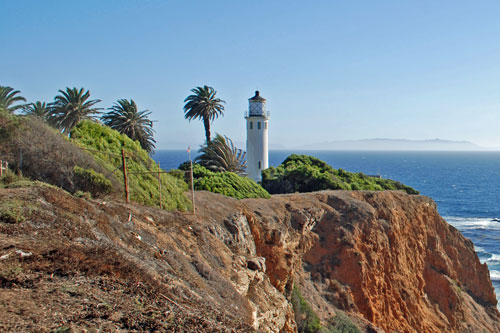 Fishing along the
Palos Verdes Peninsula Coast
New restrictions on fishing in several areas along the California coast have gone into effect. For the Palos Verdes Peninsula the two affected areas are Point Vicente and Abalone Cove. They have become State Marine Conservation Areas (SMCAs).
Point Vicente Restrictions
The area from Long Point at the Terranea Resort around Vicente Point to the northern boundary of the Point Vicente Interpretive Center is a no take zone. No fishing is allowed. This includes the well-known fishing access area south of the lighthouse.
Abalone Cove
The Abalone Cove SMCA extends east from Long Point to Portuguese Point, which includes Abalone Cove. Here recreational spearfishing for pelagic finfish, Pacific bonito, and white sea bass is permitted, and market squid can be taken by hand-held dip nets. Limited commercial fishing is allowed.
For complete information, see
California Department of Fish and Wildlife
For a map of the affected areas, see
California Marine Protected Area Map
Where to Fish
Unlike the sandy beaches to the north along Santa Monica Bay, the Palos Verdes Peninsula is made up mostly of rocky shore with difficult access points.
Rocky Point ranks among the best spots on the peninsula. Reefs and boulders provide shelter for fish while northwestern upswells deliver nourishment. Among the most common fish taken here are barracuda, yellowtail, bonito, and blue fin tuna.
Point Vicente has been closed down to fishing, but north of the SMCA anglers still have good luck casting for halibut and sea bass.
Point Fermin at San Pedro draws a good number of fishermen. White sea bass find it hard to resist offerings of live squid. Other fish caught along the coast from here all the way to Portuguese Point include yellowtail, calicos, halibut, rockfish, sheephead, and barracuda.
Diving off the Palos Verdes Peninsula
A number of spots along the Palos Verdes Peninsula are popular with divers.
Flat Rock
It is best to set off from a boat to explore the Flat Rock area near Bluff Cove, but it can be done from the shore if you are willing to negotiate a steep, dangerous trail with all your gear. Visibility is usually around 20 feet. Divers drop down to about 30 feet for views of lobsters, octopus, and a variety of fish.
Malaga Cove
A path leads from the parking lot down to the beach at Malaga Cove. A rocky shoreline here makes for a tricky entry, not especially good for beginning divers. Divers enjoy exploring the rocky clefts just off-shore running parallel to the coast, with depths of about 25 feet. Divers are likely to see a wide range of fish from halibut and sheephead to bat rays and giant kelpfish.
Long Point and Cobble Beach
Long Point, near the site of the old Marine Land, has a good kelp bed which provides habitat for all kinds of sea life. The access trail is challenging and the entry is rocky. The trail to nearby Cobble Beach is much easier, although the entry there can also be tricky. Divers usually explore depths from 20 to 45 feet with good visibility. Expect to see plenty of octopi, cabezon, white seaperch, giant crabs, and the dangerous electric torpedo rays.
Dive Clubs
Pacific Wilderness Dive Club
They welcome new members and offer many membership privileges. They sponsor dive events every month from Long Beach to Catalina.