Pismo Beach Activities
Volleyball
Eight volleyball courts are located on beach north of Pismo Pier at the Wadsworth Avenue access.
Youth Beach Volleyball Camp are offered by the City of Pismo Beach at the Wadsworth Courts.
Ages 10-15
April 17-21, 2017; 9:00 AM to 11:00 AM
Check the current Activity Guide for even more activities through the year: Pismo Beach Recreation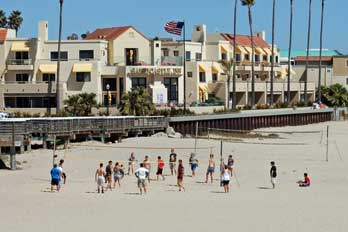 Monarch Butterfly Grove
Monarch butterflies gather at California's largest monarch grove in Pismo Beach, immediately south of the Pismo Beach State Park's North Beach Campground off Highway 1. from November through Marsh monarch butterflies cluster by the thousands in the eucalyptus grove. Parking and admission is free. Docents are often on hand to assist visitors.
Information: 800-443-7778.
Horseback Riding
Pacific Dunes RV Resort and Riding Stables offers 1-hour and 1½-hour guided trail rides through the dunes and along the beach.
(805) 489-8100 Pacific Dunes Stables
Beach Soccer Tournament
The Copa Cabana Beach Soccer Tournament will be held at Pismo Beach on June 2-3, 2018.
Copa Cabana Beach Soccer Tournament
Pier Fishing
The Pismo Beach Pier is a favorite with fishermen, one of the busiest along the central coast. When the schools of fish such as the bocaccio are in the area, action can be good.
Among the fish caught here are corbina, yellowfin croaker, barred surfperch, calico surfperch. The most common catch is barred surfperch.
Along the pier's 1,370-foot length are cantilevered fishing platforms. The pier is open 24 hours a day. At the foot of the pier are restrooms and parking. Paid parking is enforced 10:00 AM to 6:00 PM ($1 per hour). The pier is lighted at night. Anglers will find fish-cleaning stations, benches, and a bait and tackle shop.
Junior Lifeguards
Pismo Beach Junior Lifeguards
The Junior Lifeguards program develops skills in ocean swimming and in dealing with hazards in the ocean. Participants learn about water safety, surf rescue, surf riding, and first aid. The program is open to youths ages 9 to 17. The program is held on the south side of the Pismo Beach pier at Oceanview Avenue.
Participants must pass a basic swimming test held in May.
Pismo Beach Junior Lifeguards
2017 Pismo Beach Program Schedule
June 26 through August 4, 2017
Monday - Friday, 8:45 AM to 12 Noon.
Oceano Dunes Junior Lifeguards
A Junior Lifeguard program is going into its sixth season at Oceano Dunes. Like the Pismo Beach Junior Lifeguards, Oceano participants must pass a swimming test to qualify. Call (805) 473-7248 to schedule make-ups.
Oceano Dunes' two sessions run from June 26 to July 14, 2017 and from July 17 to August 4, 2017.
Oceano Dunes Junior Lifeguards
Oceano Dunes
State Vehicle Recreation Area
Post 2, one mile south on the beach from Pier Avenue, marks the beginning of the OHV area. All OHVs must be transported to this point before off-loading. Fenced and signed areas are closed to vehicular use either because the property beyond is private or because the area contains sensitive plant and animal life.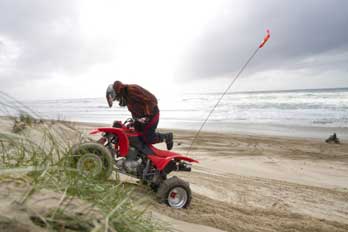 Entrances
The North Entrance is at the end of Grand Avenue in Grover Beach.
The South Entrance is at the end of Pier Avenue in Oceano.
Oceano Dunes SVRA
Oceano Dunes SVRA MAP
ATV Rentals
Steve's ATV Rentals
332 Pier Ave., Oceano, CA (805) 481-2597
Rent ATVs
BJ's ATV Rentals
197 Grand Avenue, Grover Beach, CA (805) 481-5411
Rent ATVs
Pismo Beach Surfing
Pismo Beach is known for its great break near the pier. Surfing is allowed up to 150 yards north of the pier. Surfers prefer the morning, avoiding the wind. The beach has room for everyone from novices to experts. Many longboarders prefer to avoid the crowds around the pier and surf the beach at Oceano.
When conditions are good, surfers head north to Shell Beach, finding some interesting reef breaks along the rugged coast.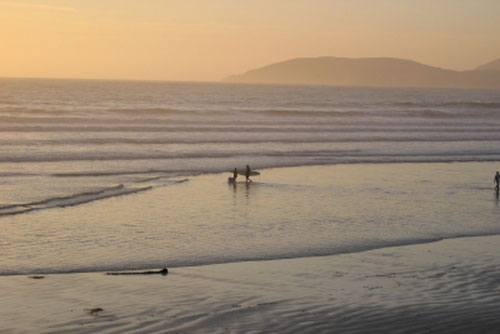 Surf Shops, Surf Lessons and Rentals
Shell Beach Surf Shop
2665 Shell Beach Road, Suite K, Shell Beach, CA
(805) 773-1855
Retail, lessons, rentals
Esteem Surf Co.
590 Cypress Street, Pismo Beach
(805) 773-2144
Retail surf shop
Moondoggies Beach Club
781 Dolliver Street, Pismo Beach
(805) 773-1995
Retail and rentals
Sandbar Surf
791 Price Street #210, Pismo Beach, CA
(805) 835-SURF (7873)
Lessons, camps and rentals
Pismo Beach Surf Shop
470 Price Street, Pismo Beach, CA
(805) 773-2089
Lessons, kayak tours, and rentals
Pancho's Surf Shop
181 Pomeroy Ave, Pismo Beach, CA
(805) 773-7100
Beach supplies, surfboards, rentals
Surf Camp
Moondoggies Beach Club will provide instructors for children's 3-day surf camps. Camps teach water safety, surfing etiquette, surfing skills. 9:00 AM to 11:30 Am. For ages 8-17. Instructors are CPR and first aid certified.
April 18-20, 2017
Contact City of Pismo Beach Recreation: (805) 773-7063
Pismo Beach Recreation
Kiteboarding
Kiteboarders enjoy the strong afternoon winds along Pismo Beach. The lack of rocks sandy bottom at Pismo Beach make it an attractive place to develop kiteboarding skills.
Xtreme Big Air Kiteboarding Lessons
Kiteboarding beginner and advanced courses at Pismo Beach.
California Kiteboarding
Kiteboarding lessons, stand-up paddleboard lessons and tours
Activity Vehicles Rentals
Pedal Surreys and Sporty Quads, Cruiser and Tandem Bikes, Segways
150 Hinds Avenue
Pismo Beach, CA
(805) 773-0197 or
(805) 650-7770
Rent pedal surreys that seat up to 4, smaller pedal vehicles for 1 or 2, bikes, surfboards, boogie boards, sand toys, beach umbrellas and chairs, Segways
Pismo Beach Kayaking
Sea kayakers at Pismo Beach find a variety of places to explore along the coast. Among the most popular destinations are the arches, tunnels, and caves around Dinosaur Park.
Kayak Rentals and Tours
Central Coast Kayaks
1879 Shell Beach Road, Shell Beach, CA
Tours and lessons
Pismo Beach Surf Shop Kayak Tours
470 Price Street, Pismo Beach, CA
Tours and lessons
SLO Coast Kayaks
3915 Avila Beach Drive, Avila Beach, CA
Tours and lessons