Surfing the Point
Some of the best surfing at Will Rogers Beach is at the point at the northeastern end of the beach. Waves there can be on the mushy side at times, but 2 to 3-footers roll in at times, making for short but fun ride. Other surfers pick up on the waves at the breakwater by lifeguard tower 15, just south of the main lifeguard headquarters. Summer usually brings the best waves there, especially with an offshore wind from the northeast.
Caution: Check with rangers or lifeguards that conditions are safe for your planned activities.
Kitesurfing
Afternoon winds attract kitesurfers to Will Rogers Beach when it isn't too crowded. Mid-April to late October are usually the best months. Kitesurfers should check with the lifeguards before setting up.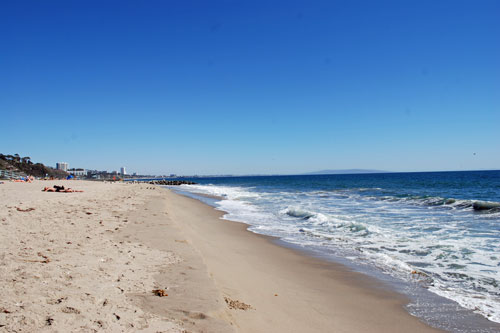 Fishing at Will Rogers Beach
Surf fishermen enjoy casting out at Will Rogers Beach when the sand isn't too crowded with sun bathers. Halibut, opal eye perch, croaker, leopard shark, guitar fish, and corbina have been landed here. Fishing around tower 12 has produced good results. The carolina rig seems to be everyone's favorite. Shrimp, sand crabs, and squid are popular baits.
Junior Lifeguards at Will Rogers Beach
The Junior Lifeguards program develops skills in ocean swimming and in dealing with hazards in the ocean. Participants learn about water safety, surf rescue, surf riding, and first aid. The 5-week program is open to youths ages 9 to 17. Participants meet at Lifeguard Tower 15, just south of the lifeguard headquarters at Will Rogers Beach.
New participants must pass a basic swimming test held in April and May.
LA County Junior Lifeguards
Will Rogers Beach 2018 Program Schedule
Session One: June 20 through July 19, 2018 (morning and afternoon sessions)
Session Two: July 23 - August 17, 2018 (mornings only)
Monday - Friday, Two Sessions:
Morning Session - 8:30 AM to 11:30
Afternoon Session - 1:30 PM to 4:30 PM