Nearby Mendocino Beaches
Russian Gulch
State Park
Location
Point Cabrillo Rd., 2 miles north of Mendocino
Open 6:00 AM to sunset
(707) 937-5804
Day-use Fees: $8
Main Attractions
Devil's Punch Bowl
Swimming, tide pools
Diving, fishing
Hiking, cycling
Waterfall
Facilities
Parking
Restrooms
Recreation hall
Camping, Horse Campsite
Hiking and Equestrian trails
Picnic Area
Accessibility
One designated accessible campsite
Parking, restrooms
Hazards Include
Crumbling cliff edges
Rogue waves
Rip-currents
Cold water
Caution: Check with rangers or lifeguards that conditions are safe for your planned activities.
Regulations (partial list)
No dogs on beach.
Dogs in campground must be attended and on leash.
Underwater features protected.
Alcohol and glass containers are not permitted outside campsites.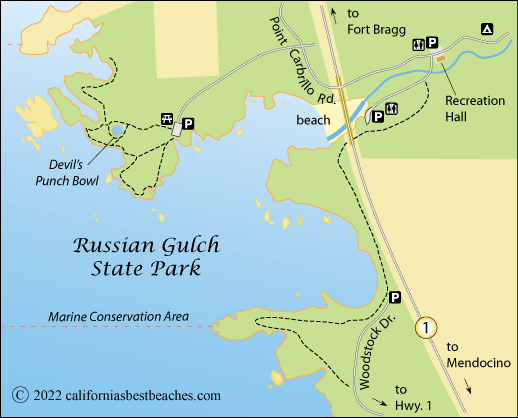 Russian Gulch Beach
The small beach at Russian Gulch is tucked under the Highway 1 bridge that arches high overhead. Visitors find convenient parking at the edge of the beach with chemical toilets and outdoor showers nearby. Like its neighbor Van Damme Beach, Russian Gulch Beach is favored by kayakers and divers.
The narrow bay at the mouth of the Russian Gulch Creek protects the beach from heavy surf, making it a good place to take children. There are lots of places children like to explore, colored rocks to examine, bits of driftwood, a creek for wading. The clean, white sand is good for building little castles decorated with shells and bits of kelp.
Ocean Safety - Always check with rangers if conditions are safe for your planned activities.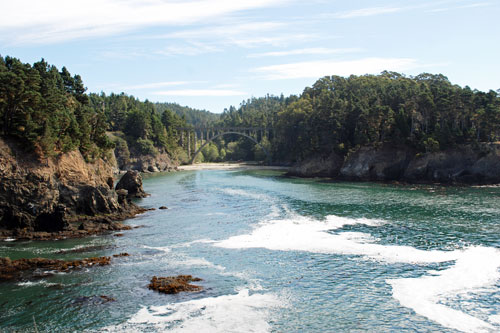 Russian Gulch
Around Russian Gulch
Russian Gulch Creek flows down the canyon and empties into the ocean at the beach, forming a shallow lagoon near its mouth. The upper reaches of the creek can be accessed from a trailhead on Caspar-Little Lake Road off Highway 1, north of the park. This is a popular entrance for equestrians.
Recreation Hall
The Recreation Hall at Russian Gulch was erected on a site that was formerly a shingle mill. The Recreation Hall was constructed by Civilian Conservation Corps (CCC) workers. They included a river-rock fireplace. The hall, complete with a kitchen and a uni-sex restroom, may be used by groups. It is available from April through Labor Day.
Russian Gulch Headlands
Russian Gulch State Park includes two headland areas, one south of the beach accessed from Woodstock Drive off Highway 1, and the other north of the beach. A park road leads off Point Cabrillo Road out to a parking lot and picnic area on the headlands. From there trails wind along the top the bluffs and around the Devil's Punch Bowl. Read more about the Punch Bowl and the headland trails on the ACTIVITIES page.
Russian Gulch
State Marine Conservation Area
The Russian Gulch State Marine Conservation Area includes all the bay at the mouth of Russian Gulch Creek and extends about three-quarters of a mile west from the beach. The northern and southern boundaries of the Conservation Area are shown on the map above. Special regulations govern marine conservation areas. For the Russian Gulch area the regulations permit most kinds of commercial and recreational fishing in accordance with current regulations. Take of bull kelp and giant kelp is prohibited.
Ocean Safety
California State Parks and Recreation cautions that "large surf, cold water temperatures, backwash, sudden drop-offs, pounding shorebreak, and dangerous rip currents can turn what seem like safe activities such as playing near the surf line, wading, or climbing on rock outcroppings, deadly." Learn more about ocean safety at CA State Parks: Ocean Safety
Search This Site