Ocean Beach
Ocean Beach's 3½ miles of sand are a popular destination for those who want a place to enjoy the wild feel of the Pacific Coast away from the congestion of the city. The beach attracts experienced surfers, beach combers, picnickers, hikers, and sun bathers.
Caution: Frigid water and dangerous currents make Ocean Beach especially hazardous. Wading and swimming are not recommended. Before setting out, always check with lifeguards or rangers that conditions are safe for your planned activitites.
San Francisco is famous for its summer fog, which is why locals usually head to Ocean Beach in September and October when the sun is most likely to shine. During the summer you can almost be guaranteed to have fog at Ocean Beach.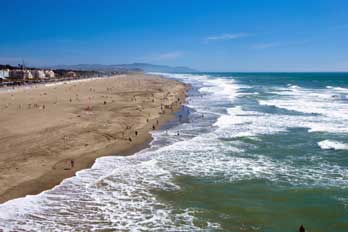 Due to fickle nature of the ocean and the dredging of the Golden Gate, the northern part of Ocean Beach has accumulated an excess of sand, while the southern end is exposed to erosion. In recent years the National Park Service, the Public Utilities commission, and the Department of Public Works joined to move more than 73,000 cubic feet of sand from the north end to the south. Changes in dredging practices should help to alleviate the problem too.
Restrooms
Restrooms are available at the Vistor Center at the Beach House after 11:00 AM, and also at the foot of Judah and Taraval streets, inland from the beach. Another restroom is at Sloat Boulevard and the Great Highway.
Coastal Dunes
As in many places along the coast, the vegetation on the dunes at Ocean Beach has suffered from heavy traffic. At one time most of San Francisco was covered by sand dunes. Today only limited areas of dunes with native vegetation known as dune scrub remain. Dune scrub consists mostly of mock heather and Chamisso's lupine. Efforts are underway to protect the ecology of the dunes at Ocean Beach. Visitors are encouraged to avoid stepping on fragile dune plants.
Fires on Ocean Beach
Beach-goers are asked to confine beach fires to the provided fire rings. Bring your own firewood rather than collect driftwood. For complete fire guidelines, see the Park Conservancy's information Ocean Beach Fire Rings.
Snowy Plovers
Endangered Western Snowy Plovers are found at Ocean Beach from July until May. Although they are not nesting at Ocean Beach, they are building up their strength by feeding along the beach and resting in shallow depressions in the sand. These small brown birds are often hard to see.
A Snowy Plover Protection Area has been set up at Ocean Beach at stairwell 21, just south of the Beach Chalet, to Sloat Boulevard, including all tidelands. To help protect the birds, dogs are not allowed off leash in this area from July until May. Activities such as walking or horseback riding should be confined to the areas of wet sand. Kite flying, frisbee tossing, and other ball throwing sports should be close to the water also, away from the areas where the plovers rest.
Other Birds on Ocean Beach
Visitors to Ocean Beach will likely see a variety of shore birds, including Marbled Godwits, Willets, Heerman's Gulls, Caspian Terns, and Sanderlings.
Shipwrecks
From 1850 to 1926 twenty ships ran aground and sank at Ocean Beach. In 1878 the King Philip, a 1,100-ton wooden clipper ship, ran aground at Ocean Beach and broke apart in heavy surf. During very low tides the remains of the hull can be seen sticking out of the sand at the foot of Ortego Street.
Bike-Walk-Jog Trail
Bike-Walk-Jog Trail paralleling the inland side of the Great Highway extends from Sloat Boulevard 2 miles to Lincoln Way. A generous space between the road and the bike path means that riders and walkers don't feel as if they are on a city sidewalk.