Santa Cruz Beach
Santa Cruz Beach is the most visited beaches in Northern California. With the Santa Cruz Boardwalk adjacent to a beach that is the hub of Northern California surfing, there is no other stretch of sand in the area that can compete with Santa Cruz. It draws large summer crowds along its broad mile of ocean front. The beach curves from the San Lorenzo River past the Boardwalk and the Municipal Wharf before connecting with Cowell Beach.
Santa Cruz Beach Boardwalk
With more than 34 rides and attractions, Santa Cruz Beach Boardwalk is one of the most popular beachside destinations in California. The centerpieces of the classic seaside amusement park are its 1924 Giant Dipper roller coaster and its 1911 Looff Carousel. Along with the big rides are kiddie rides, games, indoor arcades, restaurants, and miniature golf.
The Boardwalk is open from Memorial Day through Labor Day and on most weekends and holidays year round. Rides are closed for most of December for maintenance. Admission to the Boardwalk is free. Ride tickets can be purchased individually or by an all-day wrist band.
Santa Cruz Beach Boardwalk
Surfing
Santa Cruz is surfing. And at Santa Cruz, surfing is Steamer Lane. Just beyond Cowell and Santa Cruz beaches out near Lighthouse Point, is one of the most famous spots in the country for surfing. Steamer Lane is often crowded with surfers of all abilities maneuvering for a turn on the waves.
Steamer Lane has four main surf zones - Middle Peak, The Point, Slot, and Indicator. Third Reef is farther out and mostly only attempted by experts. Big surf riders watch for Middle Peak to come to life with waves as high as ten feet. When that happens, novices stay on shore and watch the experts. The bluffs along West Cliff Drive make a great place for spectators to gather and watch the surfing.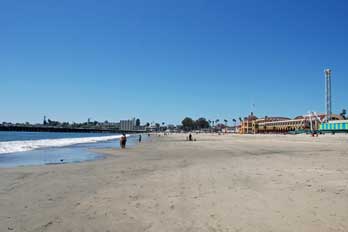 Parking near Santa Cruz Beach
Metered Parking
Santa Cruz's parking meters operate Monday through Saturday from 8:00 AM to 6:00 PM. Downtown meters are not operated on the following holidays: New Year's Day, Martin Luther King, Jr. Birthday, Presidents Day, Memorial Day, 4th of July, Labor Day, Veterans Day, Thanksgiving, and Christmas.
Meter poles are color coded for the number of hours allowed. Blue poles are long term parking, 10-12 hours. Gray poles are for 6 hours maximum, orange 2 hours, brown 1 hour, and green 20-30 minutes.
Pay by coins, a ParkCard or use the Pay By Phone feature now offered in Santa Cruz.
Boardwalk Parking Lots
Four Boardwalk Parking Lots are located across the street from the Boardwalk. Access to all the lots is off Beach Street.
Parking Fees:
- $15 on ride days, $10 on limited ride days.
- RVs $30
Downtown Parking Lots
Soquel/Front Garage and the Locust Garage Soquel/Front Garage is located at Soquel Avenue and Front Street, 0.8 miles from the beach. Locust Garage is at the corner of Cedar and Locust. Paid hourly parking, 7 days a week. Pay at one of the Pay-on-Foot stations on the ground floor stair tower or the cashier's office. $1 for first two hours, ranging up to $5 for 7 hours.
Government Center, 701 Ocean Street, $7. A free shuttle runs to the Boardwalk and Beach every half hour in the afternoon on summer weekends and holidays. See Boardwalk Parking for details.
PARKER App A new smartphone application is available for iPhones and Androids. PARKER is free and once you have it, you can locate City of Santa Cruz parking lots and see the rates for each lot.
PARKER App
The Santa Cruz Metro Center at 920 Pacific Ave. is 2 blocks south of the Soquel/Front parking Garage. From the Metro Center you can take the #3 bus (or 3W on weekends) to Santa Cruz Beach. $2 in bills or coins. Operators do not make change. Children under 46 inches ride free (up to 3 children per paying fare).
Beach Residential Parking Permit Zone
An area near Santa Cruz Beach is part of a residential parking permit zone that is enforced from May 15 to September 30. Parking in this area without a permit is not allowed.
Always confirm parking information on street signs.
Ocean Safety
California State Parks and Recreation cautions that "large surf, cold water temperatures, backwash, sudden drop-offs, pounding shorebreak, and dangerous rip currents can turn what seem like safe activities such as playing near the surf line, wading, or climbing on rock outcroppings, deadly." Learn more about ocean safety at CA State Parks: Ocean Safety