Seacliff State Beach
Location
State Park Drive, Aptos,
Santa Cruz County
Admission
Day Use $10
Hours: 8:00 AM to sunset
(831) 685-6442
Main Attractions
Fishing pier and cement ship
Gently sloping, 3-mile long beach
Beachfront RV Camping
Fishing
Covered, beachfront picnic areas
Other Facilities
Restrooms
Outdoor showers
Snack shack
Park store
Visitor center
Hazards Include
Rip currents always possible
Special Regulations
Pets on leash, allowed on beach
No alcohol on beach or in picnic areas
No collecting
No fires on beach
Accessibility
Beach wheelchairs available from camp host.
Accessible picnic tables, restrooms, and campsites.
Nearby Beaches
New Brighton State Beach, 1 mile north
Rio Del Mar Beach, 1 mile south
La Selva Beach, 4 miles south
Manresa State Beach, 5 miles south
Webcams
The Story
of the Cement Ship
Seacliff State Beach
Seacliff Beach is a favorite family destination. Generally the surf is mild, making it a relaxing place to enjoy the water. The pier and cement ship are a popular attraction. You can no longer go onto the boat, but the pier offers plenty of fishing opportunities. On shore are more facilities than at most state beaches, including a snack shop, visitor's center, and park store.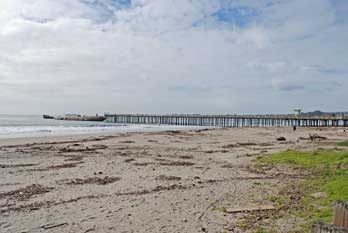 Into the Surf
Generally light waves make Seacliff a popular spot for skim boarding and just playing in the surf. Of course, rip currents are always a danger on any California beach. For experienced ocean swimmers, in the summer Seacliff usually offers a good place to enter without battling high waves.
Caution: Check with rangers or lifeguards that conditions are safe for your planned activities.
Food and Supplies
Food can be purchased from the Beach Shack Santa Cruz, a concession stand that serves food, beverages, ice cream, milkshakes, and more. It is open on weekends in the spring and every day through Labor Day in the summer.
Hours: Monday - Friday 9:00 AM to 5:00 PM,
Saturday 8:00 AM - 7:00 PM, Sunday 8:00 AM to 6:00 PM.
Beach Shack Santa Cruz
Within walking distance from the beach are several shops and stores in Aptos where you can buy anything you forgot to pack. Just outside the park entrance are Manuel's Mexican Restaurant, Pizza 1, Snow White Drivein and Seacliff Plaza Store, a liquor store.
Wildlife
Watch for migrating whales off shore. Bottlenose dolphins sometimes make an appearance as do sea lions and sea otters. Out on the cement ship look for harbor seals sunning on the deck along with cormorants and pelicans perched nearby.
Ocean Safety
California State Parks and Recreation cautions that "large surf, cold water temperatures, backwash, sudden drop-offs, pounding shorebreak, and dangerous rip currents can turn what seem like safe activities such as playing near the surf line, wading, or climbing on rock outcroppings, deadly." Learn more about ocean safety at CA State Parks: Ocean Safety