Upton Beach
Situated between Stinson Beach and Seadrift Beach, Upton Beach consists of 4 acres of coast popular for fishing, sun bathing, picnicking, and surfing. Hang Gliders launched from nearby Mt. Tamalpais often land on the beach. Unlike Stinson Beach, dogs are allowed on Upton Beach as long as they are on leash. The beach is operated by Marin County Parks. Parking is along Calle Del Arroyo or at Stinson Beach. The beach is open during daylight hours.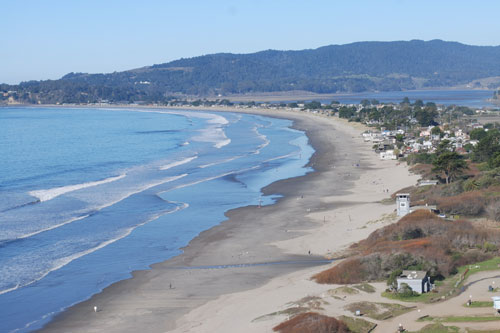 Stinson Beach in foreground, then Upton and Seadrift beaches.
Seadrift Beach Controversy
The beach in front of the Seadrift community to the north of Stinson Beach has been a contested area. California law designates all beach areas below the average high tide mark public property, but with shifting sands that line can move so that it is difficult to know exactly where it is. As it stands now, visitors are permitted to pass through Seadrift Beach, but are not supposed to stop there.
Sharks
The waters off Stinson Beach are part of the Red Triangle, an area extending from Bodega Bay to Big Sur and including the Farallon Islands. Shark attacks, especially from Great Whites, are more common within the triangle; but still, quite rare. A surfer at Stinson Beach was attacked by a Great White in 1998 and another surfer was attacked in 2002. Sightings of sharks in the area occur from time to time. On rare occasions when lifeguards determine there is a danger to beach-goers, lifeguards close the beach to swimming.
Nearby Restaurants