Venice City Beach
Location
Washington Blvd. at Ocean Front Walk
Venice, CA
Admission
Parking:
Hours: 5:00 AM to 10:30 PM
Operated by Los Angeles County Department of Beaches and Harbors
Main Attractions
Ocean Front Walk
Muscle Beach
Sports courts
Venice Pier
Surfing
Facilities and Features
Restrooms, showers
Food concessions
Picnic areas
Lifeguards
Venice Pier
Muscle Beach
Basketball courts
Handball and paddle tennis courts
Skate dance plaza
Skateboard Park
Volleyball courts
Bike Path
Recreation Center
Children's Play Area
Accessibility
Parking, restrooms
Bike Trail
Ocean Front Walk
Beach wheelchair available in locker near Venice Beach Rentals, 3100 Ocean Front Walk, near Washington Blvd. parking lot. (310) 939-0000 weekdays or 864-3717 weekends
Hazards Include
Caution: Check with rangers or lifeguards that conditions are safe for your planned activities.
LA County Beach Regulations (partial list)
No pets allowed on the beach, including horses
No alcohol allowed on beach.
No fires on beach.
No camping, fireworks, glass containers
No loitering between midnight and 6:00 AM
Venice City Beach webcam:
Venice City Beach Webcam
Venice City Beach Webcam
LA Beaches Water Quality:
County of Los Angeles Public Health
Books of
Local Interest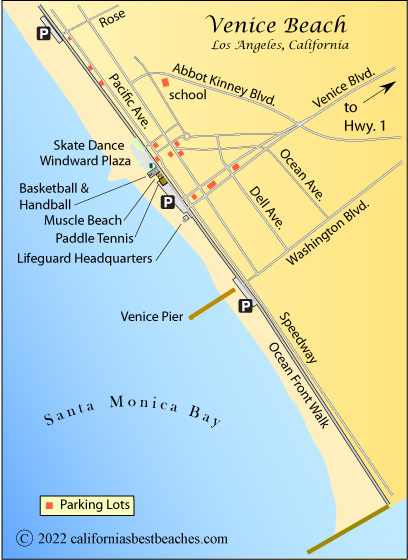 Venice City Beach
Venice Beach began as a vision of an American imitation of Venice, Italy, complete with canals and gondoliers, but over the years it has transformed into one of the most unusual communities in California. the wide beach extends 2 miles between Marina del Rey and Santa Monica State Beach.
A good number of people you encounter at Venice Beach march to the beat of a different drummer, which is perhaps no drummer at all. Free thinkers and free spirits, they enjoy being who they are without conforming to anyone else's expectations. You'll find all kinds of people at Venice Beach - street performers, athletes, proselytizers, hippies, artists, musicians, surfers, sun bathers, and gawkers. A complete list would fill pages.
Facilities
Facilities at the beach include restrooms, lifeguard towers, picnic areas, Muscle Beach athletic equipment, basketball and handball courts, paddle tennis courts, a skate dance area, Ocean Front Walk, a separate bike trail, Venice Pier, volleyball courts, and food concessions.
Parking at Venice Beach
Three city parking lots are located adjacent to the beach and several others are nearby. The three lots by the beach are at Rose Avenue, Venice Boulevard, and Washington Boulevard. Rates for parking vary by season. The lots next to the beach can cost as much as $25 per day while those a short distance away generally range from $4 to $15 per day.
On weekends you may park at Westminster Elementary School on Westminster Avenue, between Main Street and Abbot Kinney Boulevard. Cost is $5 per day.
Nearby parking Lots and Garages
42 N. Venice Boulevard
Venice and Pacific, $5 - $12 per day
Dell and Venice, $5 - $12 per day
7 Parking lots around Pacific and Speedway, between 17th and Market
Sunset and Speedway, $7 a day
Speedway near Rose
Public Restrooms
Along the Ocean Front Walk are a number of restrooms which include outdoor showers for washing off sand.
Venice Pier parking lot
Main Beach Parking Lot at North Venice Boulevard
Windward Plaza
Immediately north of Windward Plaza
Brooks Avenue and Ocean Front Walk
Rose Avenue parking lot
Into the Surf
Areas for surfing at Venice Beach are separated from swimming sections of the beach. Red flags mark the surfers' areas. With such a long, wide expanse of sand, there is plenty of room for everyone. Waves in the swimming areas are generally mild, but certain conditions can kick up rumbling breakers. Check with the lifeguards for advice about swimming.
Before swimming after a heavy rain, check the water quality link on the right to see if conditions are safe for swimming.
Bike Trail
With Ocean Front Walk set aside for pedestrians, the Class 1 Bike Trail is reserved for cyclists. Unfortunately many pedestrians stroll along it, apparently unaware that they are on the wrong trail.
Officially the bike trail is the Marvin Braude Bike Trail, which stretches along the coast 22 miles between Will Rogers State Beach in the north and Torrance County Beach. Along the Venice Beach section, the trail meanders closer to the ocean than Ocean Front Walk.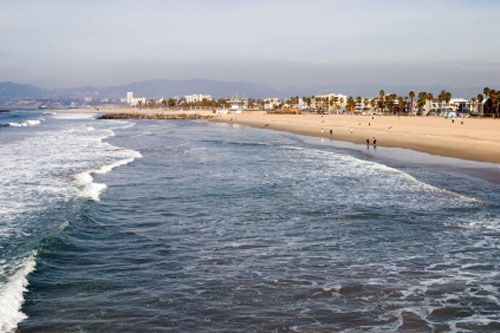 Venice Beach Restaurants
South Beach
Central Beach
North Beach
Venice Fishing Pier
The Venice Fishing Pier at Washington Boulevard and Ocean Front Walk extends 1,310 feet into Santa Monica Bay. It was opened in 1964, but suffered storm damage in the decades to follow and had to be closed for repairs. Its most recent re-opening was in 2006.
The pier is open from 6:00 AM until midnight. Anglers and tourists enjoy a nice breeze at the end of the pier. Concrete benches are available, but many fishermen bring their own chairs. There are places where anglers in wheelchairs can fish comfortably. To the south you can see Marina del Rey. To the north is Santa Monica Pier.
Ocean Safety
California State Parks and Recreation cautions that "large surf, cold water temperatures, backwash, sudden drop-offs, pounding shorebreak, and dangerous rip currents can turn what seem like safe activities such as playing near the surf line, wading, or climbing on rock outcroppings, deadly." Learn more about ocean safety at CA State Parks: Ocean Safety
Search This Site