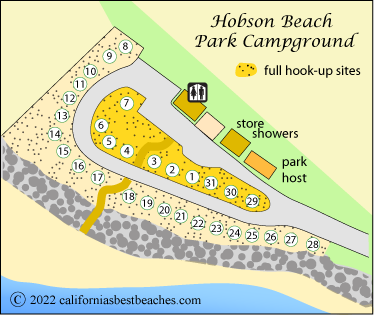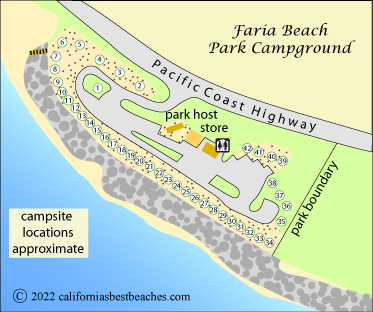 Nearby RV Campgrounds
Ventura Beach RV Resort
800 West Main Street, Ventura, CA
(805) 643-9137
Ventura Beach RV Resort
RV Sites: 144 sites with full hook-ups (30/50 amp)
WiFi, picnic table, fire ring, grass, shade
Tent Sites: 36 sites with water and electricity, 34 sites without hook-ups
Amenities: 24-hour on-site security, general store, bike rentals, pool, spa, showers, restrooms, laundry, playground, sports and games
Rates: $$
Ventura Oaks RV Park
255 Burnham Rd., Oak View, CA
(805) 649-9103
Ventura Oaks RV Park
RV Sites: 60 RV sites, WiFi, full hook-Ups
Amenities: Laundry, hot showers, restrooms, picnic area
Evergreen RV Park
2135 North Oxnard Blvd., Oxnard, CA
(805) 485-1936
Evergreen RV Park
RV Sites: 94 sites with full hook-ups (20/30/50 amp), up to 42', WiFi
Amenities: Reading room and lounge, laundry, soda machine, restrooms, hot showers, picnic area
Rates: $$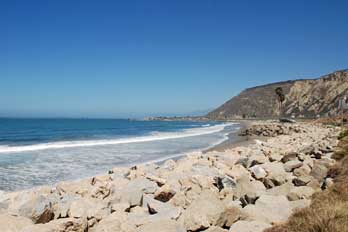 Ocean Mesa at el Capitan
100 El Capitan Terrace Lane, Santa Barbara, CA
Located across Highway 101 from El Capitan State Beach
(805) 879-5751 or (866) 410-5783
Ocean Mesa at el Capitan
Accommodations:
20 tent camping sites
80 RV sites with full hook-ups, 50 amp
All campsites have fire rings with grills and a picnic table. WiFi, cable TV
Amenities: heated pool and spa, laundry, store, horseback riding facilities
Rates: $$ - $$$
Hobson Beach Park Campground
Generally long and narrow campsites at Hobson Beach Park range in size from about 33' x 14' to 61' x 13'. A few are as wide as 26 feet. Campsites in the center of the park have full hook-ups, including sewer, water, electricity, and cable TV. The campground is next to the Pacific Coast Highway (Highway 1) and functioning railroad tracks.
A path leads through the campground and stairs descend a rock embankment to the beach. At high tide most of the beach is lost underwater. The park host sells firewood and sacks of ice. The store or snack shop sells food throughout the day. Outside is a soft drink vending machine. Bring quarters for the hot shower.
Faria Beach Park Campground
Most of the campsites at Faria Beach Park are close together, little more than diagonal parking spaces, but there are some spots that offer a little more room. The park is between the Pacific Coast Highway and the beach. Trains pass several nearby times a day, but are not a big distraction.
Campsites
Tent or RV sites with firepits: #1 - 13
Tent or RV sites with no firepits: 25 - 38
RV sites with hook-ups: #14 - 24
Premium RV sites with hook-ups: #39 - 42
Since no reservations are taken, finding a campsite on a busy weekend can be tricky. Some previous campers suggest arriving early and waiting for a site to open up as people leave. Check-out time is 11:00 AM.
Services at Faria Beach Park are similar to those at Hobson Beach - a snack shop open all day, a soft drink vending machine, hot showers that require quarters, and a friendly park host who sells firewood.
Rincon Parkway Campground
The Rincon Parkway Campground stretches along the Pacific Coast Highway between Faria Beach Park and Hobson Beach Park. The 127 camping spaces are restricted to self-contained RVs or trailers. Campsites are simply parallel parking spaces along the ocean side of the highway. Campers have great views of the ocean and the beach. There are no other facilities at the campground other than some portable chemical toilets located at the Pay Vaults. Sites cannot be reserved, they are first come, first served only.
Fees: $28
The fee allows for 1 site with 1 RV and 1 non-recreation vehicle, up to 6 people. There is a 7 day camping limit from April through October and 14 days other times of year. Dogs must be on leash. $1 per dog, maximum of 2.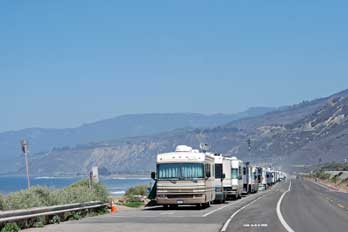 Lake Casitas and Lake Piru
Complete Information

For comprehensive information about Lake Casitas, Lake Piru, Lake Cachuma, and all of California's most popular lakes, see
Lake Casitas Campgrounds
Location: On the north shore by the marina
Phone: For Information (805) 649-2233, for Reservations (805) 649-1122
Reservation Fees: $7.50
Lake Casitas Camping
Campground Facilities: Playgrounds, Showers, Restrooms
Campsites: All campsites come with Picnic Tables and Fire Rings
Campsite Fees: (The lower prices are for weekdays and off-season after Labor Day and before Easter)
Basic Sites (dirt pad for tent or RV) - $25 - $30
Basic Hook-up Sites (water and electric) - $35 - $40
Deluxe Sites with 40' concrete pad, Hook-ups (water and electric), TV reception, individual turf area - $45 - $50
Executive Sites with 40' concrete pad, Hook-ups (water, electric and sewer),TV reception, individual turf area - $55 - $60
Lake Piru - Olive Grove Campground
Location: 40 miles east of Ventura, 0n the west shore of Lake Piru near the marina
Information and Reservations: (805) 521-1500
Lake Piru
Campground Facilities: Hot Showers, Piped Water, Restrooms, Dump Stations, WiFi
Campsite Amenities: All campsites come with Picnic Table, Fire Ring with Grill Top
Full Hook-up Site: Electric, Water, and Sewer connection - $44, $32 (Nov. - Feb.)
Electric Only - $32, $22 (Nov. - Feb.)
Tent Camping: - $28, $20 (Nov. - Feb.)