Nearby Activities and Events
Greyhound Rock
County Park
1.4 miles south of Waddell Beach
Open sunrise to sunset, (831) 454-7956
Paved pedestrian access to beach and picnic tables
Parking, restrooms, viewing platform
Fishing, tide pools, nature trails
At low tide it is possible to explore Greyhound Rock. Always be cautious of waves.
See photo bottom, left.
Wildflower Weekend
May 5-6, 2018
Rancho Del Oso Nature and History Center, inland from Waddell Beach
(831) 427.2288
Free nature hikes to view the wildflowers at 12:00 - 4:00 PM.
Friends of Santa Cruz State Parks
Davenport Gallery
450 Highway 1, Davenport, CA
(831) 426-1199
Quality local art on display, including fine crafts and jewelry.
Catch the Wind
Kiteboarding at Waddell Beach
Kiteboarding, or kitesurfing, as it is also called, has burst into popularity in recent years. Kiteboarders launch a power kite which pulls them across the water on a kiteboard, similar to a small surfboard.
Waddell Beach is extremely popular with kiteboarders, for the same reasons that windsurfers favor the location. As with windsurfing, Waddell Beach is not suited to novice kiteboarders.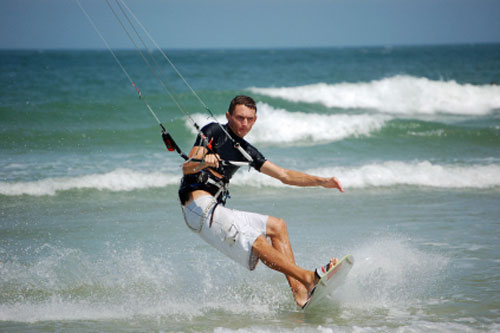 Experienced kiteboarders know to be wary of rocks on the north end of the beach, hidden by higher tides. Experts advise not riding with a board leash, since it could do more harm than good in the rough surf.
Due to the high winds, most kitesurfers opt for kites less than 10 meters, usually 4 - 8 meters. Most kitesurfers at Waddell Creek are there to ride the waves. In the past Waddell Beach has been the site for kiteboarding competitions.
Kiteboarding Lessons
Kiteboard Sales
Caution Kites of Santa Cruz
Waddell Beach Windsurfing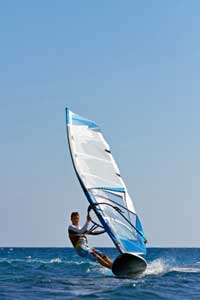 Windsurfers gather at Waddell Beach, known as one of the foremost windsurfing locations in the nation. The strong, steady northwest winds provide a playground for experienced windsurfers. Novice windsurfers should seek more sheltered locations.
Waddell Beach has been a stop for the American Windsurfing Tour, which saw 75 competitors gather there for the 2011 competition. Competitors from about the world vied for a share of the $5000 prize money. The event is known as the Santa Cruz Goya Windsurfing Festival.
Caution: Check with rangers or lifeguards that conditions are safe for your planned activities.
Surfing
Surfers often find good beach and reef breaking waves at Waddell Beach. Beginning surfers find suitable waves here on the occasional days when the break is small. Waddell Beach has served as the backup location for a number of local surfing events. The 2009 Grade-3 Oakley Pro Junior ASP North America Championships were shifted to Waddell Creek when conditions elsewhere weren't as favorable.

Fishing
Surf fishing at Waddell Beach is fairly good for striped bass, cobia, perch, and California halibut. A 12-pound steelhead was landed on the beach in 2002. Fly fishermen have had good luck here with shrimp patterned flies.
Kite Flying
The strong winds at Waddell Beach are great for launching kites from the shore. Find a place away from the kite surfers and send your kite skyward.
Tide Pools
During low tides the tide pools at Waddell Beach are visible, offering beach-goers a view into marine life between the tide lines. Sea stars, sea anemones, sea urchins, and hermit crabs.
Ocean Safety
California State Parks and Recreation cautions that "large surf, cold water temperatures, backwash, sudden drop-offs, pounding shorebreak, and dangerous rip currents can turn what seem like safe activities such as playing near the surf line, wading, or climbing on rock outcroppings, deadly." Learn more about ocean safety at CA State Parks: Ocean Safety