Nearby Activities and Events
Point Sur Lighthouse
Located 19 miles south of Carmel, standing 361 above the ocean, opened in 1889. Weekend tours offered most of the year. (831) 625-4419
Admission $12 for adults, $5 for ages 6-17
Point Sur Lighthouse
Jade Festival
May 5-7, 2017
Pacific Valley School
Admission free
Big Sur Jade Festival
Big Sur International Marathon
April 29, 2018
26135 Carmel Rancho Blvd.
Carmel, CA
The course extends from Big Sur to Carmel.
Big Sur Marathon Events
Henry Miller Library
48603 Highway 1, Big Sur, CA
A non-profit book store and arts center featuring writer and artist Henry Miller
Summer events include theater, lectures, art shows, and music.
Henry Miller Memorial Library
Pfeiffer Big Sur State Park
26 miles south of Carmel on Highway 1
(831) 667-2315
Pfeiffer Big Sur SP
Campsites and Big Sur Lodge with 61 guest rooms
Facilities: conference center, cafe, grocery store, redwoods, trails
Fees: $10 for day use
Bixby Bridge
This famous Big Sur bridge is located 13 miles south of Carmel. The reinforced concrete arch is 714 feet long and 280 feet high, constructed in 1931. It is one of the most photographed landmarks in California. Use the turnout north of the bridge for the best viewing.
Horseback Tours at Andrew Molera SP
Molera Horseback Tours offers guided equestrian outings along the many and varied trails in Andrew Molera State Park. All of their tours include visits to the beach. Along the way you will pass through meadows of wildflowers, shaded redwood groves, and along murmuring streams. Certified guides offer tales about Big Sur. Riders will learn about plants and animals in the Big Sur area.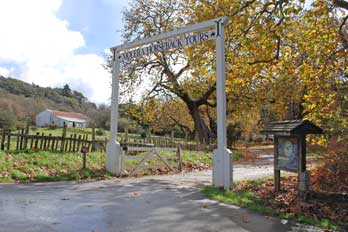 Scheduled rides range from 1 to 2 hours and depart at a variety of times during the day. Among the popular rides are the Morning Sunshine tour, the Beach Bonanza, and the Redwood Roundup. Private rides are also available. Riders must be at least 6 years old and weigh less than 280 pounds. No riding experience is necessary.
The stables are located inside Andrew Molera State Park.
(831) 625-5486 or (800) 942-5486
Molera Horseback Tours.
Ventana Wilderness Society
The Ventana Wilderness Society's Research and Education Center is located in Andrew Molera State Park. The Ventana Wildlife Society (VWS) is committed to conserving native wildlife and their habitats. The VWS works to rehabilitate and release wildlife in the Ventana Wilderness. For more than 30 years they have been helping to re-establish and protect prairie and peregrine falcons, bald eagles, and California condors.
At the Discovery Center in Andrew Molera State Park you can learn about the efforts being made to return California condors to their native habitat. Biologists and naturalists are on hand to answer questions. The Discovery Center is open to the public on Saturdays and Sundays from Memorial Day through Labor Day. Their hours are 10:00 AM to 4:00 PM. Admission is free.
Condor Viewing Tours are very popular and fill up quickly. To sign up for a tour, call 831-455-9514 or email: MikeStake@ventanaws.org
Summer Camps
VWS also offers children's summer camps. Among the specialized camps is Outrageous Ocean Odyssey which explores ocean environments, including tide pools, sloughs, beaches, and the open ocean. Field trips take participants to Moss Landing, the Monterey Bay National Marine Sanctuary, and whale watching on the bay.
For more information, or to sign up, call (831) 455-9514, or email Alena Porte at AlenaPorte@ventanaws.org
Ventana Wilderness Society
Wildlife along the Big Sur Coast
Beach visitors are likely to spot gray whales in their annual migration during the winter months. January is considered the peak of the migration, but sightings are common into April. Blue whales and humpbacks are also seen just off the coast. Other marine mammals common to the area are sea otters, harbor seals, and sea lions.
Roaming the forest and grasslands along the coast visitors may encounter bobcats. Often they show little fear of humans, but should be given a wide berth. Mule deer may be seen in the meadows. Other animals such as gray fox, wild boar, and mountain lions are rarely seen.
Birders will enjoy spotting a variety of hawks, woodpeckers, owls, and swallows. The prize sighting is a California condor soaring high above on the air currents. Along the shore expect to encounter gulls, sandpipers, cormorants, and guillemots.
Pfeiffer Beach Rocks and Tide Pools
A massive sandstone rocks stands just offshore at Pfeiffer Beach, sheltering it from the heavy waves that pound the Pacific coast. In places the waves have broken through the rocks along the shore, creating tunnels and windows.
Caution: Check with rangers or lifeguards that conditions are safe for your planned activities.
Protected by the rocks are wonderful tide pools worth exploring. Visitors will spot sea stars, anemones, and other marine creatures.
The sandstone slabs that form the bluffs along Pfeiffer Beach are part of the Franciscan complex, the major component of the Pacific Coast Ranges. Geologists note that the rock at Pfeiffer Beach is relatively unchanged by movement of the earth and only slightly metamorphosed.
Big Sur Surfing
Surfers along the Big Sur coast head to the beach at Andrew Molera State Park for the most dependable waves. A few experienced surfers venture out at Pfeiffer Beach, but the surf there is very dangerous.
Fishing
Anglers at Pfeiffer Beach and Molera Beach are usually after surfperch, striped bass, halibut, lingcod and rockfish.
Ocean Safety
California State Parks and Recreation cautions that "large surf, cold water temperatures, backwash, sudden drop-offs, pounding shorebreak, and dangerous rip currents can turn what seem like safe activities such as playing near the surf line, wading, or climbing on rock outcroppings, deadly." Learn more about ocean safety at CA State Parks: Ocean Safety